I woke up before Rob so I could take a shower before the boys left. Brookie was still sleeping when they all left so I thought I would let her sleep. I thought, "How long can she really sleep?" Apparently, she could sleep until 9:30 am! But I let her. Even though it was Magic Kingdom's early extra magical hours, I was not going to rush Brookie and tire her out. I wanted our lunch at Cinderella's Royal Table to be enjoyable without a cranky girl. Plus the fact was that my feet were killing me from the blisters on the balls of my feet. I decided to wear my pearl/orange Crocs Athens, again, as they were the most comfortable.

I had everything ready to walk out the door when she woke up. All I needed to do was give her some yogurt and get her dressed. I decided against taking the umbrella stroller. I had a bag filled with stuff for her plus the Cinderella gown. It would be too hard to maneuver the umbrella stroller with the bag and Brookie while getting on and off the bus. I figured Brookie could walk to the bus stop and through the front gates, and we would get a double stroller at the Magic Kingdom. We paid for it so we're gonna get it!

She did great walking along and was excited about seeing Cinderella, but I had to take care of something first - my feet. I decided to go to the first aid station to see if they could help me out a bit. When the nurse came out, she asked me what was wrong. I told her I would pay her a million dollars if she could help me with my blisters. The nurse took one look at my blisters and got a bunch of bandages. She double bandaged up my blisters and gave me extras to use later should I need them. She then told me that I didn't have to pay her the million dollars, and I told her that would be good because I didn't have it anyway. I think she knew I wasn't a millionaire ...

I decided that Brookie and I would spend some time in Fantasyland before we had our 12:10 pm ADR at Cinderella's Royal Table. We made our way to Fantasyland, but first had to take a picture of Cinderella's Castle. I think it is written somewhere in Disney law books that everyone must take a picture of the castle each and every time they visit the Magic Kingdom ...




We headed over to Winnie the Pooh and grabbed a FP for it and then headed over to Snow White. I was a bit nervous if this would be too "kary" for Brookie, but it wasn't. But she wasn't overly excited about it either. She just sat and watched everything. From Snow White we went over to It's a Small World. The line here was very short, and I was thankful for that. Brookie and I got to sit in the front row. She loved Small World and seemed mesmerized by the music and the dancing dolls. It is so wonderful to experience certain things through your children. I'm not a big Small World fan, but it really brought me joy just to watch Brookie during it.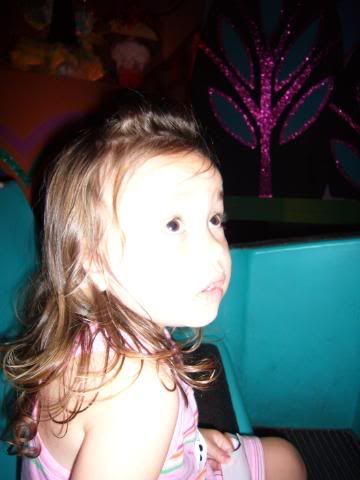 Our fast pass time was ready for Pooh, so we headed on over there. As we passed through the FP line, the CM at the front of the line forgot to take my FP ticket. I almost turned around, but then I pocketed it. Brookie just loved the Tigger part where the honey pot bounces. When we got off Pooh, Brookie wanted to ride again. So, back in the FP line we went with the pocketed FP. Did I feel bad about doing that? Heck no! I considered it my own Dream FP.

It was getting close to our lunchtime, and I still had to change Brookie into her Cinderella dress. We went over to the companion stall near Pinocchio's Village Haus. I got Brookie all dressed in her Princess gown and sat her back down in the stroller and started strolling back toward the castle. Brookie got so many oohs and ahs, and she wasn't sure what to make of it but smiled.

We checked in for our 12:10 pm ADR at about 11:50 am. While we were checking in, a very nice CM came up to us and told us that Brookie would be the Honorary Princess of the Day! They put this little sticker on her gown ...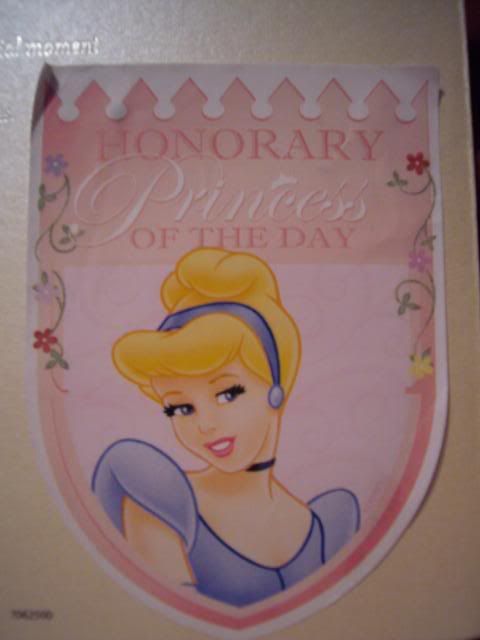 And this is where I end for now. The next update will include our whole lunch and a bunch of GOOD pictures!