Since Brooke was chosen as the Honorary Princess of the Day, that meant that she was the first to meet Cinderella ... and a private visit at that! I thought how wonderful that would be! Brookie would be so excited. I could just imagine the smile on her face upon seeing Cinderella!!

So we were both escorted in and Cinderella comes right up to Brooke and greets her as a Princess. Brookie froze. HUH?? What the fudge? Okay, I was sure that Brooke would totally lighten up sitting beside Cinderella to get her picture taken, but she just wouldn't budge. I had to pick her up and sit her beside Cinderella. And this is the photo that we received ... (sorry, I didn't know I could add it to Photopass and I'm ticked about that).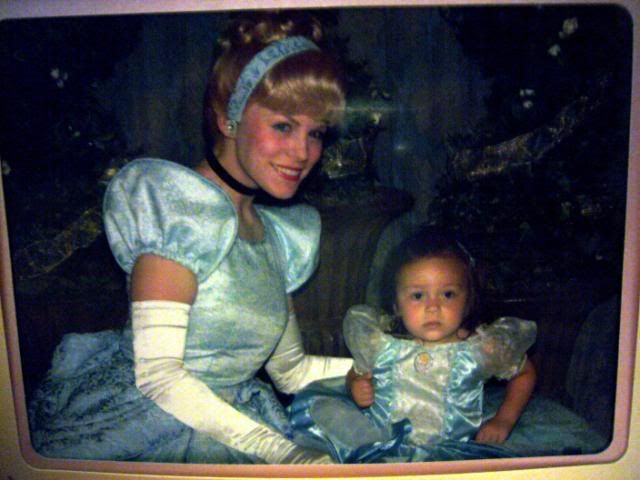 Well, isn't that the most special picture ever? Seriously people. I was extremely shocked that she froze up like that. Remember, this is the girl who waited in line to meet Captain Hook and loved seeing him!!! Okay. Well, she did enjoy watching other kids meet with Cinderella while we waited to be escorted upstairs to our table.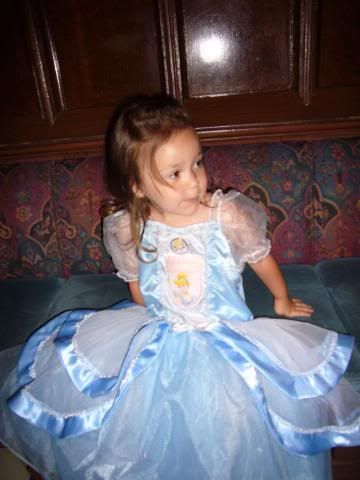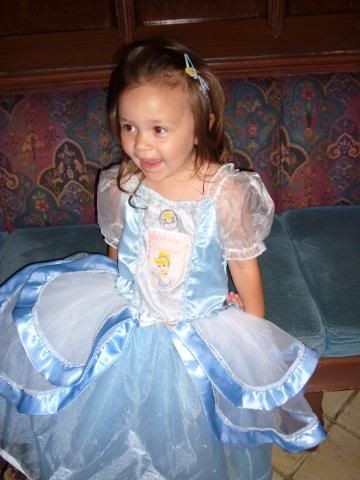 The CM that told us that Brookie would be Honorary Princess of the Day asked Brooke to come up to her, and Brookie was all smiles until I took her there. The CM announced Princess Brooke to all, much to the envy of many little girls. I saw their faces, and I am sure that some of them would have made better Honorary Princesses. But we got it, so too bad for them! We were then told to make our way up the long spiral staircase. This staircase seemed like it went on forever. The CM actually asked me if I could pick Brooke up to move a bit faster. I wanted to say, "No. My feet are killing me and this girl, while not fat, is still not light." But I picked Brookie up and gritted my teeth through the agony of carrying her upstairs.

We were seated at a window. At first I thought how wonderful we were near the window. What a great view. But here was our view ...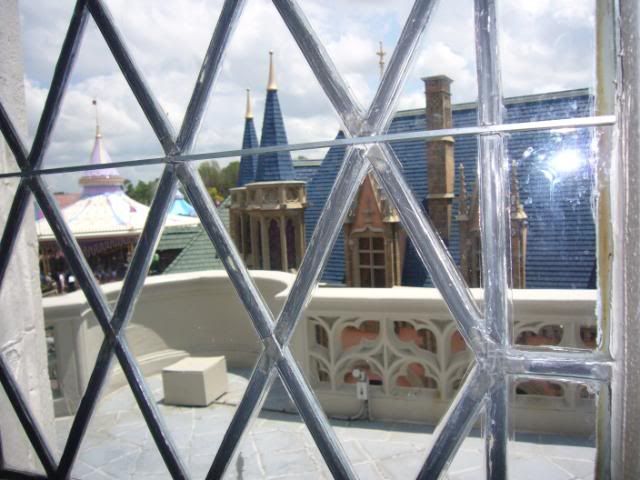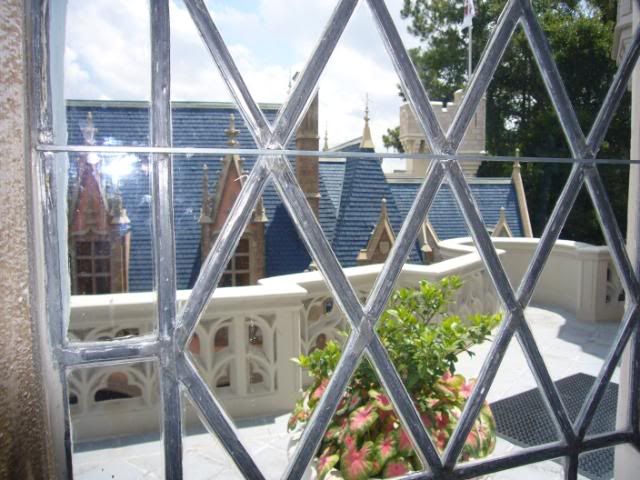 Still much better than being stuck in the middle of the room I'm sure! Brookie received her magical wand and was extremely happy with that ...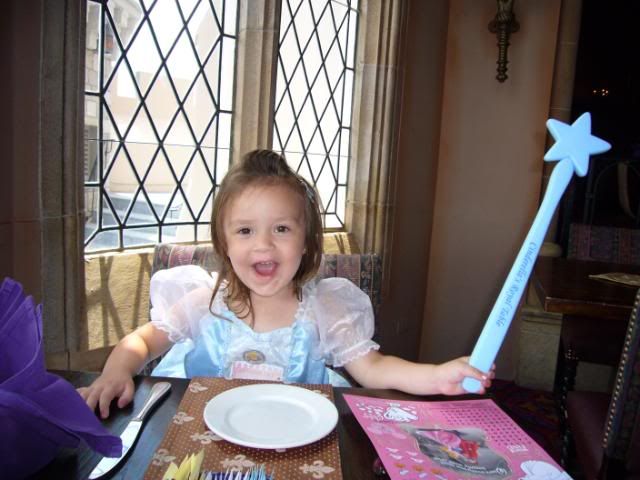 This is the picture that I used for thank-you notes for her 3rd birthday party ...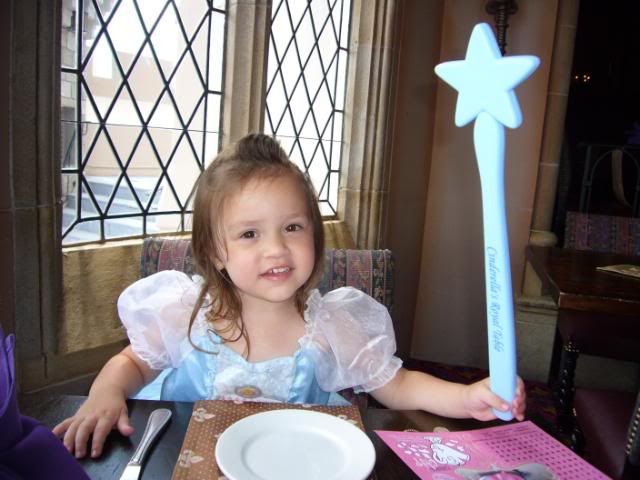 Along came my appetizer, which I am not sure exactly what everything was. I know it had some thin meats, a small salad, and some marinated chicken plus cheese. Most of it was good.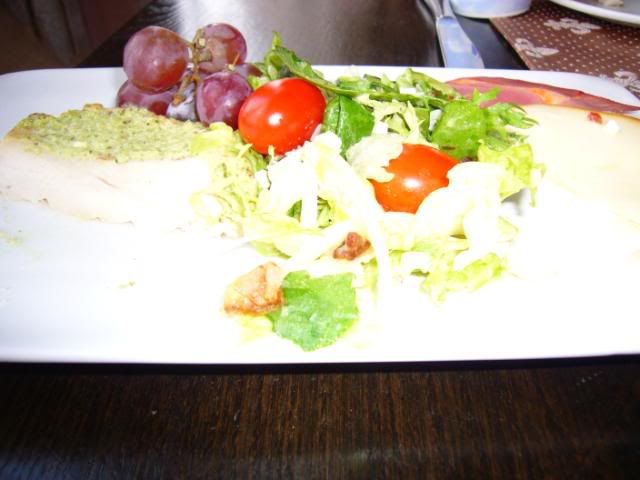 Of course, I had to take a couple of pictures of the room that I particularly liked. First looking up, I thought was quite lovely ...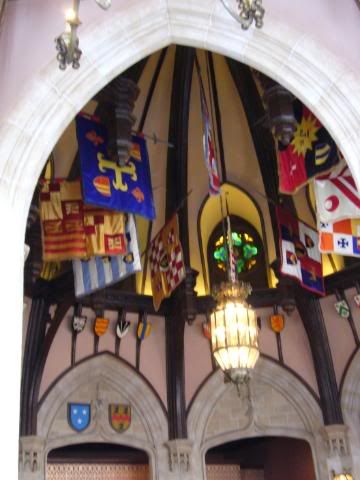 ... and then looking up another way I really liked these coats of arms.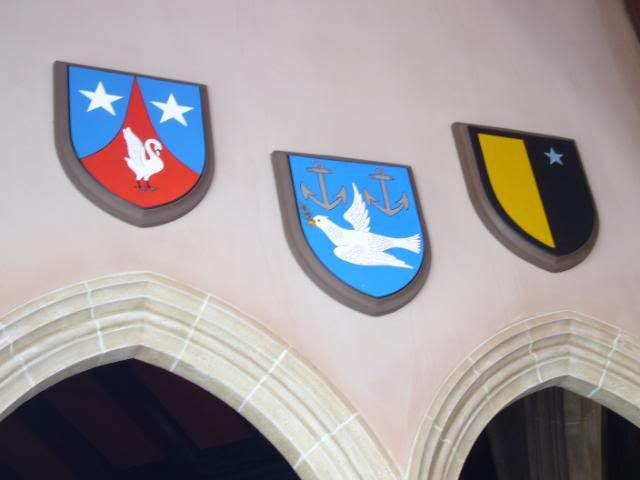 And this was our table runner. I love the fleur de lis ...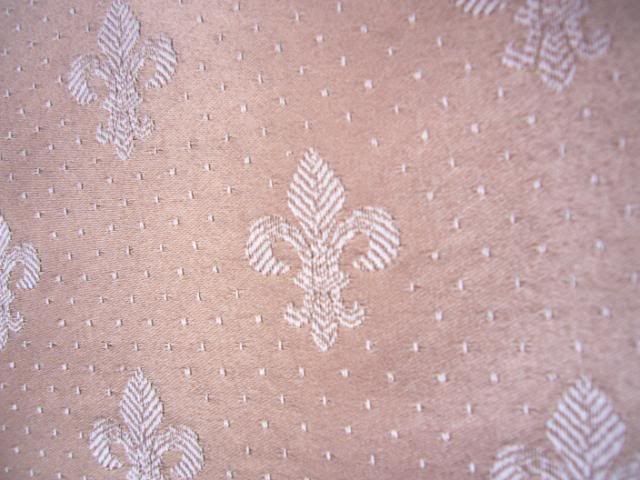 They brought Brookie a bowl of buttered noodles, which she ate about 10 pieces maybe.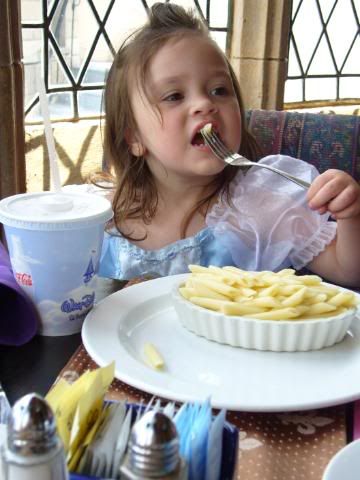 And I ordered the salmon, which had flavored rice and a strange slaw.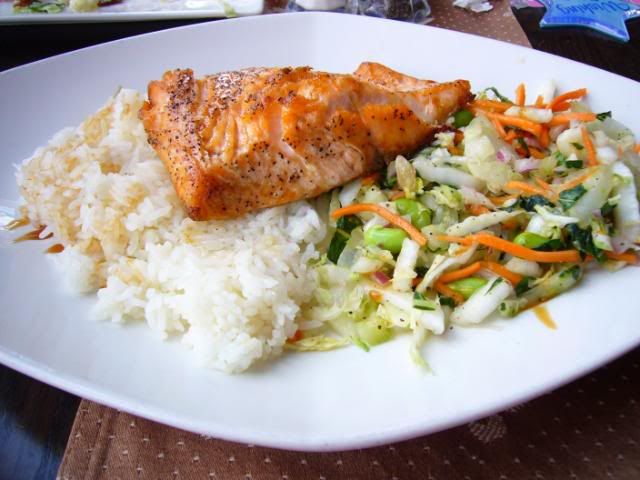 Finally the announcement came that the Princesses would be joining us. Brookie really kept asking where they were. I figured she would totally be more at ease in her own chair and them coming to our table. Now remember how wonderful and outgoing she was at the Crystal Palace with Pooh and Friends? First up, Belle ...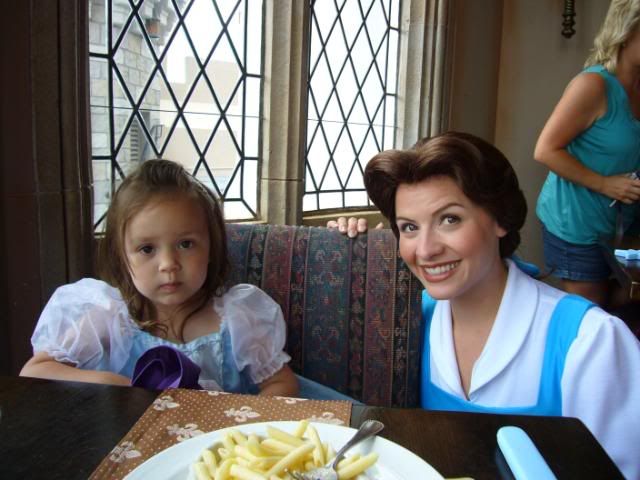 Oh dear. Back to the somber face. Well, how about Snow White?




At this point, it is half sad and half comical. She was all smiles one minute and blank face another. I didn't bother taking any more princess pictures because she just was not into it. But there was always room for dessert. Here's the chocolate buckle which was (duh) very chocolately but good.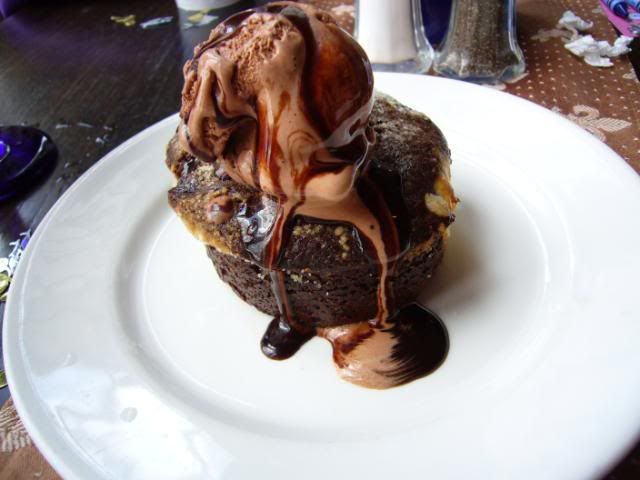 And the cutest sundae for Brookie. She wasn't too interested in eating it, but she did like the chocolate castle on top.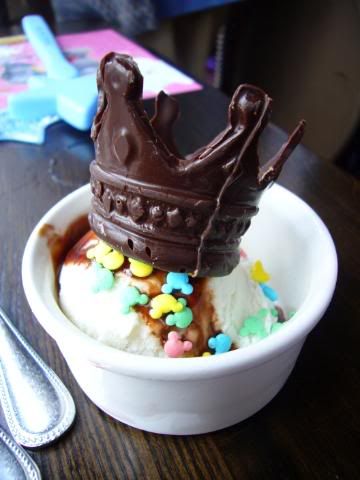 Then it was time for the Wishing Star ceremony. Brookie did get into this. Click here for a video of
"Brookie's Wishing Star"
.

So, that concluded our lunch in Cinderella's Royal Table. Did I enjoy it? Yes. But it totally was not what I was exactly hoping for. Still, I'm glad we did it and look forward to doing it again, except maybe we'll try the Princess breakfast in Norway next time ... or not.

Note: Two years later, Brookie tells me that she does NOT want to eat with the princesses again!