It was nearing 4:30 pm, and we all were starting to get hungry. We wanted to eat here and then hop a bus back to the Magic Kingdom for more fun! Brookie was still napping ...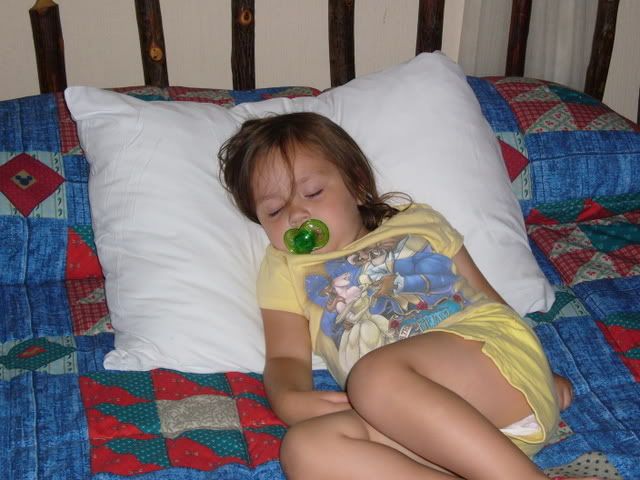 ... so Rob & I decided to split up and each go to Riverside Mill to get counter service meals. I went first with Alec. We walked over there together, and I chose the burger basket with fries and a chocolate cake for dessert. They had to specially make my burger because I do not like cheese on it. Hey, better freshly made! Alec chose the kids chicken nuggets meal. We carried it all back to our room on a tray so Rob could quickly go with Evan. I remembered to take a picture of my dessert ... after a couple bites, that is!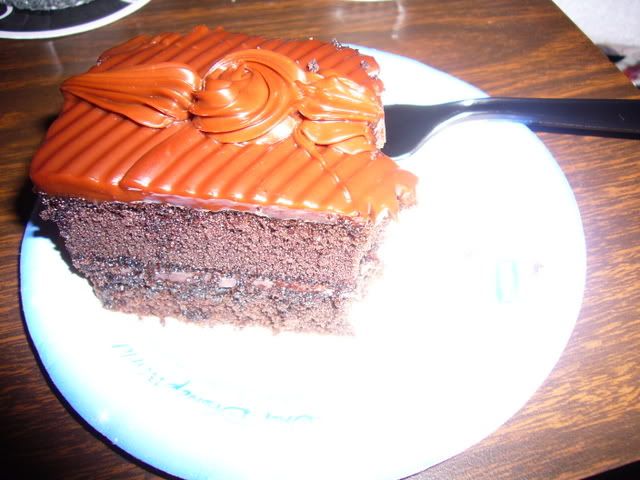 As Alec & I were eating, we heard some very loud thunder and WHAM! A lovely Florida thunderstorm had rolled in but fast. It was raining extremely hard, and I knew Rob & Evan would be trapped at Riverside Mill. I was glad I went first. I went to call Rob and then I heard his phone going off in the room. Darn him! He never takes his stupid cell! What good is it in the room? Plus I don't even like his ring tone. It's the group Rush. I liked them back in the early 80s but not so much now. Whatever, it's his, and I guess he gets to choose his own ringtone. Can anyone guess who I have on my ringtone? Name the artist and the song ... oh nevermind. I'll just tell you. It's Matchbox Twenty "If You're Gone".
I tried to take some pics of the rain storm but they didn't come out as well as I had hoped. But here they are anyway ...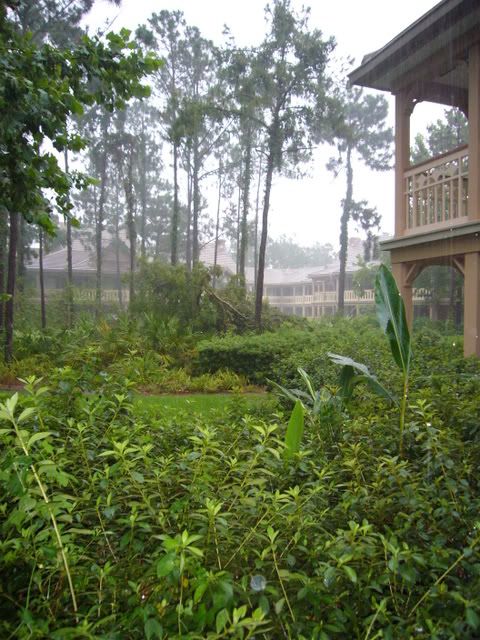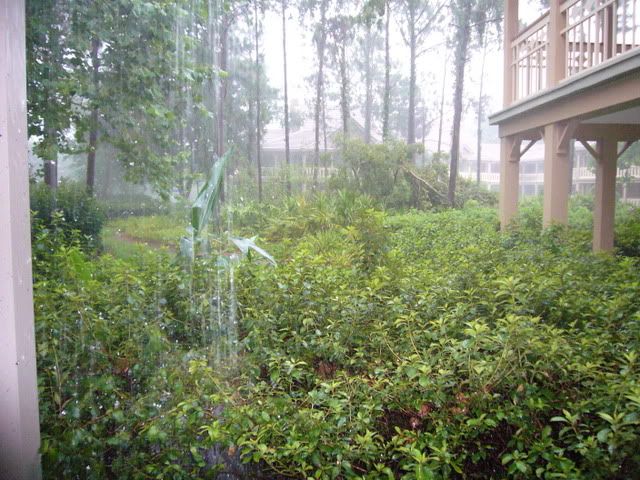 The storm lasted quite a while. Brookie had woken up but was not hungry, per usual. Rob called me from a house phone (at least he was thinking there) and said that they were finishing up their meals and when the rain cleared they would be back. Sure enough, they came back about 5:30 pm.
What did we want to do now? We talked about our options. We could still hear thunder, so we didn't know if we wanted to go back to the Magic Kingdom. We knew we had to get up extra early on Monday to make an 8 am ADR at Donald's Breakfastosaurus in the Animal Kingdom. So, we decided to take our trays back to Riverside Mill and go to the gift shop. On the way, I snapped a few more pictures. Here's Alec holding the tray over his head and Rob carrying Brookie ...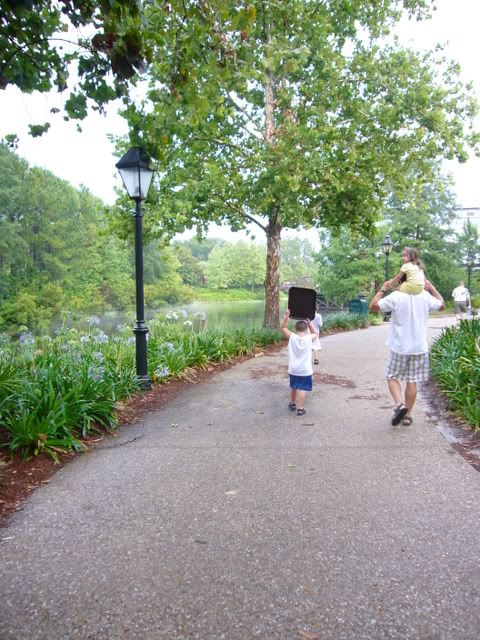 Looking down the river toward the Alligator Bayou section ...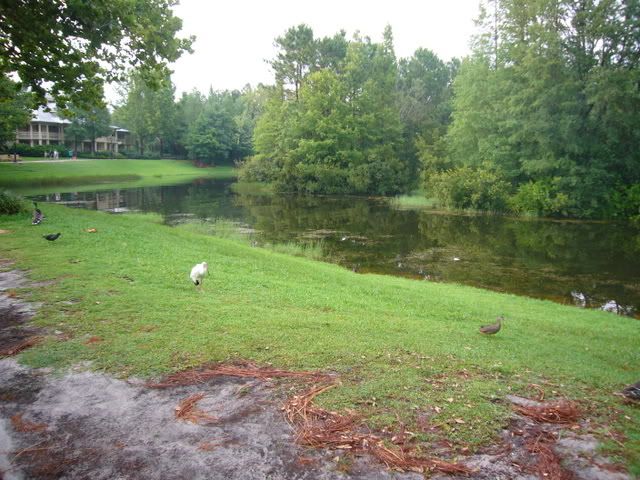 So, we get into the gift shop and it's pure gloriousness (love my word?). Oh, didn't the kids want to buy things there! At this point, I was tired of asking Rob for the KTTW cards whenever we needed to do FPs or use for dining, etc. I wanted to have them handy for me. So I hunted around the gift shop for something I could attach to my lanyard. I found a plastic card holder that attached to a Mickey clip. It cost $5.50. Sold! The boys each wanted a toy monorail and a mini light-up laser sword. Brookie wanted a light-up laser sword and one of the light-up spin toys. Plus I got her 3 pairs of pink Mickey earrings.
So, where did we want to go to next? We all decided to use a snack credit and get us some ice cream! Rob & the boys got milk shakes and I got a double scoop of black raspberry ice cream, which I shared with Brookie. Now, you're probably wondering, "Is that what that poor girl had for dinner?" Well, kinda. We did give her some yogurt and grapes back in the room too if that makes you feel any better. She is just not a huge eater if she has already had one large meal. Remember Crystal Palace? She ate very well there!
We slowly strolled back to our room. Here's a couple of more pictures that I took. Heading back along the path ...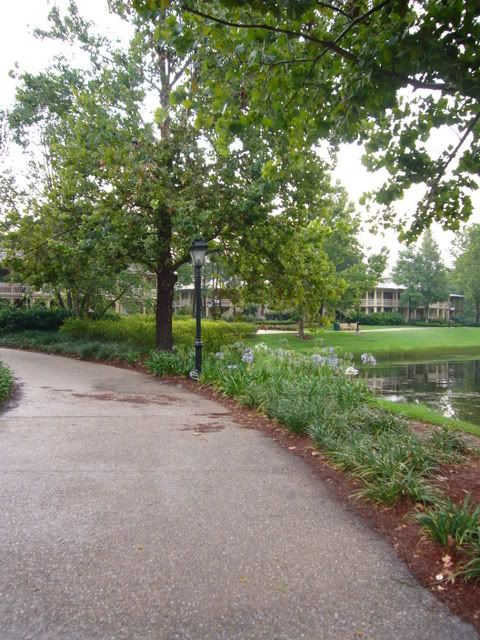 ... trying for a scenic shot with the tree on the left ...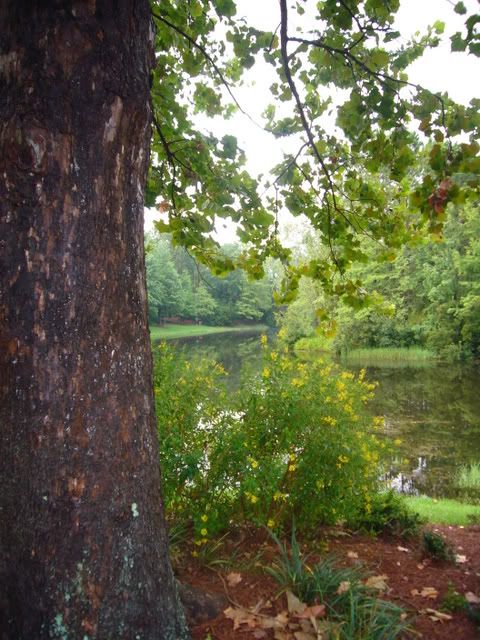 This is where we turned to go to our building. I liked the sign and that's Alec in the picture on the right and Brookie way ahead. The path to the right of Brookie is where we turned to enter our building coming from Riverside Mill.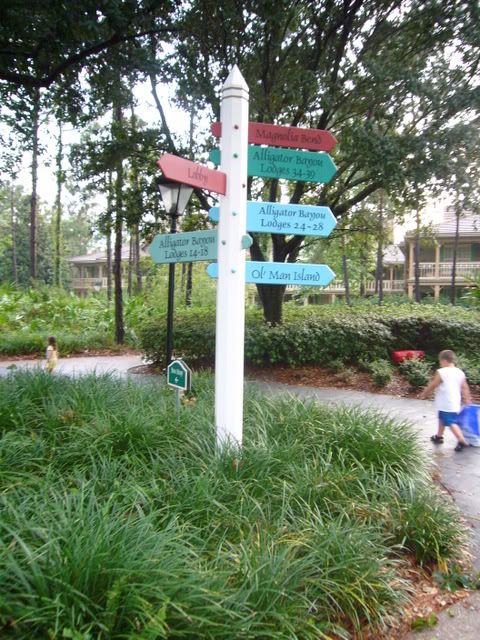 And finally, a closer look at our building as the boys were heading back to the room. Our room was a couple doors to the left of the picture.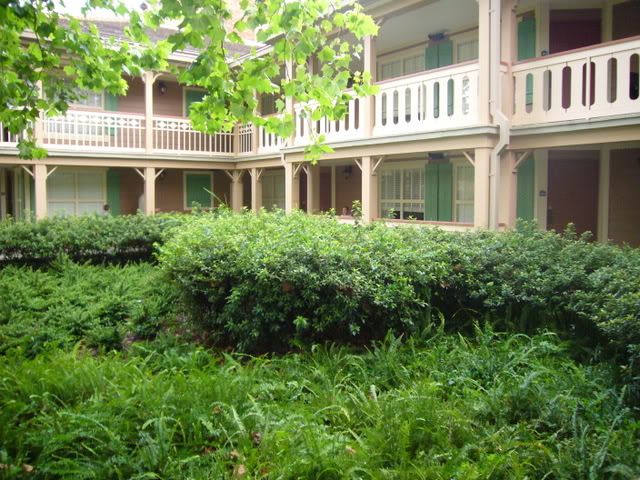 We all washed up and relaxed and went to sleep very early, as we had to get up very early! Even though we didn't get back to the Magic Kingdom, we really weren't too upset about this. We knew we were going back on Friday.