You know what? I can't even remember what type of appetizer the boys got. I have no stinking idea, and I don't have any pictures of it. I'm thinking that they didn't even get one, but whatever. Rob & I chose the exact same appetizer. We chose the pan-seared Georges Bank scallops served on creamed sweet corn and garnished with a candied lemon salad. Let me tell you, both Rob & I licked our plates clean. This was the best scallops appetizer we have ever had.




Meanwhile, the boys wanted me to take some pictures of them, so I obliged. Here's Evan! Notice Sleeping Brookie's head ...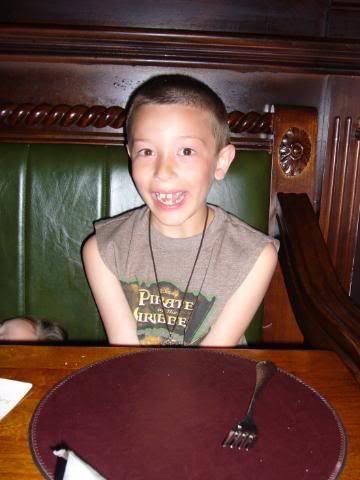 And here's Alec! Hey, Alec ... the camera is over here!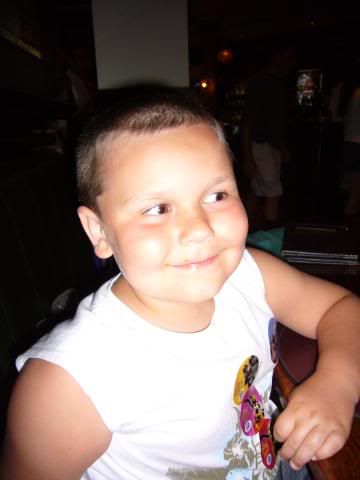 Well, close enough ...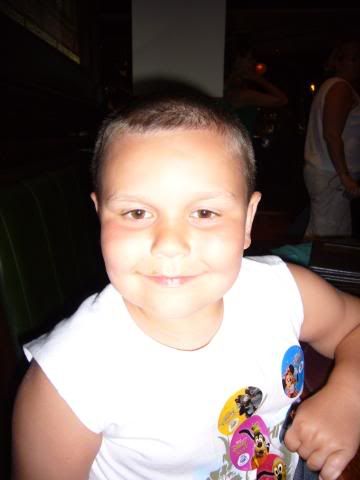 So, I sucked down my Citrus Mist. I mean, I took my time sipping my cocktail within 15 minutes and ... ordered another $9.50 Citrus Mist! And Rob ordered another draft. We figured, what the hay! We're on vacation!!

I moved my Citrus Mist to the right of my place setting. Now, here is where that green lamp comes into play. The next time I went for a sip of my cocktail, I raised the glass and WHAM! It hit the underneath of the lamp. I looked at the lamp and saw this ...




Totally cracked it. I checked my drink to make sure it was okay, which it was. Whew! Saved that one!!! So, we ignored the lamp the rest of the night, and I kept my drink on my left side. Do you see all that dust? I did not notice that before the crack, but it is definitely dust as you can see the finger "swipes" in it. Ew.

Ahh ... time for our main courses ... next time.