We finished our meals and all the ceremonies, and Brookie was ready to leave. So, we got up, and I got disoriented for a couple minutes. I almost walked into the kitchen because I didn't know where the stairs were to go back downstairs. I could have sworn they were to the right, but I was wrong. We were politely pointed in the direction of the stairs and made our way down but first stopping at the restroom for a much needed relief. I asked Brookie if she wanted to stay in her Cinderella gown, and she said she did, so we got our stroller and started to head back toward the park exit.

I called Rob's cell phone and left him a message telling him we were on our way back. But as we came around the side of Cinderella's Castle, we heard music and singing. We looked over and saw the "Dream Along with Mickey" show.

Brookie wanted to stay and watch it, but the crowds were thick right in front of the stage, so we stayed on the side and watched it from there. Brookie was very content watching it there. I took a couple of pictures of her watching the show ...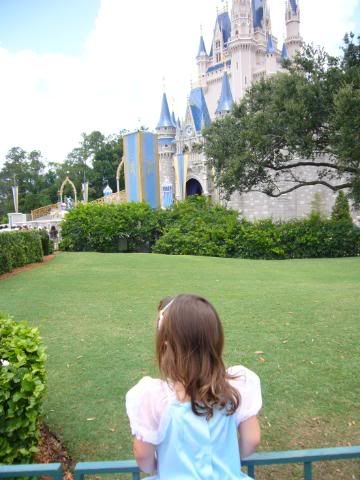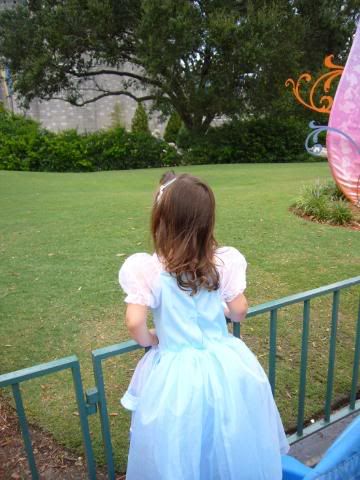 And here is me trying to get fancy by getting that Year of a Million Dreams thingie in the background ...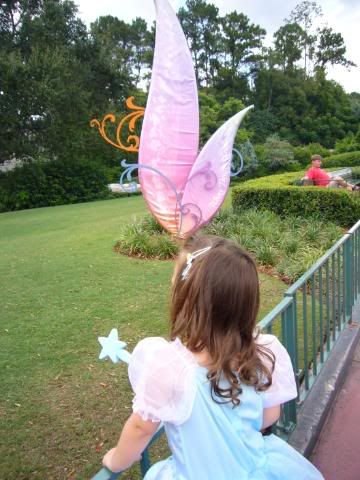 I looked up and noticed a black cloud coming over, and sure enough it began to rain, but it really was not a heavy rain. They were decent size drops, but it ended in about 2 minutes. No biggie. After the show, we made our way back to drop off the stroller and then onward to the bus depot. I did ask Brookie about getting our picture taken by PhotoPass to which she made faces at me. So, I decided to bag the idea. There were plenty more opportunities for pictures the rest of the week.

The entire way back to the bus depot, many people were saying goodbye to my Princess, and I was all smiles. Brookie was certainly used to it by now, and I think she enjoyed it. One of the CMs at the turnstiles asked if the Princess would be returning for the parade. I think he was trying to be a bit funny by implying that Brookie would be missing her float in the parade. I just politely chuckled and said no. Brookie did another good job walking back to the bus stop. We boarded the bus and then began our short journey back to Port Orleans Riverside. However, in that short distance back to the resort, Brookie fell fast asleep. I didn't mind at first. I figured she would wake up at our bus stop. Nope. She was fast fast asleep.

When we reached our bus stop, I had to pick her up, along with my heavy bag, and carry her off the bus. Did that wake her up? Not even slightly. She was totally dead weight. I had to carry her all the way back to our room. Now, walking up the spiral staircase at CRT had nothing on this one. This was a feat in itself. It was hot and humid. I was carrying a 30-pound sleeping Princess with a hot gown on along with a heavy bag full of stuff. And did I mention that my feet were hurting?

I made it back to the room, and thankfully I had our KTTW card in the plastic holder around my neck. But I couldn't put down Brooke and I was struggling. Thankfully, a male CM had just come around the corner. I don't have a clue what exactly his job was, as he was not a mousekeeper, but I was just glad there was someone there. He saw me immediately and rushed over to help open my door. He held it open while I put Brookie down on the bed. I thanked him and he left. And, wouldn't you know, that is when Brookie woke up!

Rob and the boys had already returned and left a note for me on the table telling me that they had gone to Riverside Mill for lunch. And there laid Rob's cell phone so I couldn't even call him to tell him we were back. And my message that I left earlier for him was not retrieved. I changed Brookie, and we waited for them to come back ...