It was so time for our desserts. After the wonderful scallops and seriously good serious sirloin, I did still have room for dessert. Oh yeah, baby. I am a dessert girl, and I will still totally stuff my face with dessert, especially if it is included in the Disney Dining Plan.

First, the boys each got some vanilla ice cream with hot fudge to pour over. They wanted me to take the picture. Yes, they did! They were getting a kick out of me taking pictures by this time. You should feel lucky I did not show you their plastic cups of lemonade and soda! So, here is the chocolate sundae ...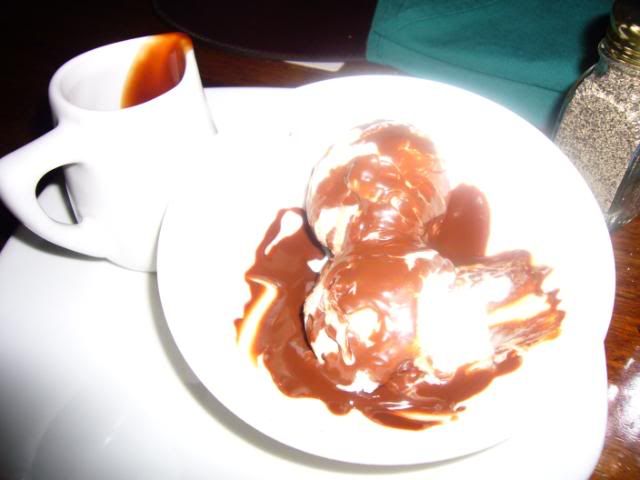 Rob ordered the Bailey's Creme Brulee Tart. I just turned to him and asked him if he liked it and he said, and I quote, "Yes, I liked it very much." Sounds a bit like a "yes dear" answer to me, but I know that he did like it. Brookie shared some of Rob's dessert.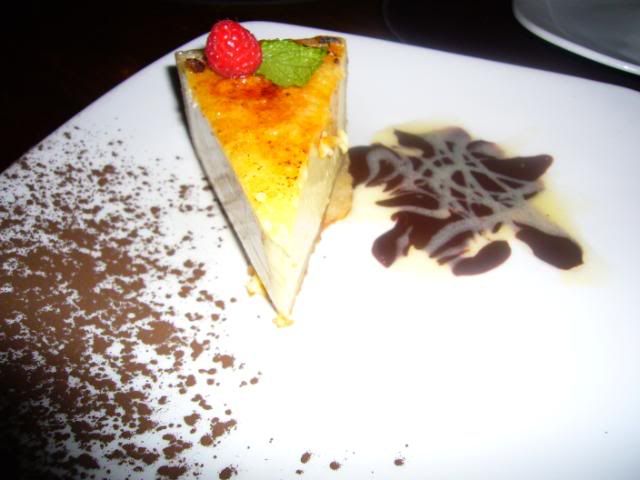 Now, comes my dessert. I got the Dunbrody Kiss. It was very very good. The bottom of it was a bit strange. It was almost like a rice cake, and I wasn't keen on that but the rest of the chocolate was awesome. Here is it before I shoveled my spoon in ...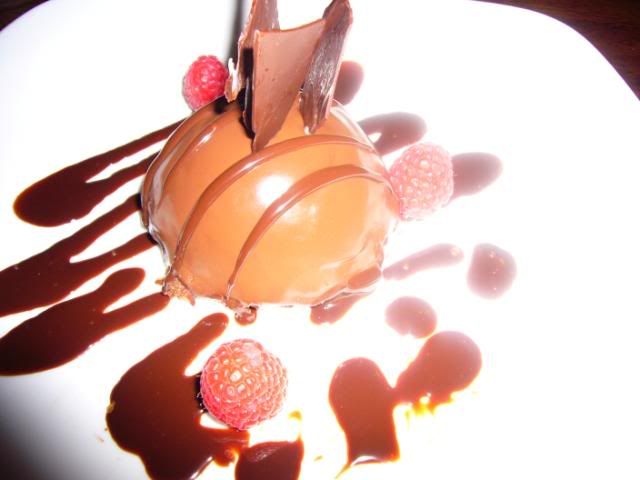 ... and here it is after a couple of bites so you can see the inside of it. Are your mouths drooling right about now?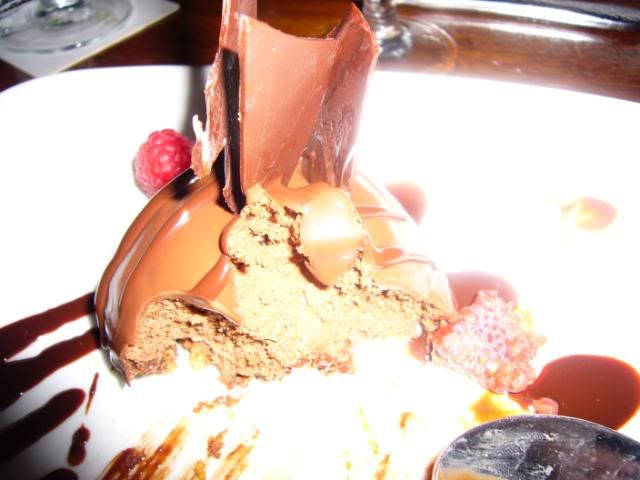 Brookie also managed to come over and share some of my dessert.

After dinner, I knew we had to get Brookie something real for dinner. But no way was I going to order something at Raglan Road for her now. I had the brilliant idea of a great meal at Mickey D's (that's McDonald's for all you people who don't know what that is). We got her a 4-piece nugget meal with some fries and white milk. She ate the nuggets but wanted to play at the LegoLand slide more. So, here she is going down the slide. Oops! Her Pullup is showing! Glad she was finally potty trained totally 1 month after our trip.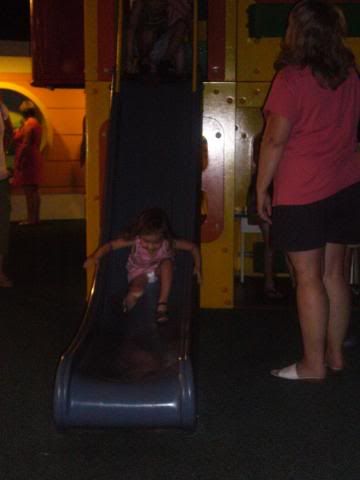 After we finally were able to drag the kids out of there, we headed back to Once Upon a Toy to get Alec his Mack (from the Cars movie) truck, and then we made our way back to the ferry and took a relaxing ride back to Port Orleans Riverside where we went right back to our room, got ready for bed, and fell asleep fairly early. Boy, that was some run-on sentence, eh? Wednesday we were going to MGM Studios.