So it was now 7 pm, and that meant that most of Future World was closing down and, sadly, that meant no Ellen today. We had to get over to Norway for the big DIS meet. I wanted to make sure I got there early so people would see me, plus I had to get a drink on the way.
W
e headed out toward the World Showcase, and we made it to Mexico where I saw the margarita stand. Hold it everyone!!! I had to get me one of them! I wanted the multi-flavored one, except without the mango. Turns out they only had lime & strawberry margaritas left. Good enough for me! I bought me one of them $10 margaritas, and the kids saw it and wanted some too. So we all took turns sharing until the kids passed out. You see, I wanted them on their best behavior for our DIS meet.
Psych!! No way would I even let them have a taste of my margarita. It was mine, mine, mine! Oh yeah, and because it's not good to give kids alcohol, blah, blah. Brooke had to go to the bathroom, and I told Rob to take her because, well, I just got my frozen margarita and I need to get over to Norway, so I had no time for kids and their potty breaks! Did I mention that I wanted to drink my margarita and that would get in the way too? The boys and I then slowly headed over to Norway.
I met up with a bunch of online DIS friends. It was a nice meet, lasting only about ½ hour.
Then Rob started with the slightly mean looks, trying to get me to say goodbye so we could leave because the kids were acting up, and he didn't feel like dealing with it alone. So, I waited until it was the best time to say goodbye. And off we went. It was time to get back to our room. The kids were tired and so were Rob & I.
On the walk toward the front of the park, I snapped this shot...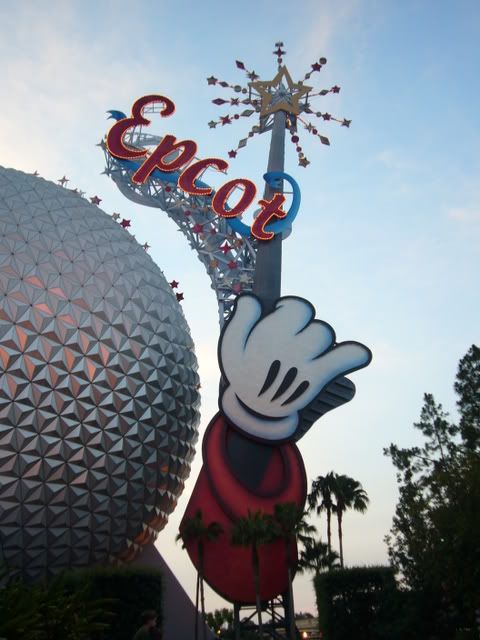 The ride back to the resort was uneventful. We all washed up, hopped into bed, and watched TV a bit. I set the alarm for 6:30 am tomorrow. So, to sum up our first day at Epcot, I think it all went very well. We all had fun. My feet hurt just a bit, but probably because I wasn't used to walking that much. Anything we missed we knew we could make up for when we returned on Thursday.
Stay tuned for Sunday, which is our Magic Kingdom day and another friend meet!!