After we finished our lunch it was time to head on over to The Land. But we had a couple of minutes to waste before our FP return time. I saw the Kidcot Center and took the kiddos over there to work on their first one of the day.

They all seemed to enjoy coloring the ladybug. When they all finished we headed downstairs to ride Soarin'. I let Rob & Evan go on first. The standby wait time said 90 minutes. Holy moly. Glad we had our FPs. I told Rob we'd be over waiting at the exit. So Alec, Brookie, and I went over and found some seats.

All the FP machines were now empty and a bunch of kids were running circles around them. Of course, Alec & Brookie wanted to join in, and I let them. Big mistake. There were so many kids running hysterically around that I just knew that one of them was either going to collide with my kids or slip and fall. I kept trying to get Alec and Brookie back to sit but they wanted nothing to do with sitting and waiting. They had some pent-up energy. So, I sat on the edge of my seat with my heart in my throat anticipating disaster.

There was no disaster. Everything was fine. I was just an overly paranoid mom. I think it took about 20 minutes or more for Rob and Evan to finally exit Soarin' and Alec and I jumped up and went. I couldn't believe how long that cue was! And the stinkin' 90 minute wait. And all the tired annoyed looks that the standby people give you as you are breezing right by them. I made no eye contact. I am most above those standby people.

We finally get to the point where we were at a standstill. A CM calls out to ask if there are any parties of 2. And I raise my hand and go to sneak under the rope when another couple behind us goes right past us. Anyone that was standing next to me could tell I was totally ticked. They shook their heads in sympathy for me.

But it was only a couple more minutes before they started to line us up for the next riders. At this point, I was totally glad that that stupid couple who cut us off went before us as we had the best seats ever - front row smack dab in the middle! Score! I hope that couple had end seats with total feet view. But I'm not bitter.

I got Alec all strapped in and I left my Crocs flops on the floor ... thought again ... then quickly hopped up and stowed them in the pocket by my feet. I don't know why I did that. Maybe I was afraid of the Crocs flops robber.

Then up we went. And there was California right before our eyes. At this point, I started thinking of my grandmother in California. While I had last seen her out here in 2001, my last trip out to California was in 1993, the year before I met Rob. The scenes of California were beautiful. When I started seeing the scenes from Southern California I could feel my eyes welling up. It was absolutely breathtaking. I decided right then and there that I have to do what I could to make a trip out there possible. Not only to see my grandmother and family but to experience a true Southern California vacation. Soarin' had to be the best attraction for me the whole trip based on the feelings alone.

Alec had a smile on his face the whole time. He really enjoyed "flying". He asked about Disneyland. I told him we would be going there someday, promise.

After meeting up with Rob, Evan and Brookie, we left The Land and headed over to Honey I Shrunk the Audience.

And it was great timing on our part because we walked right into the preshow and then had great seats for the rest of the show. The kids kinda liked it. This is the time that I debated going to get the kids pictures taken in the Imagination pavillion. If you recall, we wanted to get the kids pictures taken and put into a poster that made it look as though they were flying around Cinderella's Castle. We decided against it. We had a 6:30 pm ADR for Garden Grill so we knew we'd be back around here later. I'm sure you know where that idea is heading ...

We were ready to start around World Showcase. But Rob didn't get his chance yet to ride Test Track with the boys. I still had the Child Swap pass from Saturday available and handed it over to him. I told him that I would take Brookie and head over to Norway and get some FPs for Maelstrom and they could meet us over there. We said our "See Ya's," and we parted ways ... only I forgot to give him the PhotoPass card. Darn it!

I took my time walking Brookie to Norway. I enjoyed looking out over the lagoon across the World Showcase. It was a picture perfect opportunity. Ah ... Italy. I married an Italian. So, let's get a picture of Italy.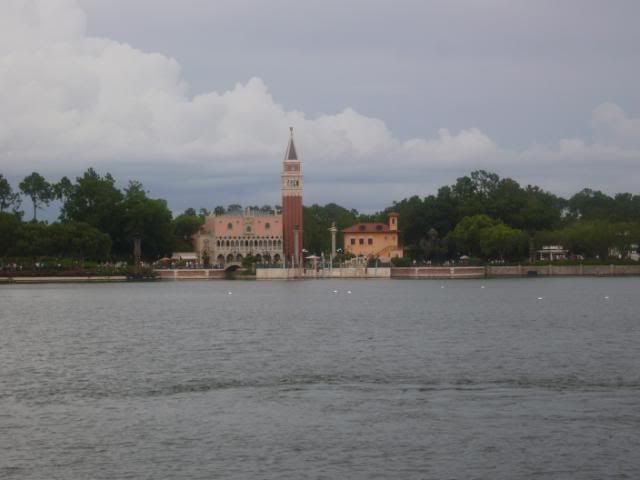 Panning a little bit over ...




And then here is Germany, where my mother was born in Munich (but she is Russian) ...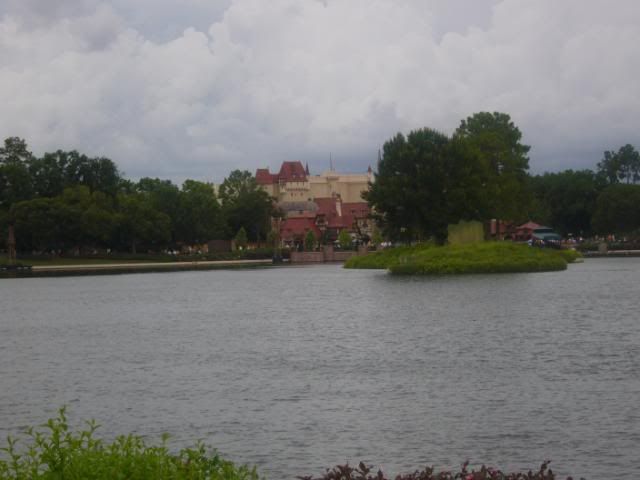 And slowly Brookie and I walked to Norway to get our Maelstrom fast passes ...