Disney's Magical Express, for those who don't know, is the free transportation that Disney provides from the airport to your resort. What a great feature, as last time we had to rent a minivan transport that cost about $100 round trip.

We got on the bus and had to wait for about 15 minutes before we were finally off. The bus stopped first at Saratoga Springs, then to Port Orleans Riverside (which was our stop), and then went on to the Polynesian. They kids loved watching the DME intro on the video.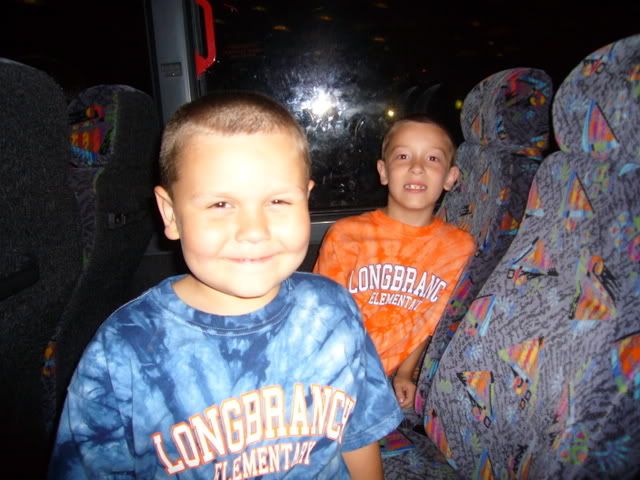 Brookie was a bit tired but still watched the video also. She sat with Rob.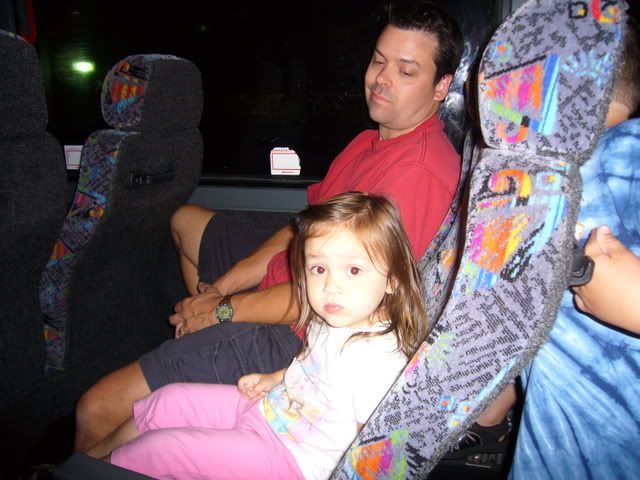 And since no one would take my picture, I had to take one of myself. Aren't I lovely after midnight?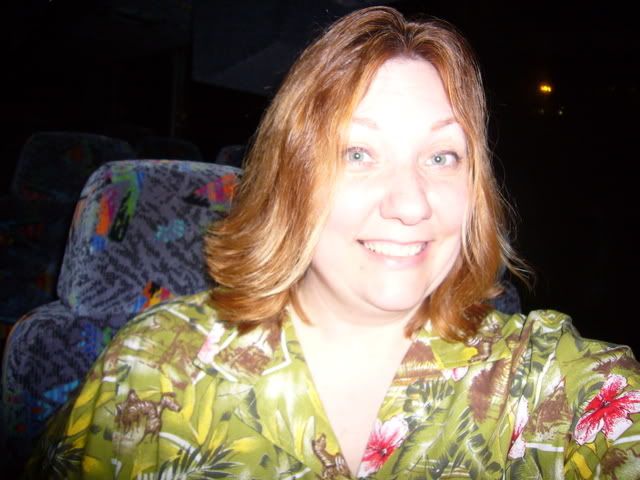 We finally got to Riverside at 1 am. Rob took the kids to the kids' area TV while I checked in. The CM gave me my info with resort map. Here is our little conversation:

CM ever so happily said, "You are in the most coveted building 18."
Me: "Oh no! Wasn't that a smoking building?"
CM: "Oh ma'am. All of our resorts are now nonsmoking as of June 1st so there is no problem with that."
Me: "I know they are nonsmoking now but can you assure me that the mattresses have all been changed out and the rooms thoroughly cleaned of smoke?"
CM: "Yes ma'am. They have been changed and cleaned. I assure you."

I had faxed some requests to the resort a few days beforehand and here's the scoop:

Trundle bed -- Yes!
First floor room -- Yes!
Building 27 -- Nope.
Former nonsmoking room -- Nope.

So, I was took him at his word and we proceeded to schlep all our baggage to our room. No Bell Services at that hour I guess. Saved me a tip though.

Our room did not smell at all. I even did the deep nose sniff in the mattresses and pillows to assure myself, and we never ever detected a hint of smoke in our room the entire time. We all finally fell asleep at 2 am and planned on sleeping in to whenever we felt like.

So it seems like our day of arrival pretty much went as well as I expected with only a few catches. On Saturday was our first day of Epcot and my first online friend meet. I was totally excited for both!