All these people were just standing there blocking our way.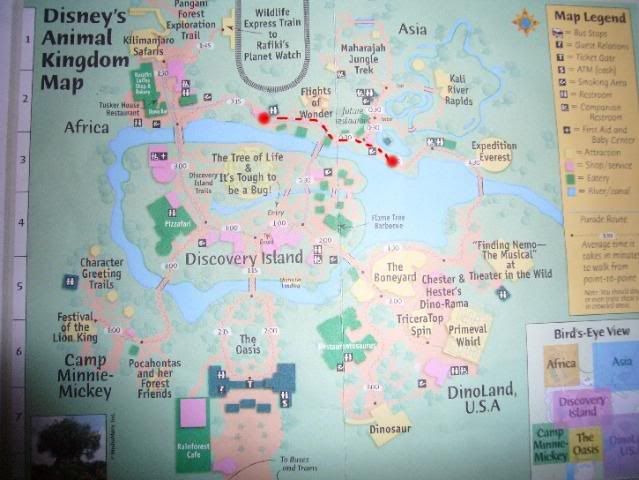 Then I noticed that a PhotoPass CM was there, but people were just watching. I mean, come on people, it's not like you have never watched someone get a picture taken before. So, with all these duh-headed people standing there, I walked up to the CM and said, I've got a PhotoPass card, please take a bunch of picture of us. And she did. They didn't turn out that wonderful, but I still like them. My hair had completely "waved up" from the humidity and I never bothered to fix it to go back to the Animal Kingdom. I wish Alec would have smiled more ...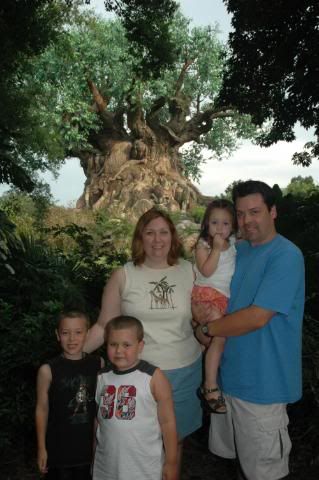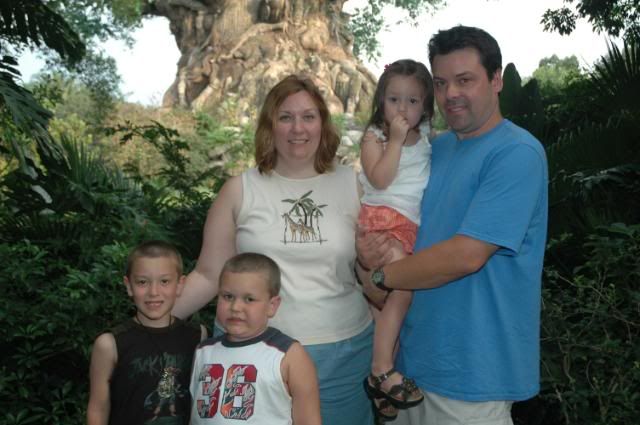 And then the CM told us to put up our paws and roar. I think Evan and I got into it the most. Oooh ... doesn't Alec and Brooke look "kary"? And what's up with Rob? Does he think he's too cool to put up his paws? Let me tell you, sometimes he is all paws ... but that's another story ...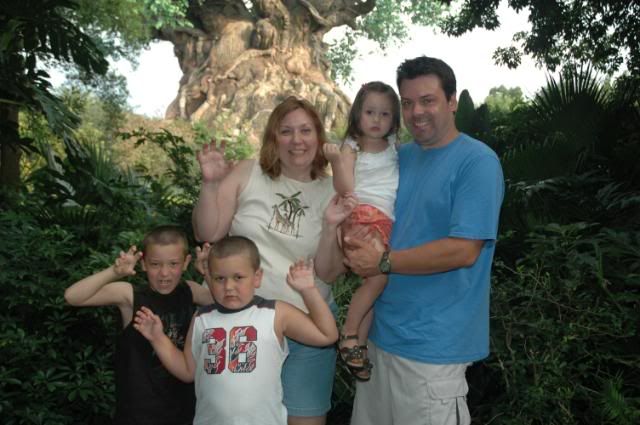 After our bunch of pictures we headed over to Tusker House to get a bite to eat. But it was closed. It was closed? It was closed. Okay. Plan B in effect ... which was walk around until we found something else.

The kids spotted misting showers on the other side of Tusker House so can you guess what they had to do next? I'm sure you guessed that they had to get wet. Okay, after wetting themselves down, we all went over the bridge to Discovery Island and we found the area to place EMH wristbands on, so we went ahead and got them on. And proceeded to walk.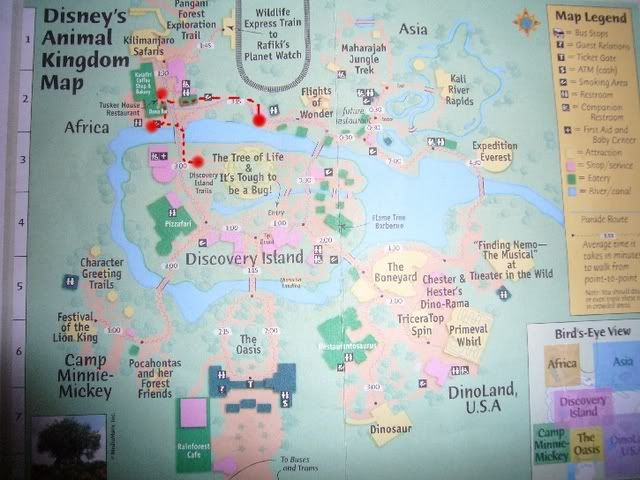 We decided on Flame Tree.




I'm glad we did because they really have wonderful outdoor seating here. We found a nice table by the water, and Rob went back up to get our food while I stayed with the kids. I wasn't too hungry, but I wanted something. I saw that they had a fruit platter there, so I told Rob to get me that. Looking over at Expedition Everest, I just had to take a photo ...




... and then another photo looking slightly more to the left.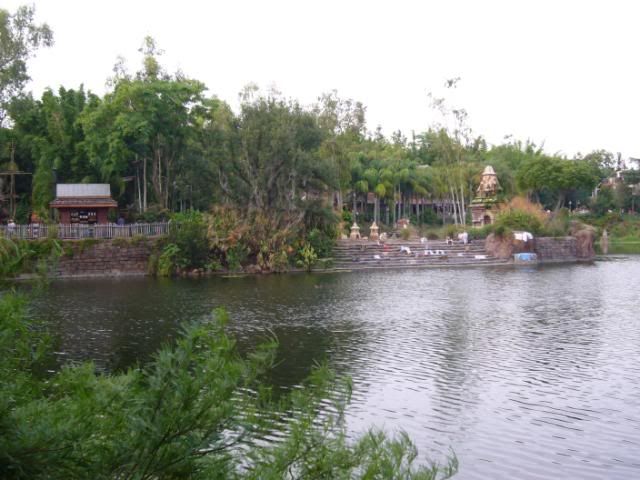 I looked up and saw the carvings, and guess I just had to take a picture of that too!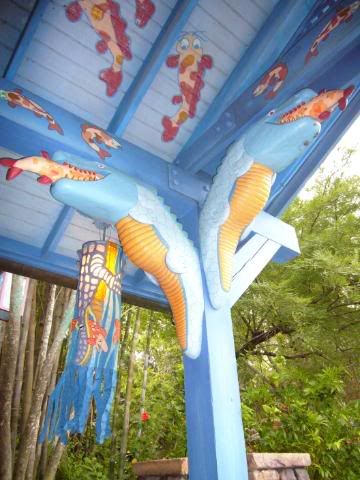 Now, the kids kept themselves amused whilst we waited for Rob. I can't figure this song out, but they were singing it over and over and over and over again. Hey, at least they had fun! Click here for video of
"Kids singing at Flame Tree"
.

Rob came back with our food. I don't know what he did with the receipts for that meal, so I can't remember what he had or the kids, but I do know that I had my fruit platter.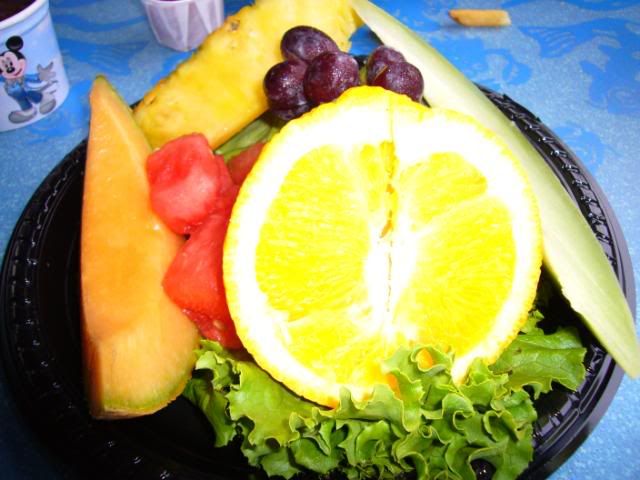 This was the best fruit platter ever. I loved it. The kids even helped me eat it. It came with a dipping yogurt, but I didn't bother with that. Also, because it was on our DDP, I forgot that I was supposed to get a side and dessert, so Rob guessed what to get me. He got me fries for my side. Now, isn't that odd? I want a healthy meal of a fruit platter and how about an order of fries with that? Needless to say I didn't eat them, but the kids shared them. He also got me a key lime pie, which is my most favorite of all pies. But it was warm and didn't taste good. So, guess who shared it once again ... the kids!

It was starting to get a bit dusky out. But we still were ready for more. As we walked up and out of Flame Tree, we saw that It's Tough to be a Bug had only a 5 minute wait.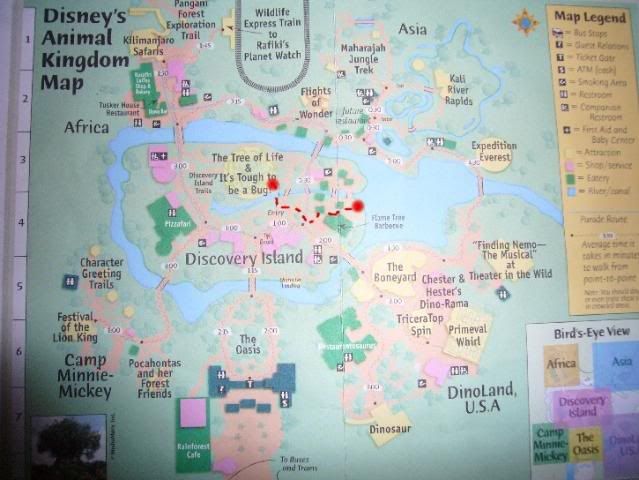 We walked right on up and into it and had great seats in the middle! How perfect was that? The kids really liked it this time. Back in 2003, Evan got scared right off the bat and hid his head into my dad's arms. But this time they all thought it was hilarious, especially the stink bug! I forgot about the very end when we had to make room for the maggots. I let out a big scream on that one. I even shocked myself!

So, where did we want to go next? My feet were really aching at this point but I was not going to ruin anyone's fun. We just had to go at a slower pace. I thought it would be great to go on Kilimanjaro Safari. Rob thinks it is boring and pretty much I do too but I thought the kids would like it. So we hiked on over there ...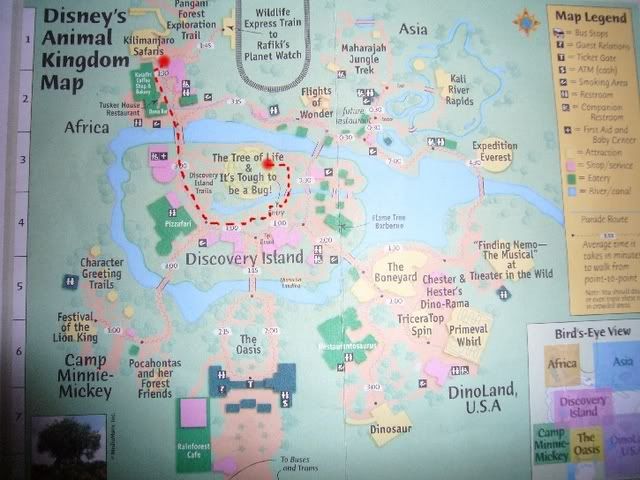 However, I guess the heat got to my brain because I should have known that it was not open any longer. It was too dark. I wanted to smack myself in the head, but I didn't need something else hurting me. We were getting a bit tired, and I knew it was another early day on Tuesday. So we started to head toward the exit when I glanced over and toward Camp Minnie-Mickey and remember that I had to see The Festival of the Lion King.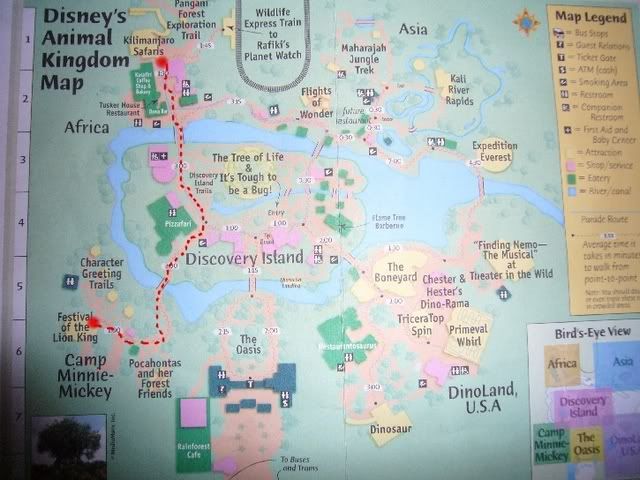 A show was starting at 9 pm and it was about 8:50 pm. Another great timing! We got pretty good seats and waited for the show to begin.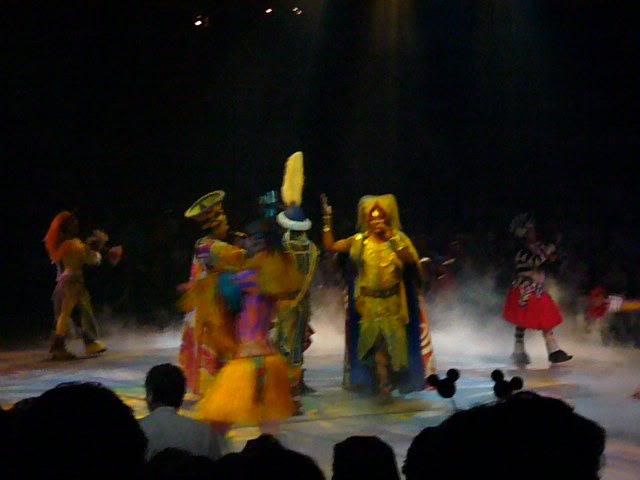 Let me say that this is the best show I've seen at Disney thus far. I had tears in my eyes when I heard this song ... Click here for
"Festival of the Lion King"
.

And when I looked over and saw Brooke clapping away, I had to take this video. But a certain someone had to have a bit of fun with the video. Click here for
"Enjoying the FotLK"
.

I sang to every single song whether anyone wanted me to or not! Remember people, don't sit next to me unless you want to hear my beautiful singing.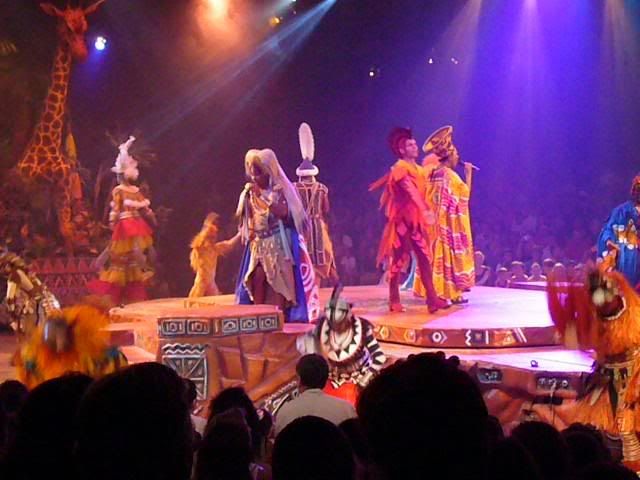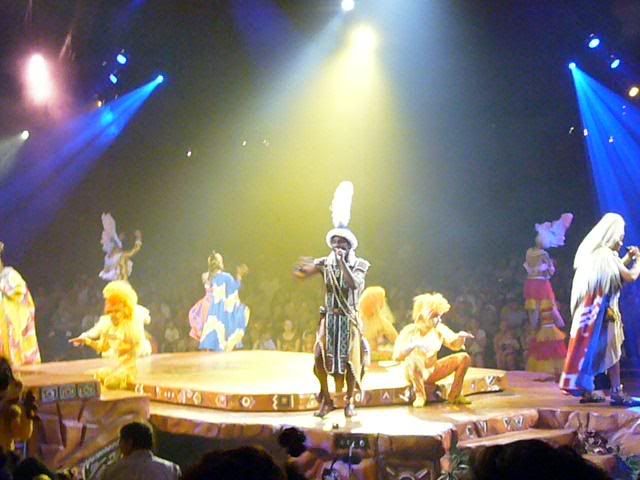 After the show we decided to leave the Animal Kingdom. We returned our stroller and headed on back to our resort.




Then we all got ready for bed and anxiously awaited our day tomorrow. We would be splitting up - Girls Day and Boys Day!