I had a great idea to post maps to show our trip around the park. I just wish I thought about it from the beginning.
We left Primeval Whirl and headed to Dinosaur!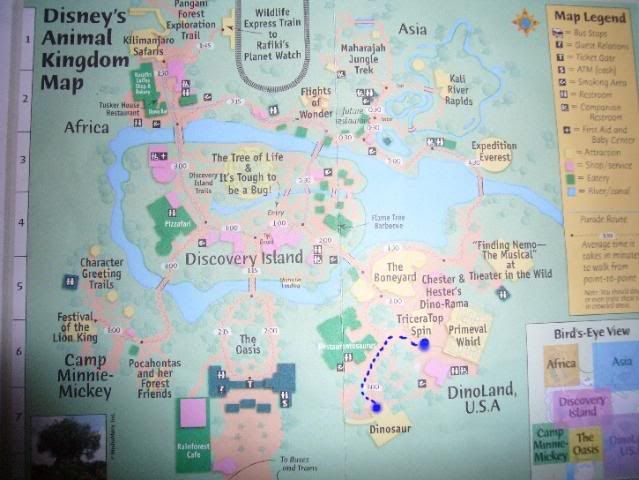 Time for Dinosaur. Man oh man, I was looking forward to this one. Some of you may know about this if you have Playstation but there is a Disney racing game that I absolutely love to play. And I am so good in the Dinosaur race. So, naturally, I have to compare the game to the ride. The wait time said 20 minutes. We grabbed the child swap pass, and I told Rob to take the boys on it first (it was his turn) while I tried to hunt down some water with Brookie. I started off in search of a water stand. All the carts were closed still. This was very irritating as it was so freaking hot, and we wanted some bottles of water. I will not drink from a fountain. I just have this thing for bottled water. I stock up on bottled water here at home. Plus I get grossed out by putting my mouth near where some other person's mouths might have been, especially since I don't know where that mouth has been. To quote Brookie in her new favorite saying, "Ewwwwwwwww!"
So, to get out of the heat, Brookie and I went into Dinosaur's gift shop and waited for the boys. When I finally saw their picture pop up on the preview screen, I rednecked it and waited for them to get off the ride.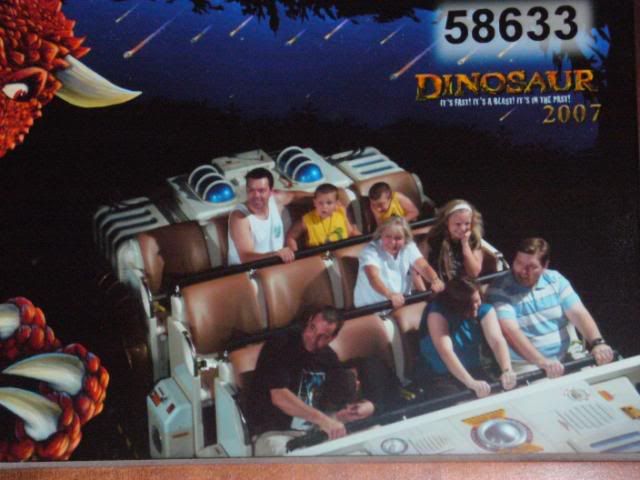 From the picture I couldn't tell that Alec and Evan had been scared by that dinosaur at the end. In fact, it scared the be-jeebers out of Alec, and he said he would not ride it with me. Evan said he did not want to ride it either. What? You bunch of freakin' wussies. I wanted to ride it but not alone. I don't really like being alone on things like that. So, I moped, and we headed on over to Expedition Everest. I was still in search for bottled water. There were none on the way ...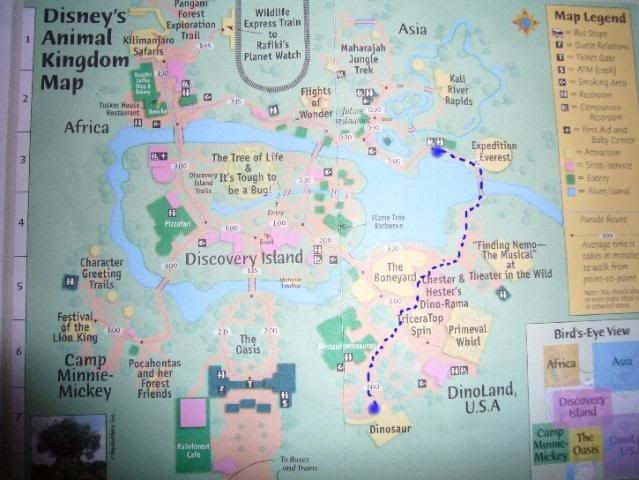 I took Evan on Expedition first, and I told Rob to go hunt down some bottled water. The fast pass line was very short, and we boarded and took off. All I can say is WOW! We loved it. It was so much fun. I did not get to redneck the picture because there were too many people in the way. Bummer.
Evan & I exited Expedition and started looking for Rob. I saw Brookie's stroller still parked where we put it but Rob, Alec & Brookie were nowhere to be found. I called him on his cell phone. No answer. I had Evan get up on a rock and scan the crowd. Nope. Now I was getting ticked, mainly because I was hot and starting to get dehydrated.
Side Note: I am prone to dehydration. At least I think I am. There have been many a times that I've been sick from dehydration. One interesting story was that I suffered from dehydration/heat stroke in Bermuda once and passed out in the middle of the street. Thank goodness a kind police woman saw me and rushed over and helped me out. She ordered me to go straight to my room and drink some orange juice or she would drive me to the hospital. I went to my room.
Anywho, I always make sure now that I drink enough in the heat.
Finally I saw Rob with Alec & Brookie heading our way, and I flagged them down. He was ticked himself because he said it took him forever just to find someplace to get a bottle of water. We both didn't understand why they didn't have anyplace in the morning to get some. I am positive people would be buying some. Rant over ... maybe.
Rob went on Expedition with Alec while I stayed with Evan and Brookie. We went over to a nice viewing area, and I took a couple of pictures. I actually took a bunch of pictures hoping that one of the trains had Rob & Alec on it but in the end, you just couldn't tell, so I settled on keeping the best two photos.
We were wondering what we wanted to do next. We grabbed some fast passes for Kali River Rapids first.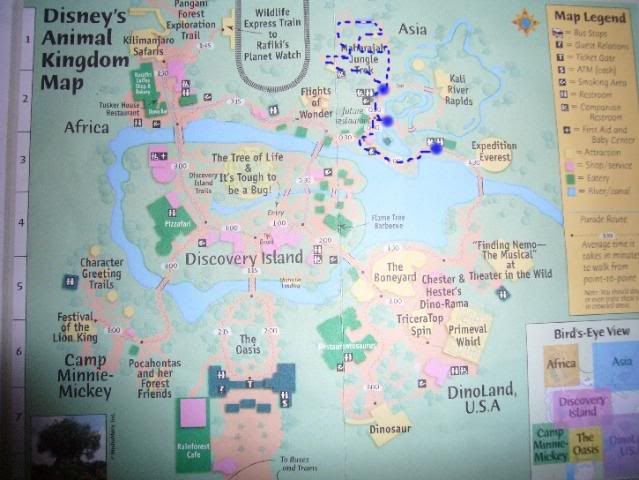 Then, I really wanted to go on one of the trails to check out some of the animals. So we went on the Maharajah Jungle Trek. Almost all of us enjoyed this trail. Almost means everyone but Alec, who was being a little grump. He just did not have any interest in looking at any of the animals. Well, too bad for him. We all enjoyed it and told him to just keep up and keep quiet. There was only one spot that I remembered to take pictures.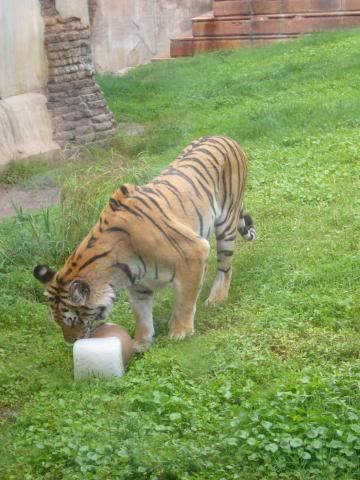 And this was just too good not to take a picture!
Now the time was 11:30 am. Yes, we accomplished all this in 2½ hours. That's good for my family. As we were getting a bit hungry, we headed on over to Discovery Island to see what we may want to eat over there. We did circles around here but couldn't quite decide on what to eat. This was definitely not in our plans. However, the ice cream stand was calling our names and we all stopped there.
We used 5 of our DDP credits and what a good use of credits on this hot and sticky day. I had my very first Mickey Premium Bar. Yes people. My first! The kids have had them, but I never did. And, I didn't have to share it. It was scrumptious on this sticky hot day. We all finished up and headed back to Kali.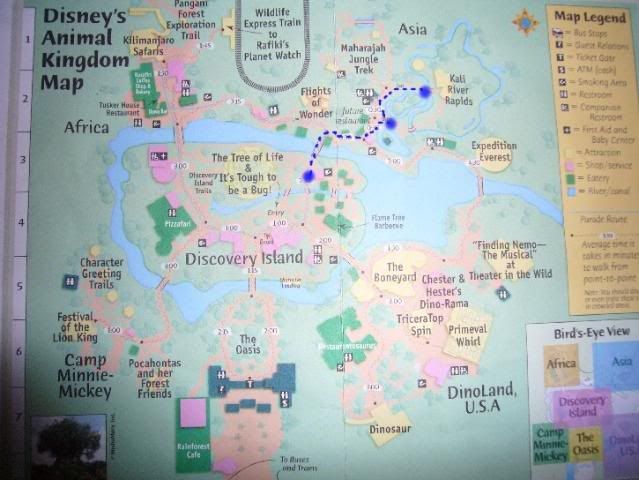 Rob took the boys first and Brookie and I made our way down to the end of the ride to take a little video of them ... Click here for video of "Rob & Boys on Kali River Rapids".
And when they got off, I took the boys. It was so much fun passing the long long line of hot sweaty people. A lot of them gave us dirty looks. WhatEVAH. They could have gotten a FP so too bad for them. The CM sent us over to a raft, and at first I said that we couldn't get in it because I only saw 2 seats. He said there were 3 in there and walked away from us. There was 1 seat on one end 2 other seats on the other end of the raft not even together. I was not comfortable with this arrangement, so I refused to get on and a CM rushed over. I said I needed to sit with my young boys. He scolded the group on the raft saying, "Come on people, move over, a mother and her kids need to sit together. Come on move!" It was a bit shocking, but the people moved over. It was not a big deal for them to move either. It was a case of people leaving 1 seat in between here and there. So, off we went. I did manage to get pretty wet as I was headed in the backwards position at the big drop. Good thing I had my sports bra that day as the white shirt would have flashed it all! Here's the video Rob took ... Click here for video of "DM & Boys on KRR".
By this time, we were all pretty tuckered out and needed a rest back at the resort. My feet were rubbing pretty hard on the Athens from the sweat. Did I mention how hot and sticky it was? I'm sure I did. So, back to the resort we went.