Our bus seemed like it took forever to get to the Animal Kingdom. It was about 7:45 am, and we started heading toward the main gates. I heard someone behind me call out, "DawnMaree!" I turned around and it was Laura (Crazy Kanga from the DIS) with her hubby and 2 sons. I was surprised that she recognized me from the behind!! It was nice meeting up with her then because it gave us a chance to walk together through the park to Donald's.
We all arrived at Donald's and checked in then got our pictures taken before they called our names. We had forgot to ask to be seated near each other so we all crowded in the restaurant and asked for tables next to each other. They reprimanded us and sent us away outside. No, really, they said it wouldn't be a problem but we would need to wait outside so they could rearrange it. When they called us back in we were all seated at a big long table together. That was wonderful. It gave us a good amount of time to chat away and meet the characters together.
We all went up in the buffet line. I am not a big breakfast person, so I just got scrambled eggs, hash browns, a plain bagel, and some fruit. I do remember that I did not like the hash browns. They were very very onion-ey! Yuck. I can't remember what anyone else got, and I did not take any pictures of the food. We were much too busy talking!
If you haven't been to Donald's, too late. It's not there anymore. The characters started in the room next to us and finally made it to our room. First up was Pluto ...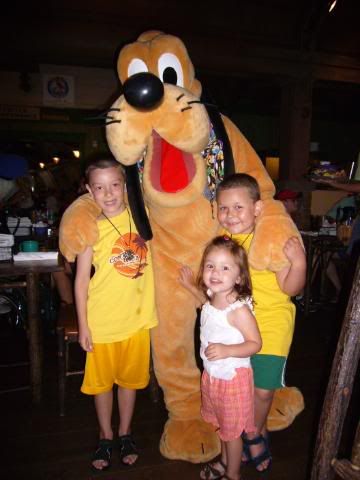 ... then Goofy ... with Brookie saying, "Oh shhhhhhhh.....ugar!"
And here came the main Duck!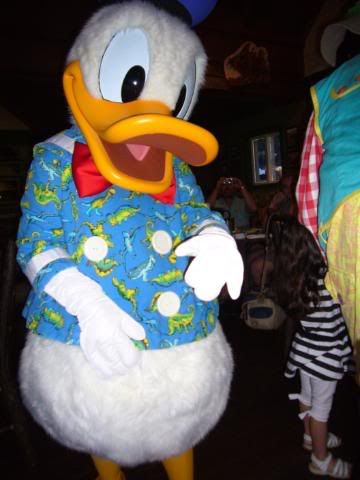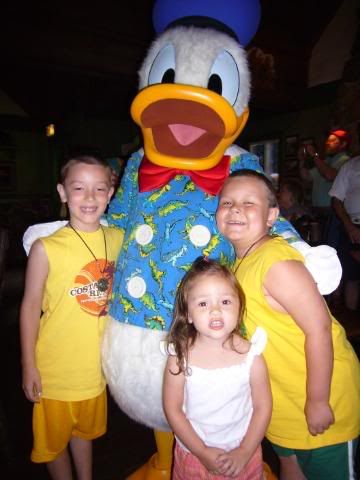 Mickey brought up the rear. Oh, doesn't that sound great?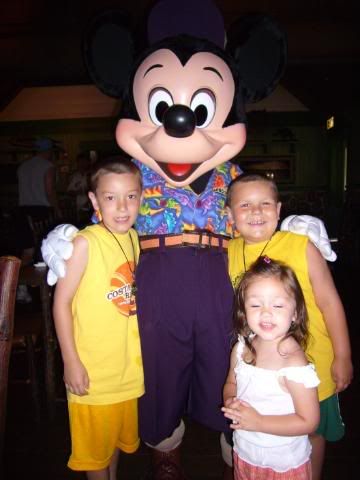 Good thing for digital cameras. You can sometimes notice when your picture doesn't come out right. Thanks for blinking Brookie. But I took another one ...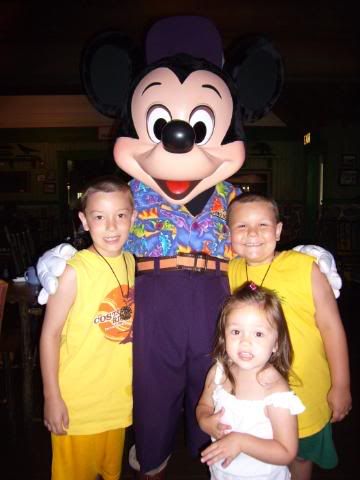 The characters would either meet up with Laura's boys first or my kids and then switch. We had to explain to them every time that we wanted separate pictures because they wanted to do one big picture with all the kids.
We asked Mickey if Laura and I could have a picture and of course he was more than happy to be the mouse in the middle ...
To sum up our breakfast, the best part of it would have to be having a nice long time meeting up with Laura and her family. The next best part was taking the pictures of the characters with the kids. But they were certainly very rushed and not very interactive at all. The food was fine. Like I said, I'm not a big breakfast person, so I really cannot tell you how good or bad the food was. I didn't really even eat too much.