When we arrived back at the resort ...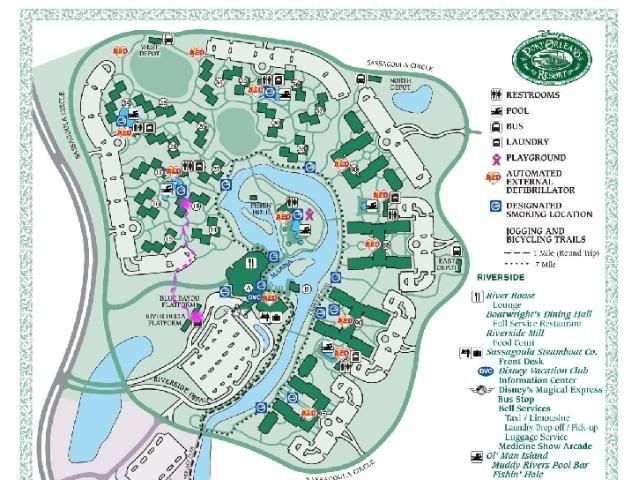 ... we sat down for a bit to relax. The balls of my feet were really hurting. I looked at them, and sure enough, there were blisters beginning on them. I knew it had to do with the sweating at the Animal Kingdom rather than my Crocs. But it was really a combo of both with the rubbing sweatiness. Sounds quite lovely, I know.
We did decide that we were now very hungry. So off we went to Riverside Mill for counter service meals. We chowed down and went back to the room and everyone changed to go swimming.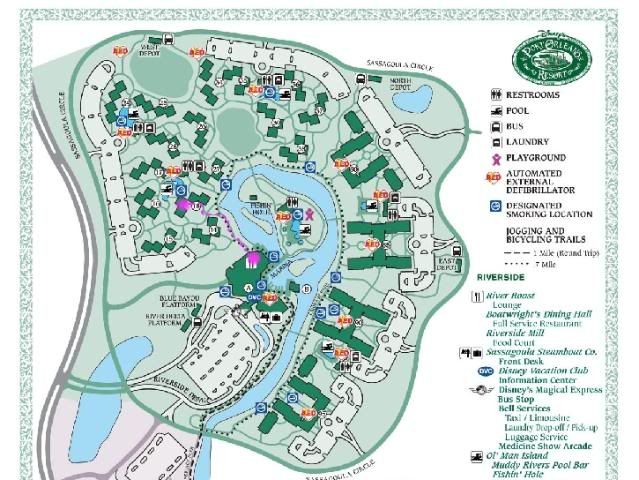 I wanted to do my favorite thing. Can you guess what that could be? It's laundry! Because there was a quiet pool with laundry facilities on the other side of our building, that's where we all headed.
Actually, Rob took the kids first while I packed the dirty laundry in plastic bags and put it in one of our small suitcases. Then I wheeled it on over to the quiet pool.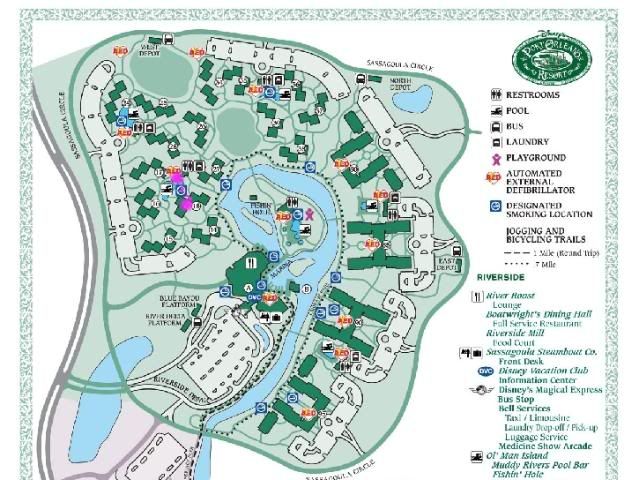 I staked out my lounge chair and plopped my stuff there and rolled the dirty laundry over to the laundry building. I only needed to do one load. Now here's one thing that irked me. I had brought a sample detergent packet from home so I didn't have to spend the money to buy detergent at Disney. But it took me forever to open the laundry detergent. I was even trying to rip it with my teeth and rubbing it on the coin slot surface. Finally a tiny bit opened and I was able to pour the detergent into the machine. I started the machine and went back to my lounger. Here's where my picture taking is not so well. Sorry. But it gives you a feeling of what the quiet pool is like ...
Evan getting ready to run and jump in. Yes, I told him not to do that. See cute Alec?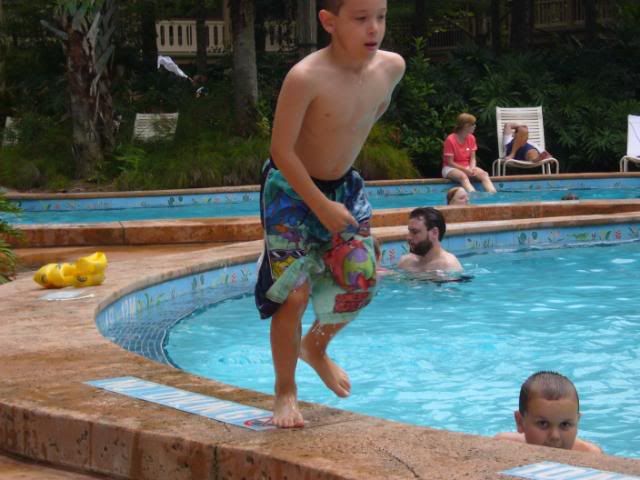 Rob helping Brookie swim while Alec looks on ...
Just a wider view of the quiet pool ...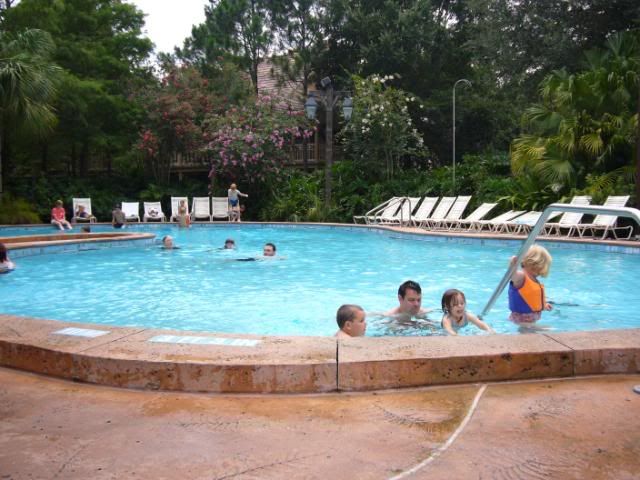 And finally a short video of Brookie getting into the pool and Evan jumping in ...
Click here for a video of
"Swimming in Quiet Pool"
.

After the laundry was done washing and drying, I folded it all and headed back to our room. Rob & the kids followed shortly after. We all got redressed.
Now, it's time to show you a framed picture that was on our wall in our room. This picture really started to freak Brookie out. She kept saying that it was "kary" (she doesn't pronounce her S's too well. And how good of a Mommy am I? I took a picture of Felicia on top of the picture first ...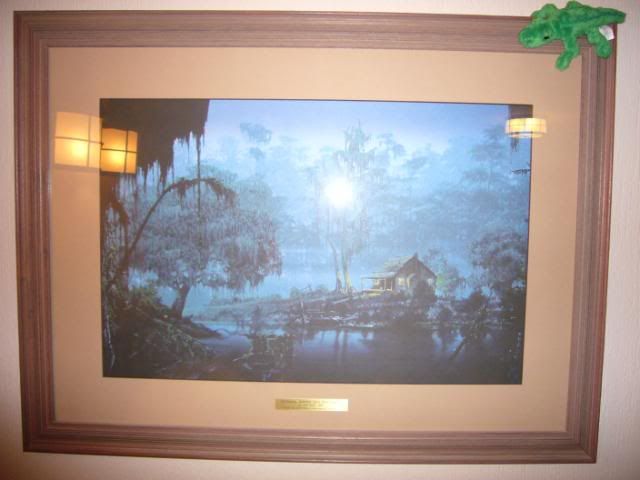 ... and then I draped a towel on it for the rest of our trip. I left a note for mousekeeping not to touch the towel and explained why. Still, Brookie just hated that picture! By now it was close to dinner time and what did we decide to do ... ?