We were well rested and where did we want to go? Back to the Animal Kingdom, of course. So we trodded on down to the bus stop and waited for our bus back to the Animal Kingdom ...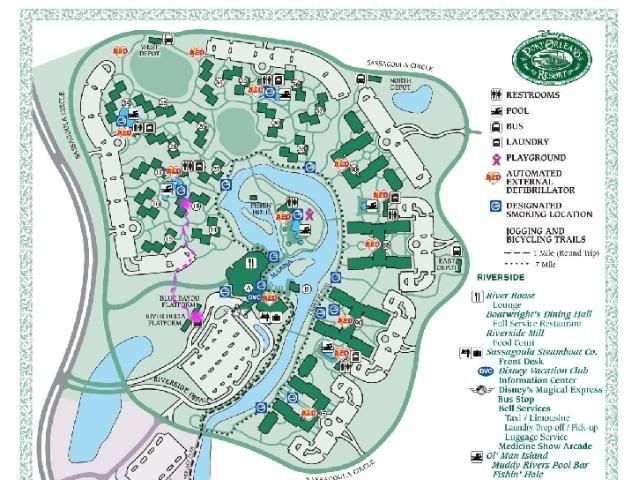 There was only a handful of people on the bus. Normally the bus goes to Blizzard Beach first and then Animal Kingdom. The bus driver asked if anyone was going to BB and no one was, so we went straight to the AK. We had no set plans on where to go. We really did not even care. We knew we were going to eat a light dinner there and go on whatever we possibly could since it was an Extra Magical Hours evening. We got to the AK sometime after 6 pm. We picked up our double stroller and headed over to Dinosaur.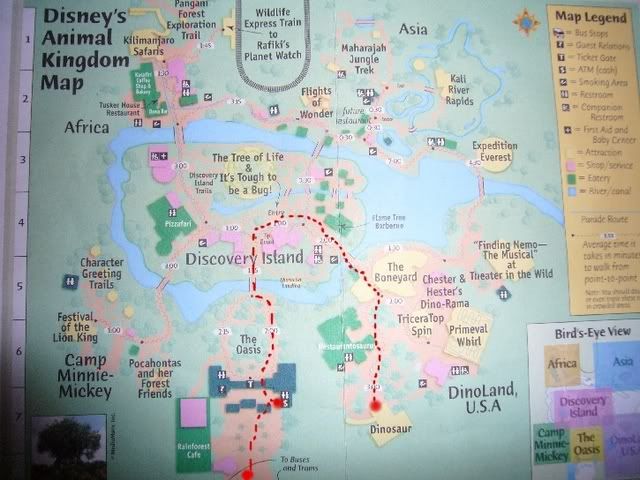 I was determined to go on it no matter what. No way was I going to miss it again. When we got there, Evan said he would go on Dinosaur with me but Alec said, "Nope. I just don't wanna." Fine with me. I got to go and with a riding partner! Evan was not scared at all, and he warned me about every single "scary" moment coming up. Thanks Ev!
Meanwhile, Alec was a pouty kid because he had to wait for Evan and I ...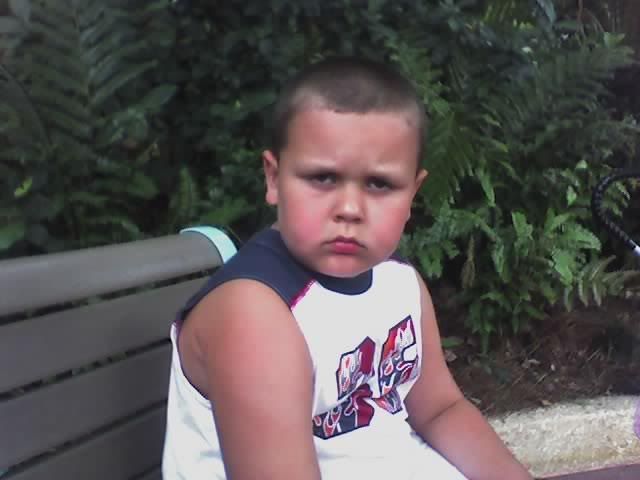 After Dinosaur, Evan wanted to buy something for himself but I told him to wait until we met up with Daddy. When I approached the stroller, this is what I saw ...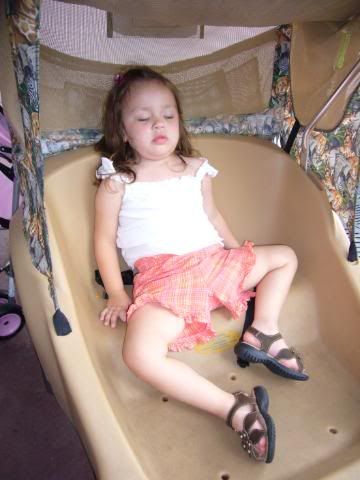 So I offered to watch Brooke while Rob & Evan went back to the gift shop. Evan came back with a glow-in-the dark dinosaur. It was cute and it was on sale. Score! Let's see ... where did we want to go to next? Oh heck, we decided to check out the line for Expedition Everest. But on the way we saw this cute little blue dino near Primeval Whirl and Brookie wanted to get her picture with it.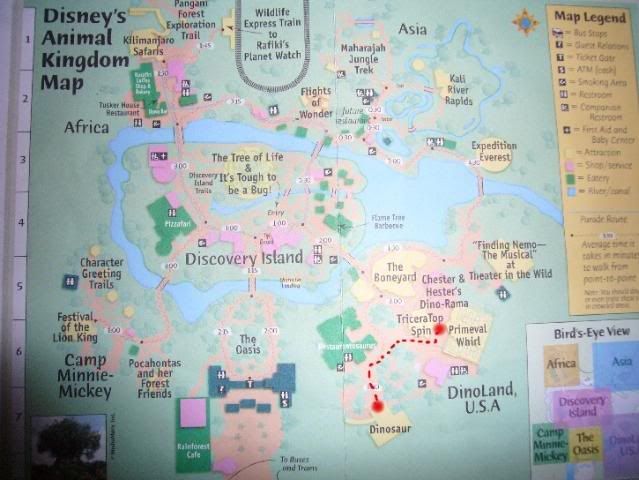 There was no real line and kids were running up here and there while I patiently tried to wait. Finally, I had enough and just walked Brooke right up to the dino and asked another kid approaching to please wait while I took a picture. I said PLEASE! Gee ... after all that you'd think she would smile at least. Or maybe she was just as frustrated as I was.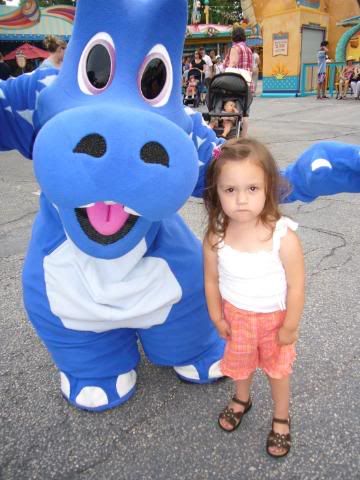 So onward to Expedition Everest and ...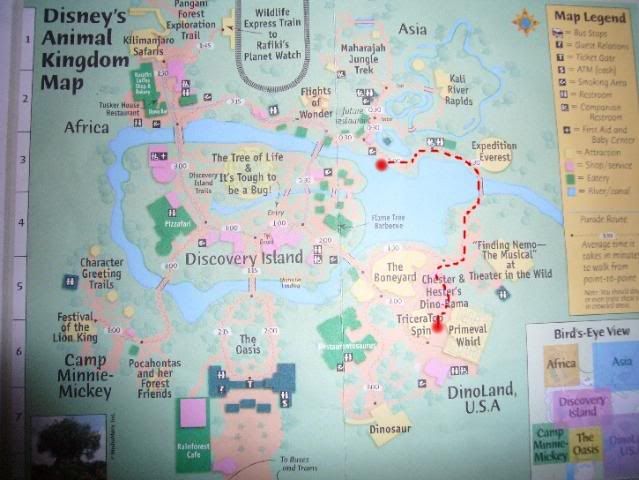 .... no way Jose! Line said 90 minutes, and I said not worth that long a wait. We already rode it so we didn't really care. Then we heard the beating of the drums. Oh we had to stop there.
And the kids had a blast playing with them!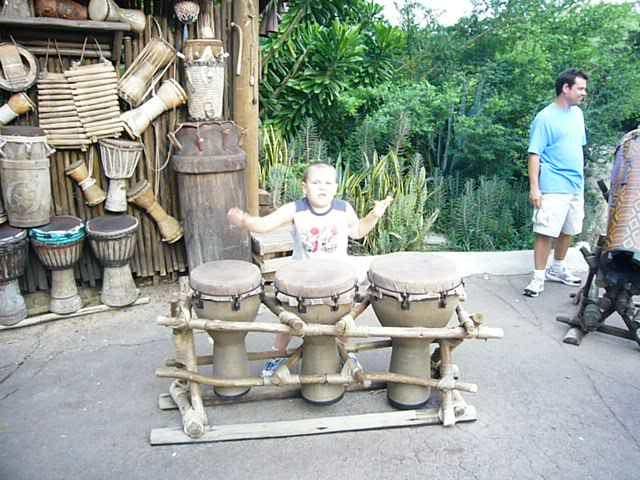 Trust me ... Evan did have a blast with it. It just doesn't show. You mothers out there know what I'm talking about!!! Right all you mamas? Even little Brookie had to join in ...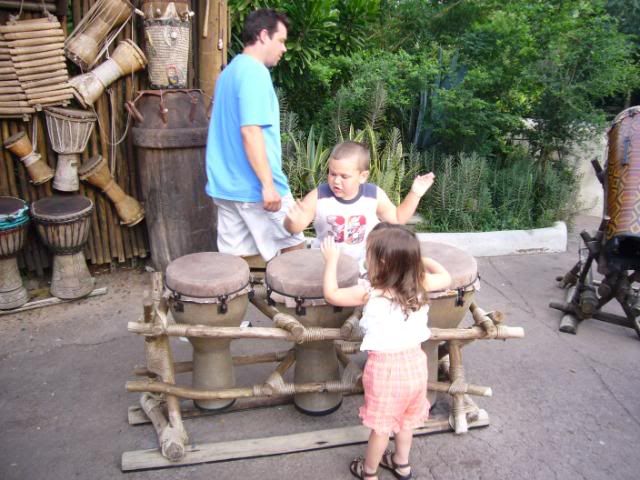 And now it's time to debut my newest professional drummer ... ALEC! Watch his most cool moves as he plays the drums ... Click here for "Alec plays the drums".
So when we were all drummed out we kept heading toward Africa. But then we came to a complete stop before we got there ...