We finished with breakfast about 8:50 am, so we had 10 minutes until rope drop. We walked over to the rope area. I was immediately disappointed at where the rope was. I had no idea where it was going to be from Dinoland, but I was hoping it would be closer to Asia so we could get right over there and ride Expedition Everest. The plan was for all of us to get over to EE and ride it with Laura. We would then go our own ways from there.
We are all right at the rope chatting away still. I figured the rope would be dropping soon and it did. We started our trek over to Asia -- all the while talking and talking away. We really did not walk very fast. But we should have. When we approached Expedition Everest, the line was so long already that my eyes bugged right out of my head. We all looked at each other. Then Laura said they weren't going to ride because her son really wanted to go on Kilimanjaro Safari. So we said our goodbyes, and I went to stand in the line for the fast passes. I got us all FPs, and we headed back to Dinoland.
The only thing we ever rode there before was Triceratops Spin, so we wanted to ride Dinosaur and Primeval Whirl.
We saw that Primeval Whirl had no line at all. Now this ride had a 48-inch minimum, and Alec did not measure up to 48 inches at home, so I warned him that he may not be able to ride this. We walked up to the measuring stick and he just made the 48-inch mark!! Woohooty! I took the boys on Primeval Whirl while Rob stayed with Brookie. He snapped this picture of us going by ...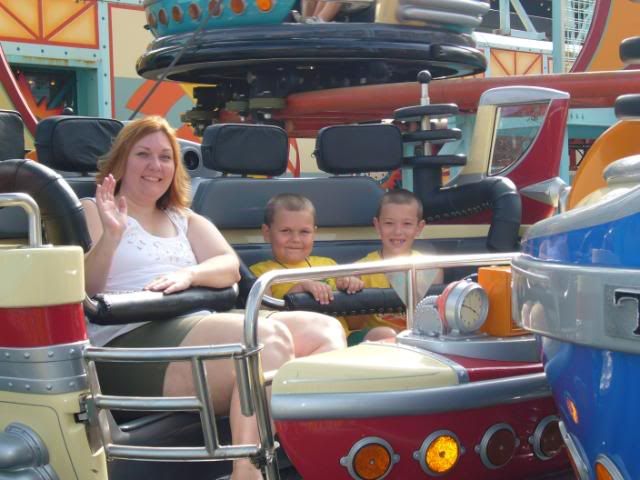 That ride really whips you around. I almost lost one of my Crocs flops! That would have been a tragedy! We got off the ride, and Rob quickly took Evan and Alec back on it while I took Brooke over to Triceratops Spin. I told her to smile for the picture but she said, "No. I don't wanna."
As we were flying high on Triceratops Spin, I snapped this picture of Primeval Whirl. But I don't like it. It really reminds me of a dumpy amusement park. I dunno ...
Brookie really wanted to go on Triceratops Spin again and, because I knew we were going on Dinosaur and Expedition while she had to sit it out, Rob took all the kids on it. I stood below and snapped a couple of pictures. First picture - not so good ...
well, maybe a good one of Rob!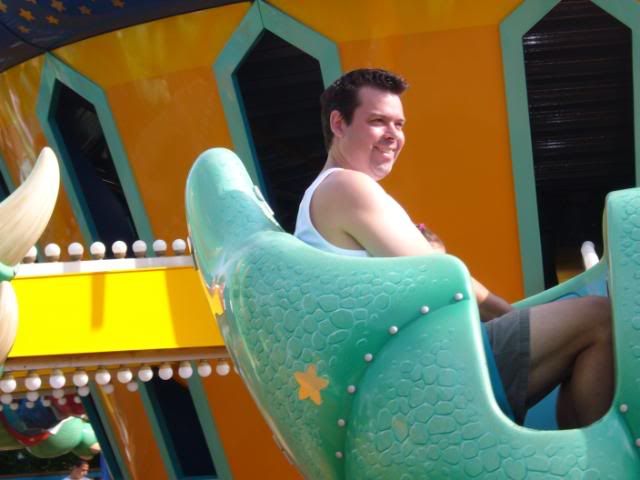 Second picture not so much better, but it really is hard to get a good picture on this ride. And why are the boys looking the other way? What is so interesting that way?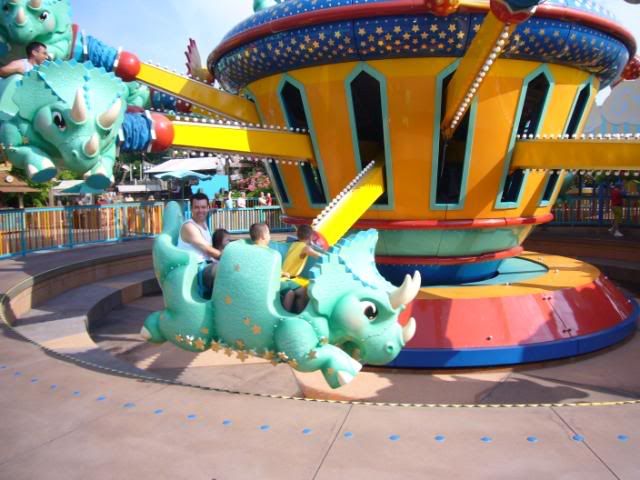 Then we headed on over to see what the line at Dinosaur looked like. We still had some time before our fast pass return for Expedition Everest. I really couldn't wait to go on this ride. Rob was excited too. Would the boys chicken out? Stay tuned ...