I noticed that it was nearing 3:30, and we had an ADR (advanced dining reservation) time of 4:10 at Le Cellier. So we decided to leave The Seas and head on over to Canada. Rob & I were very excited about going to Le Cellier as we had never been there before. I had done my research on All Ears looking at menus and, of course, drooled over the photos that people had posted on the DISboards. I had practically already known what I was going to order.
As we were nearing Canada we looked down at Brooke and she was asleep in the stroller. Oh no … not for our first sit down meal! What were we going to do with her? I walked into Le Cellier, and I waited to check us in. The couple in front of us was asking if they could get a reservation to eat tonight. The CM (cast member) kindly said, "I'm sorry but we are completely booked for dinners until July 7th." Whoa! I knew it was hard to get into the place but didn't realize how booked they were. The couple was totally stunned and wanted the CM to help them make another ADR for someplace else in the Showcase. The only places available were Marrakesh, Biergarten, and Teppenaki. The couple shook their head and thanked them. So, as I checked us in, I asked if we could possibly have a table that we could bring the single light-weight stroller in. They said it would be no problem.
I ran outside and told Rob & the boys to come on in and bring Sleeping Brookie. The room was crowded with people waiting to be seated, but we did fit in. We had a prime view of the CMs singing "O Canada!" in both English and French –- at the same time. It was almost a show-off between 2 of the CMs, but it was very fun to watch.
We waited as everyone but us were seated, and then they finally sat us with the stroller. We were seated in the Quebec room (which is the first room you walk in to). Our waitress was Tamara and she was absolutely great with everything. She explained the room, the breads, refilled everything without asking. She was "spot on"! We took a couple of pictures before we received our food.
Evan drinking a chocolate shake (yes part of the DDP) and Rob.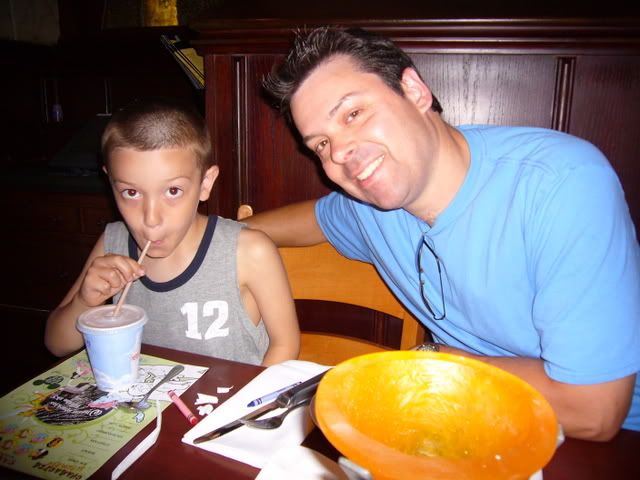 ... and me & Alec.
We were seated next to a server station, which I wasn't sure if I would like or not, but it turned out that there was nobody on either side of us and we had more room, which was great as I had heard how some seats in here are very tight together. Everyone thought I was odd when I took this picture of the server's station. I added Evan in there just to "make it look good".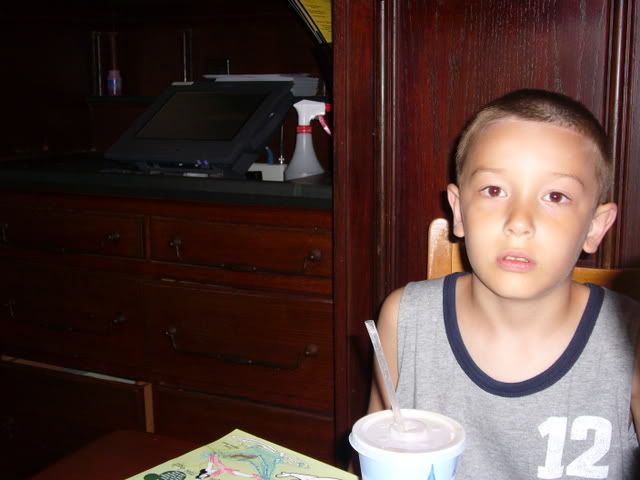 Right after I took that picture Rob asked, "Did you just take a picture of the server's station?" I said, "Of course I did. I have to show my friends where we sat for my report." He just shook his head and said I was crazy and no one would care. Do you all care? If the answer is no, then please not answer. Ha!
Also, it was the first of many shakes of the head whenever I wanted to take pictures of the food before anyone took a bite. The boys really did warm up to my food picture taking the more I did it.
Along came our scrumptious bread … and Evan smiling in between ...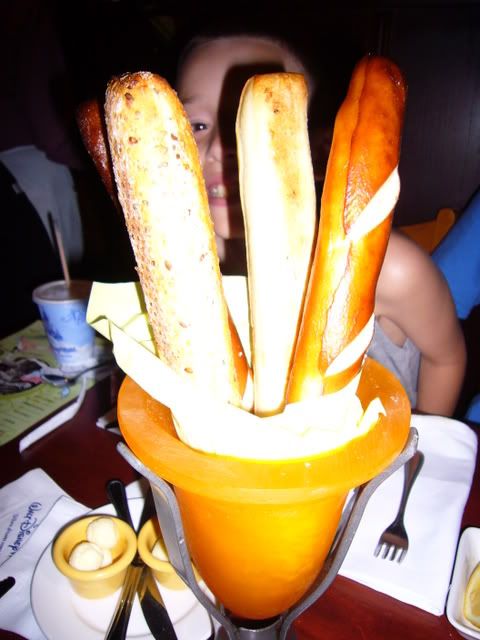 … with butter.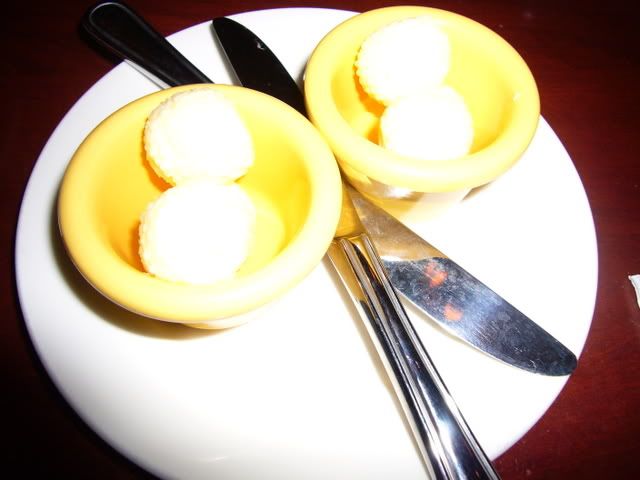 Evan ordered the cheddar cheese soup for appetizer, which he didn't really want but I told him he had to order something.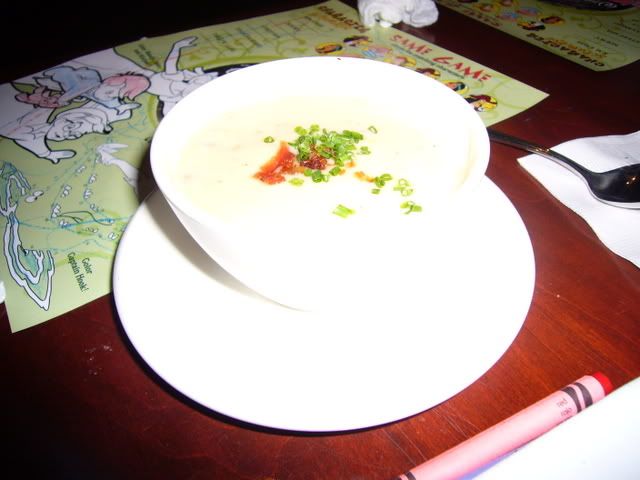 He didn't eat it. I tried it and didn't care for it, but I'm not into cheese soups anyway. Rob had a sip, and I can't remember if he liked it but it pretty much just sat on the table.
Alec got the carrots & celery with ranch dip as an appetizer, which he also did not want but ate a couple carrots. No picture of that. I'm sure you can picture some sliced carrots and celery.
Rob ordered the Duck Two Ways which he absolutely loved! Evan loved it too and they shared that. In fact, I think they licked the plate clean.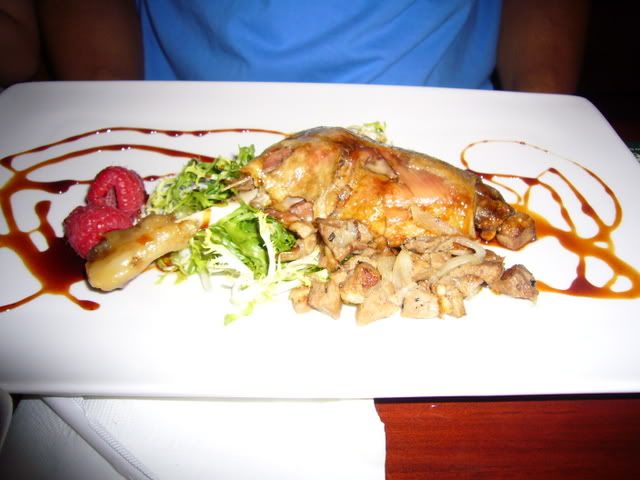 Next it was my turn. Oh boy, I knew exactly what I wanted as I had seen so many pictures of it online. I ordered the Shrimp Cocktail.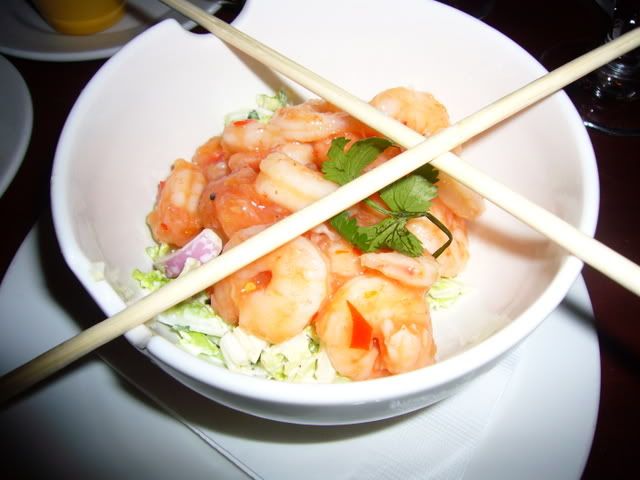 It looked so good that I dug right in. Well, I didn't like it. The shrimp were very mushy, and I didn't like the spicy taste. I like spicy foods but not this one. I tried to take a few more bites but then gave up. Why eat something if you don't like it? No one else would try it and I didn't blame them.
Up next ... our entrees.