As Rob & the boys were in Mission:Space, Brookie and I strolled around the area a bit. Then I saw a PhotoPass CM and I high stepped it over to him. I said, "Please take my picture. I need to get my PhotoPass card going so I can buy the CD at the end of our vacation. Lots of pics would be great!" I turned to Brookie and asked her to get out of the stroller so we can get our picture taken. She went, "Eeeehh." Yeah, just try to decipher that one out. I pleaded just a bit while the CM waited. Then I just turned her stroller around and told the CM to take some pics just like this. He took 2. Wow, thanks for going out of your way. But at least I got my PhotoPass CD started. Here's the better of the 2 pics and notice my fashionable Crocs Capris in celery/white.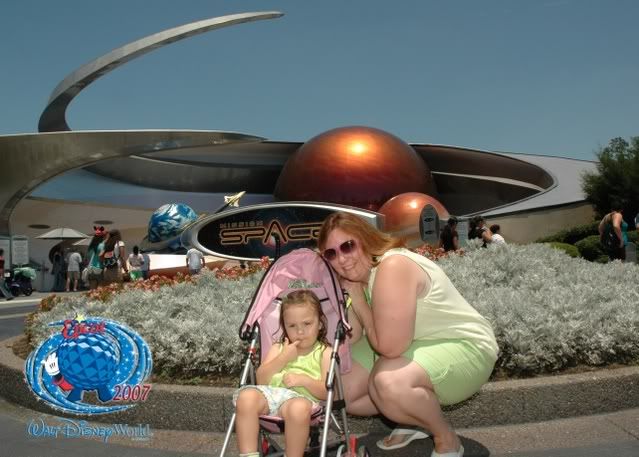 Brookie starts whining for something to drink. I hand her my pink lemonade slushie. No. She wants milk. Well, I didn't have the credit card on me, and we still did not add the credit card to our KTTW cards (not that I had my KTTW card on me either). So, I had to distract her until Rob & the boys came off Mission:SPACE. Finally they emerge out of the gift shop. Seems like they took their time browsing the shop while Brookie & I waited outside in the heat. How sweet. Just for that I said, "Brookie wants milk now. I want to go on Mission:SPACE with the boys now." So Rob goes off with Brookie and me & the boys take off to ride the green side of M:S. Now, I really wish we could have rode the orange side. I love things fast, but I did think the boys would be better this year staying on the green side.

Rob met us in the gift shop afterward and we browsed. Evan wanted to buy the spaceship from the ride. We told him we would be back in Epcot on Thursday, and if he wanted it then he could buy it then. He pouted just a tad but said okay. We did this because it was only our first day, and we didn't want him spending his money just to spend it. Turns out later in the trip he was just spending it to spend it anyway. We made a good effort at first.

So we were all pretty hungry for lunch now that it was noon and prime eating time for everyone else. This was the first time to get our counter service meals on the DDP (Disney Dining Plan). We went over to the Electric Umbrella. I totally forgot about taking photos of this food, but I'm sure you can just imagine. Miraculously, there was no line when I approached the ordering station and ordered myself a chicken tenders combo with a fountain drink and sugar-free brownie. Alec insisted that he was not hungry and did not want to eat. I thought I would just share with him my meal should he decide that he was hungry. I assumed Rob would share with Brookie. I was wrong. Here's the rest of our order: Rob gets a double cheeseburger combo with water and a sugar-free brownie, and Evan gets the chicken nuggets meal with grapes and applesauce with milk. When I questioned about a dessert for Evan I forgot it had to be one of the two sides. So I asked to change one of the sides but the CM, Topher, who was very kind and just added on pudding to the meal at no extra cost out of pocket or off the DDP. We ordered another fountain drink on snack credit for Alec's drink.

It was very crowded so I told Rob to take the kids upstairs to find a table while I got the drinks at the fountain. Evan took one look at his chicken nuggets, made a face, and said no way was he eating those gross chicken things. But he was eyeing my tenders. Alec surprisingly announced that he was now hungry. So, I showed him Evan's meal and he wanted it. I gave Evan one of my tenders and the applesauce. Brookie then wanted one of my tenders. I gave her half of one at first. Evan was asking for another but I had to draw the line at that point because I did want at least 1 tender for myself. I told Evan to eat the pudding which he was happy to do. Rob gobbled his whole meal down. I took one bite of the sugar-free brownie and thought, "Yuck." I gave it to Alec who was more than happy to eat that up. Brookie was happy with the half piece of chicken tender and some grapes. Then she wanted a milk. I told Rob to run down and buy her a milk. Notice that I said BUY. But he used a snack credit for it and I thought that was a total waste of a credit because it was the tiniest milk ever, but I ignored it THIS TIME. Yes this whole incident comes back into play later in our trip so stay tuned.


We headed on over to The Land, and I pushed the double stroller while Rob pushed the light-weight Brookie stroller up the 90 degree walkway to the entrance doors. At least it felt like 90 degrees. We parked both strollers up near the entrance doors. We grabbed all essential stuff and went on in. Rob ran down to check out the deal with Soarin', but the line was pretty long at that point and the fast pass time just did not work for us, so we skipped it knowing that we would be back on Thursday. I didn't have much hope anyway, but we tried. So back out we went and got the kids back in the strollers and headed on over to The Seas with Nemo.
Luckily, it was next door. But do you know how hard it is to push a double stroller with 2 boys in it down a pretty steep grade? Let me tell you, it's not easy, but I managed it without running over too many feet. Okay, no feet were injured by me at all during this trip. I was very courteous in my stroller pushing. Wish I could say the same for others. Oh well.

We were ready to ride The Seas with Nemo. But first, I had to take a couple pictures. Evan decided he did not want to be in the pics. Fine. Alec & Brookie were all I needed.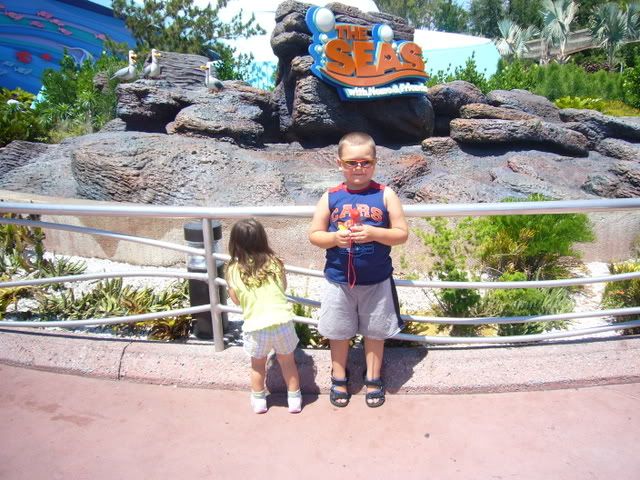 Oh shoot, I got Brookie's buns. I turned Brookie around. That's a good girl! Wasn't Alec still looking cool in his shades?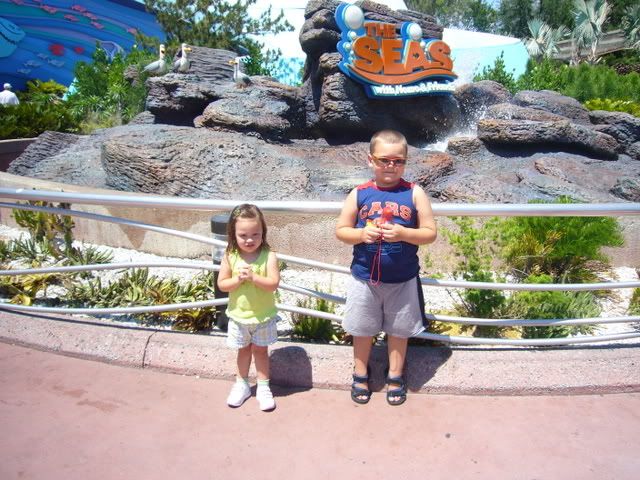 I have heard stories about the line for either Crush or Nemo being very long outside the building. There was no line outside, so we walked into the building and the line for Nemo was snaking through at a very fast pace. We were on the ride in less than 5 minutes. The kids didn't mind this line so much as they thought it was pretty cool to look at the "butt" floating on the ceiling. If you don't get that joke, then you haven't watched Finding Nemo – go rent it!! The ride was cute. After we got out of our clam shells, we kinda stood there deciding what to do next. Did we want to go look around at the fish? Did we want to check out Turtle Talk with Crush? I glanced over at Crush and people were starting to fill in the room, so we moseyed on in and let the kids explore a bit in Mr. Ray's tank……
and some other tank.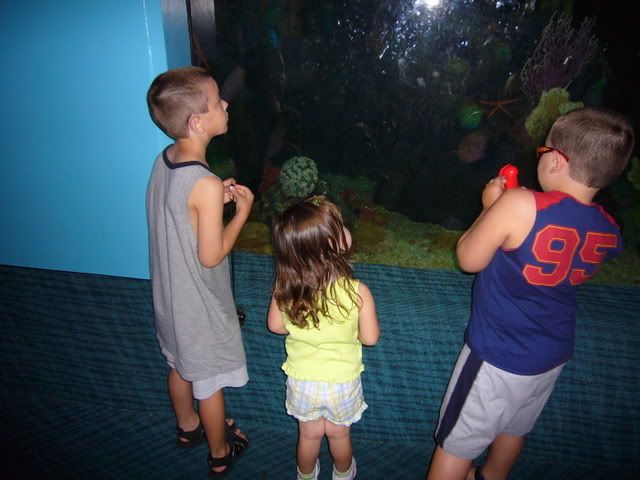 Very shortly, they opened the doors to Crush, and in swarmed the people. Rob & I were lucky to snag a 3rd row seat while the kids sat on the floor on the end. The show was very good. We were laughing pretty hard and were amazed at the interaction. At one point Crush asked a mother of one of the kids what her name was. She was of Indian descent, and she told Crush her name, which was very long. Crush squinted one eye and raised the other and said, "I'm not even going to try to say that one, Dude," to which the entire audience roared with laughter! This was one of our favorites and we said we would like to return here on Thursday.