Rob wanted to go back to Ellen's Universe of Energy. I forgot to mention that earlier in the day they had the whole area roped off. When I questioned the CMs why it was roped off, they said that the ride was down. I asked them if they could give me a guess-timate on when it would be back up, and they kind of chuckled and said they had no idea. So I told Rob we could head back over there now to see if it was up and running.
On the way there we got side-tracked and stopped in the Imagination pavillion to ride Figment. I just thought it would be a quickie ride and browse around the building and then we could be off to Ellen. There was absolutely nobody waiting to go on Figment. It was really weird. Almost like, if it is this bad during busy season, then thoughts go to the mind that they will probably close this attraction down and come up with something else. So, we all got into our little ride vehicle and off we went ...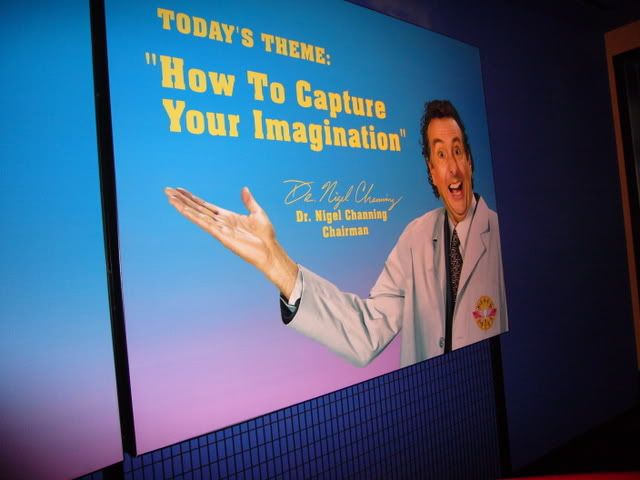 Look how little Brookie looks in her seat. I just thought this was amusing. Anyway, carry on ...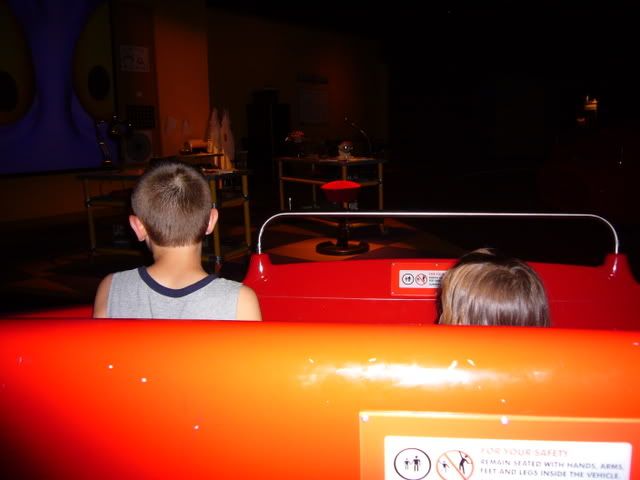 ... and here is the star of the show. Pretty exciting picture, eh?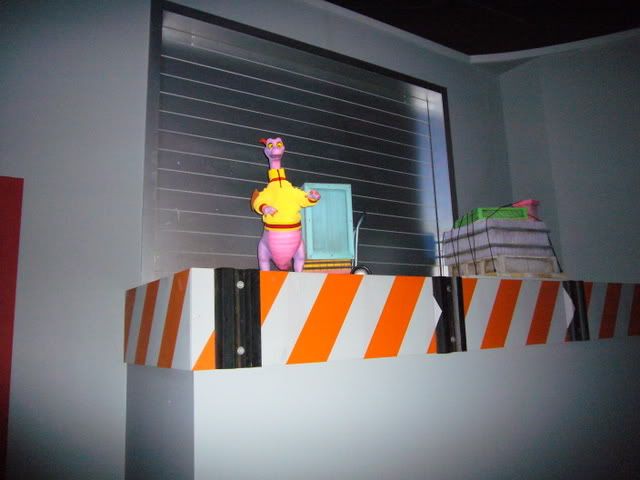 After the Figment attaction, we stayed in the building to check some things out. Here is my story about the mother whom I wanted to have words with but kept my cool ...
There are some areas in the building where your child can go up to a certain spot and wave their hands around, and they can hear music with lights (I think) on the wall in front of them. Each area can accommodate 2 kids. So I spotted the one area open with no one there, and I told Alec to go on up and try it. Just then another mom sees it and runs up with her 2 sons, puts one in one section quickly and turns around to put her other son in the next area. But Alec had just gotten up there. She took one look at Alec and let out a big sound, kinda like, "Huh!" She must have stood 1 foot away from Alec with her other son waiting with a mean look on her face for him to finish. It made Alec nervous. I told him to go ahead and don't worry about it. I really was ready to tell the woman to back off. I mean, she was just about tapping her foot waiting for Alec to finish. All because she wanted her 2 boys together. I looked over, and there was the same exact kind of spot with 2 empty spaces right next to us, so I told Alec to come with me. I am amazed at how cool I kept myself because I don't have a problem stating my mind if my kids are involved. Turns out she got her 2nd son there, took a picture, let him "play" for about 30 seconds and then rushed the kids off toward something else.
We went over to some computers where you could take your picture and email them to someone. The boys got their picture taken and then we morphed Evan into a lion. It was so cool, so we sent it to my dad and ourselves back home for souvenirs. Turns out my dad never received it nor did we. What a bummer!
Then we saw the musical floor. I remember the boys had a lot of fun here back in 2003. The kids still had fun and I let them have quite a bit of time just jumping around there. Here's a little video of their fun ... Click here for a video of "Fun in the Imagination Pavillion"



Guess who shows up while we were there. Yup, the obnoxious mom. She let her boys play about another 30 seconds and then said, "Come on, let's go here!" Now that is commando in it's worst!





Next up, we noticed a bunch of pictures on the wall that we thought were really really cool. You could have your picture taken and they would "insert" you into different scenes throughout The World. One of them really caught our eye. It looked like you were flying over the Magic Kingdom's Cinderella's Castle. We wanted to have the 3 kids in that picture. But it was 6:55 pm, and the CM said that they couldn't do it now. We knew we would be back on Thursday, so we said no problem.





Then the boys started saying that there's Brookie's picture on the wall. Even Brookie was saying there she was. Rob & I glanced over at this picture ...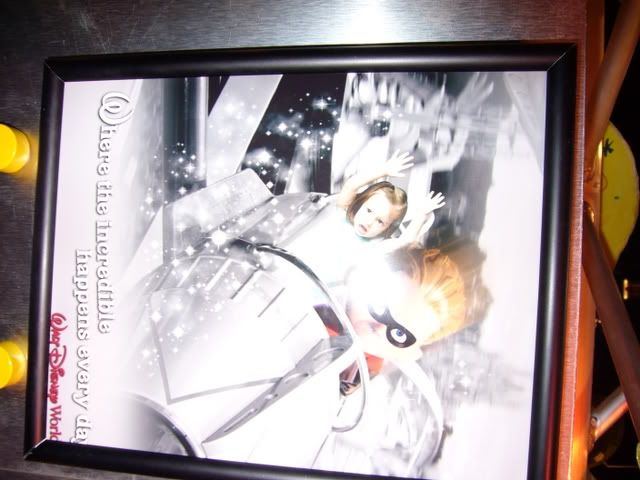 Can you believe this picture? I mean I had to look at Brooke and the girl in the picture to make sure their hair was different that day because I thought it looked just like Brooke. It was really freaky for us to see that! In fact, it's still freaky thinking whoever that girl is and wondering what she looks like now.
Anywho, we had about ½ hour until we had to go to the "DIS meet" in Norway, so we let the kids play in the fountains a bit. Boy that was refreshing!
Click here for a video of "Enjoying the Imagination Fountains"
And then we were off toward Norway to our big "DIS meet"!