I last left you at the end of our appetizers. Brookie was still fast asleep in her stroller, which was very nice for us. Her waking at this point would not be pretty. She is a tiny bit cranky when she wakes up and wants to be held, making it hard to eat.
Onto our main entrée selections …
Alec is not so much into steak now. He wanted the hotdog with fries.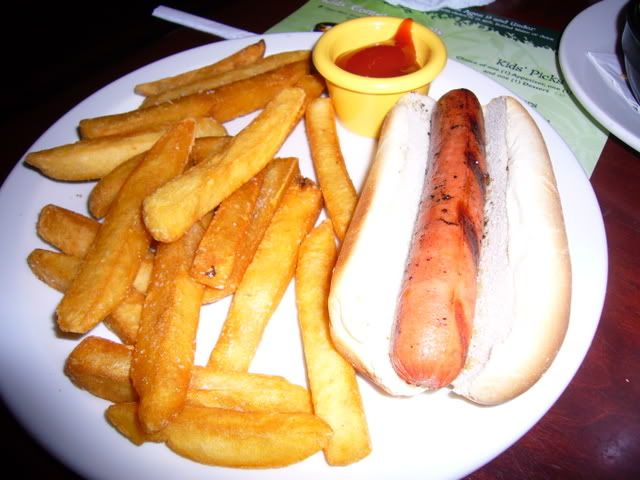 He really liked it. That is, until the last quarter of the hotdog fell out of the bun and onto the floor. I could see that he was getting upset at that. He is my very sensitive child, and tears come easy to him. I quickly told him that was okay because he could have another piece of pretzel bread. I had stopped him from eating them, as he was eating just a bit too much. He was very happy that he could have some more.
Evan really wanted the kid's sirloin steak. We asked Tamara if Evan could order the steak off the kid's menu on the DDP without paying the extra $2, and she said absolutely. It came with some yummy looking fries. I don't know if they were, as I didn't sample them.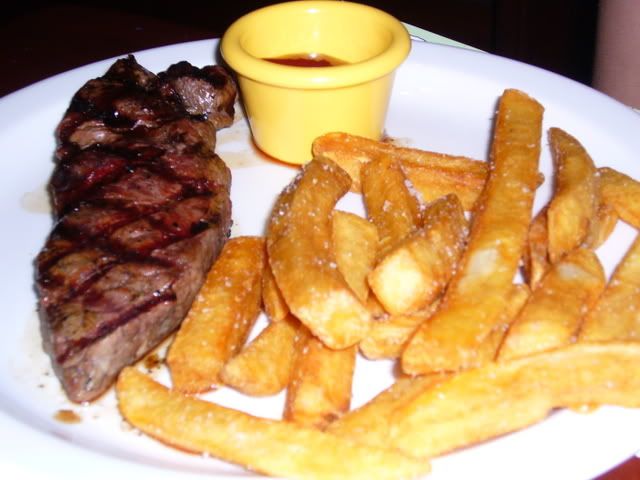 Evan immediately said that the steak smelled funny. Now, you need to know Evan. I think he has the most sensitive nose ever. He is always asking what stinks, smells … saying things like, "What is that DISGUSTING smell?" A lot of the times it is so exaggerated that we ignore him. Which is exactly what we did this time, except we reminded him that he wanted the steak and he should at least try it? He did try a piece and said it tasted awful. We told him to eat his fries. We weren't that worried, as he had quite a bit of Rob's duck, and he is not that big of an eater.
Did Rob & I order steak? You bet your dang tush we did! We ordered the same thing, except different. Okay, let me explain.
Rob ordered the 7-ounce Filet Mignon that comes with cream cheese mashed potatoes.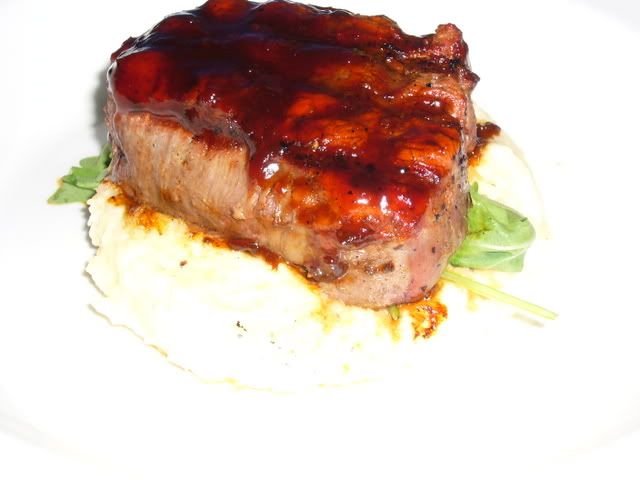 I ordered the same filet except, because I'm not a big fan of mashed potatoes, I asked if I could substitute for the roasted Yukon potatoes, which was no problem again.
We both absolutely loved our filets. They cut like "buttah". The maple barbecue sauce was not overpowering at all and added just a good flavor to the filet. I must say that I am not a person who ever puts sauces or anything on my steaks. I am usually happy with salt and pepper. But this was delicious! Rob really liked the mashed potatoes, and I really liked my Yukon potatoes.
Nearing the end of our main entrees, Brookie woke up but was still sleepy. So, into Daddy's arms she went …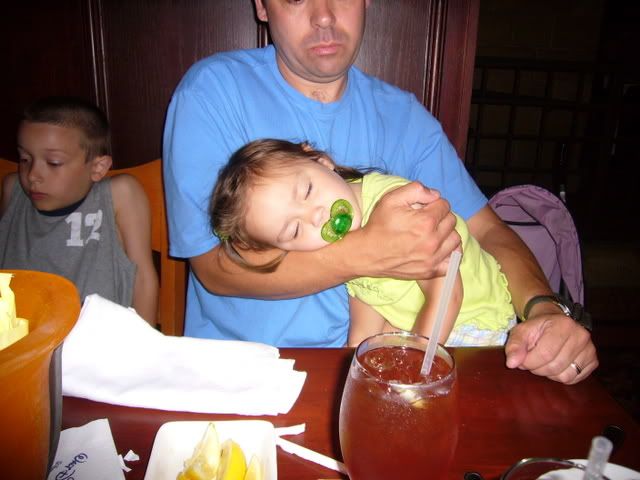 Wait! How about a closer shot of the Sleeping Brookie?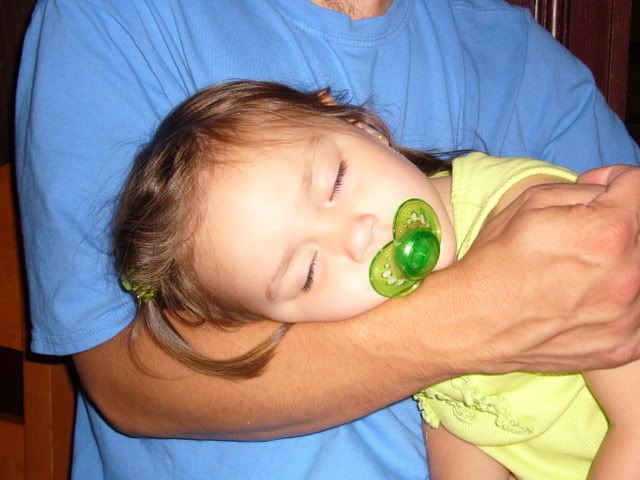 She gradually awoke and ate some of Rob's potatoes and some bread. She also had a couple bites of the filet.
Okay. Now here's the sad part. Evan's steak was sitting there with only one bite eaten, so I decided to try it. Well, it tasted horribly awful, and it did smell funny. I felt like the worst mommy at that point. I had Rob try it to make sure it wasn't me, and he agreed. We should have listened to Evan, and maybe he could have gotten either something else or a new steak. But we were all done with the entrees at that point and ready for dessert. Next time I will take the time to listen to Evan even if it turns out to be him just being dramatic about his "smells". At least he was looking forward to dessert
Here, have a glance at the dessert menu and try to guess what Rob & I each ordered. We each ordered something different.