We all started to wake up at around 8:30 am. I jumped into the shower first as it takes me the longest to get ready. I sent Rob over to Fulton's gift shop to use 2 of our snack options -- we had the Disney Dining Plan, which included 1 table service (appetizer, entree, drink, and dessert), 1 counter service (entree, drink, and dessert), and 1 snack per day per person. I told him to get a quart of milk and a box of Entemenn's donuts. I heard that this was a good deal for your snack credits. He came back with just that. The kids munched on the donuts but I was just to excited to get to Epcot, plus I don't drink milk. I figured I would grab something in Epcot.
As we were getting ready to leave my cell phone rings. I was wondering who could possibly be calling me now. It was my dog sitter, Brandy. She said that she had picked up Jake, and he was very happy to go with her, even jumping right into her car. But when she brought him in her home, he immediately went over and pee'd on the kitchen floor and then proceeded to go over to her husband's weights and pee on them. My heart sank. This was totally not like Jake. He has never ever done that! Brandy just was worried that Jake would continue to do this even though he had never done that the previous time he stayed there. I asked her if she let him "do his business" around her home before she took him inside and she said no. I told her that we usually let him do that when we take him somewhere and I seriously doubt that Jake would do it again. We ended our conversation by the agreement that if Jake did not stop doing that, then she would take him back to our garage, and she would come and take him out 3 times a day. I tried to make my mind at ease with that, but there really was nothing I could do at that point but try to block it out and enjoy ourselves.
We had brought a pink lightweight Kolcraft stroller for Brookie and intended on renting a double stroller for our length of stay for the boys. This worked out very well all week, especially for getting Brookie to and from the bus stops. We were all ready and out the door by 9:45 am. We walked up to the bus stop and waited not too long for a bus. Here are the kids waiting at the South Depot of Port Orleans Riverside.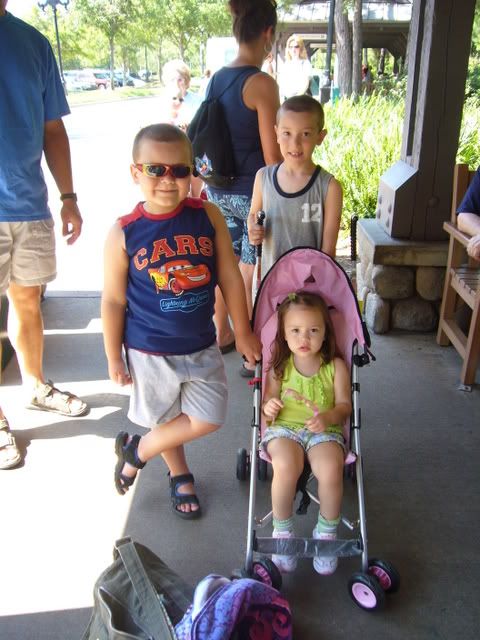 That's half of Rob to the left in the blue shirt and the girl behind the kids is me. Well, maybe not even close!

Luckily, we were able to sit down on the bus. It was standing room only though for the unlucky people who got on after us. So we headed on over to Epcot. I had Rob and the kids go through the area marked "guests without bags" and I scoped out the lines for the bag check and picked a winner! I was through that in no time flat. We went up to the turnstiles, and I gave everyone their Keys to the World cards. Rob pushed Brookie through the open gate that a CM had opened for the stroller.

That is when Brookie started her little hissy fit. She wanted a card too ... she wanted a card too ... she wanted a card too! My excitement quickly faded as she was really laying it on thick. I still managed to snap a shot of the Spaceship Earth.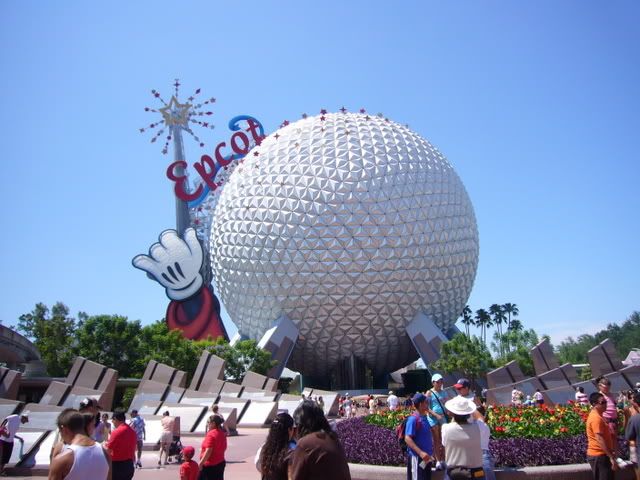 We went over to the stroller rental, and I bought the week's worth of double stroller rentals. Paying ahead of time saves you valuable time later!! Brookie had calmed down only a wee bit. So, no PhotoPass for us then. She was just too out of control. I had read on the official Walt Disney World website that Spaceship Earth was supposed to be closed down on June 22 and 23, so I already warned the family that we would not be going on it today but would definitely go on it when we returned on Thursday. Well, what a surprise it was to us when we saw people waiting in line to go on. We parked the strollers really quick and hopped in line ...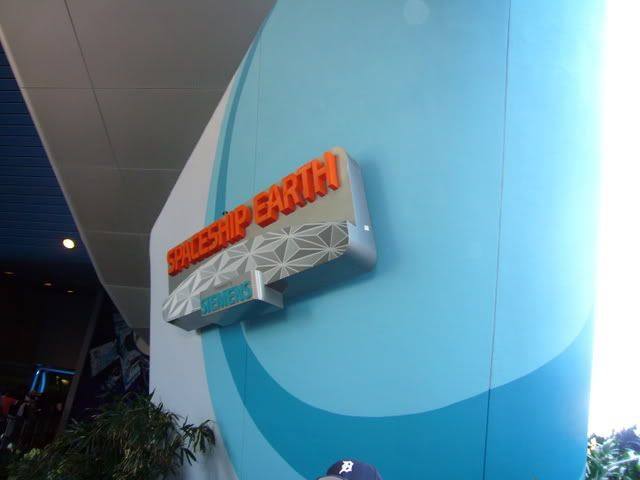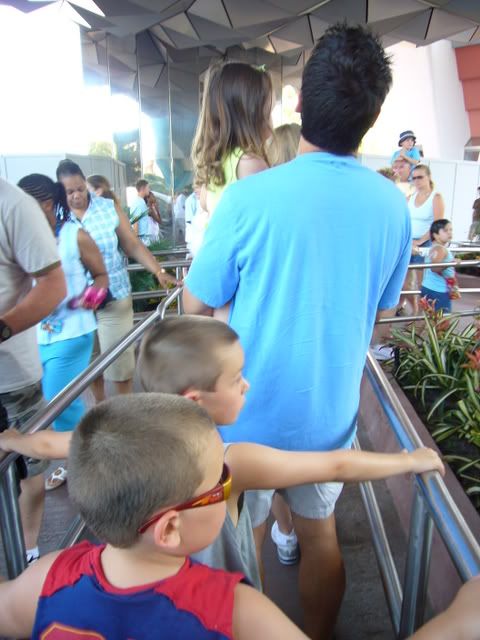 ... and within a few short moments we were nearing the entrance.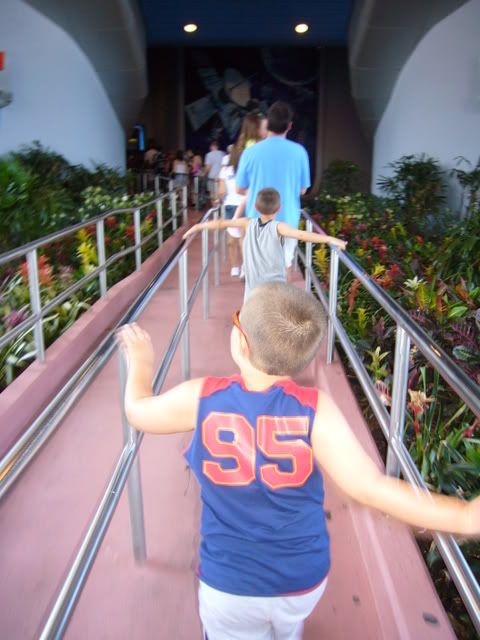 Evan, Rob, and Brookie rode together in front.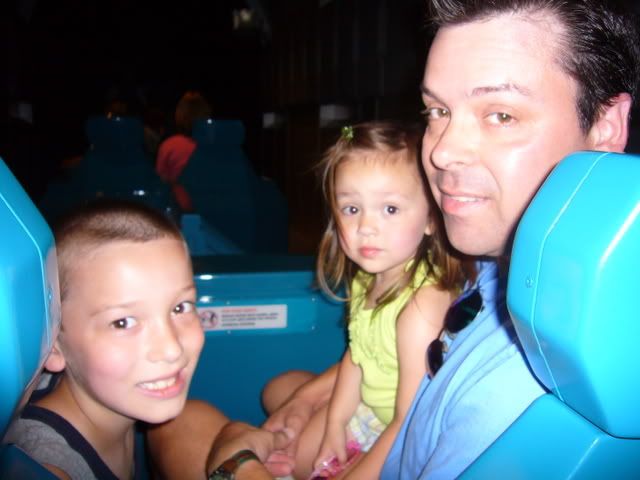 After Spaceship Earth we started to walk to decide what to do. As we were walking I hear this lady shout out to me, "Are you DawnMaree?" I look over and do not recognize her at all. She says, "I'm Jackie." Okay, I'm still drawing a blank but I think it was due to the heat, being tired, and having to deal with the cranky Brookie. This "Jackie lady" knew I was still puzzled, so she said, "I"m Sunlvr!" and then I knew it was one of online friends from the DISboards. Wow!! My first DIS meet! It was totally cool running into her. I still would have never recognized her as she had only posted one pic of herself and it was a profile in the car. Both her kids and mine wanted to get moving, so we said our goodbyes but knew we would be meeting up later in Norway for the big DIS meet with other "DISers".

At that time we decided to get Fast Passes for Mission:SPACE and ride Test Track because the line was only 20 minutes. Since Brookie was too small for Test Track, we grabbed a Child Swap pass, and Rob took her for a walk while Evan, Alec, and I hopped in line. No sooner did we get in line than there was an announcement that Test Track was currently down and the wait time would be extended. They said they would announce when it was back up and running. Great ... NOT! A bunch of people exited, but we stayed in line with hopes that it would get back up and running soon. About 5 minutes later they announced the same thing. More people left. I asked the boys if they wanted to leave and go on it later. No! They wanted to stay in line. So, we stayed in line. It was a very noisy wait but Alec had fun dancing to all the sounds.

Alec and Evan still waiting in line were the best they ever were while waiting in line. Soon enough Test Track was up and running and we quickly moved through the line. We ended up waiting 30 minutes was for Test Track. Since I didn't get a PhotoPass card yet, I couldn't scan it at the end to get our ride picture, and boy I was mad. I even forgot to "redneck" the picture. Oh well! It was cute. Just believe me.

So I called Rob, and he and Brookie were over at the "car wash" refreshment port. Brookie was having fun getting soaked in the streams of water. Of course, the boys had to join in and get wet. Boy it was tempting ...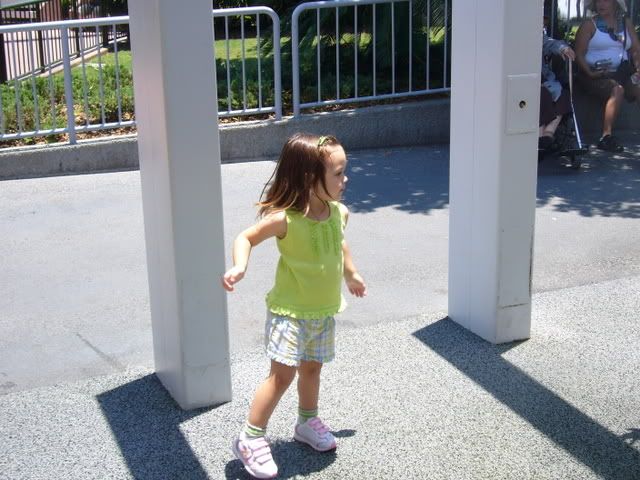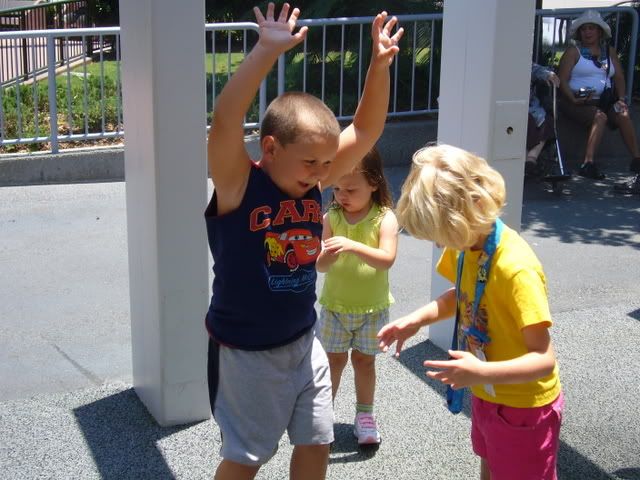 Time was up for Mission:Space Fast Passes, so we headed over there and got another Child Wwap pass and then went to order a pink lemonade slushie. I asked the CM if they accepted a Visa gift card and he said in a flat voice, "No." I said that stinks, and I was about to get another card out when he said, "I'm just razzing you." Oh gee. He was hilarious, wasn't he? I got the drink and started sucking it down, and in that 90 degree weather, it sure was good! Brookie was definitely cooler than I was. Here she is still wet from the car wash ...