This was our 2nd day at Epcot, and we were planning on doing anything that we really missed out on plus a few more things. We planned on taking this day slow and steady.

I remember sleeping lightly in the morning. We had no real wakeup call. We planned on sleeping in just a bit and going from there. Then I heard Rob say, "The power is out." My eyes popped open. I looked around. No a/c, no clock. Yup, power was out. Now, even though it was still early, I was beginning to panic. I had to take a shower and get ready. That included needing the power. Please, please power come on. Sure enough, it came back on. I don't know how long it was even out, but it really made no difference in our getting ready. Had Rob not even mentioned it, I would never have had to panic. So darn that Rob!

We still were able to get ready and be out the door by 8:30ish. Not a problem in my book. When we arrived, we headed to get our double stroller when I noticed the Photopass CM.

Well, I was gonna give PhotoPass another shot. I figured today's pictures had to come out better than yesterday's at MGM. The CM took 3 different poses. The first with Spaceship Earth totally in our background ...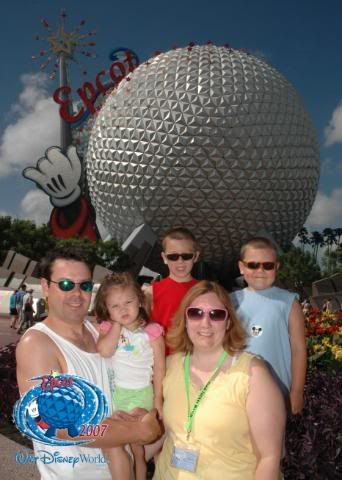 ... then another one just a bit closer up ...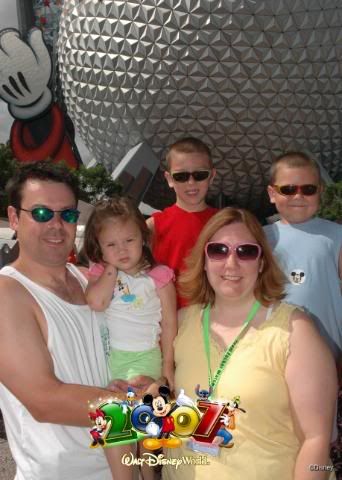 ... and finally a horizontal picture.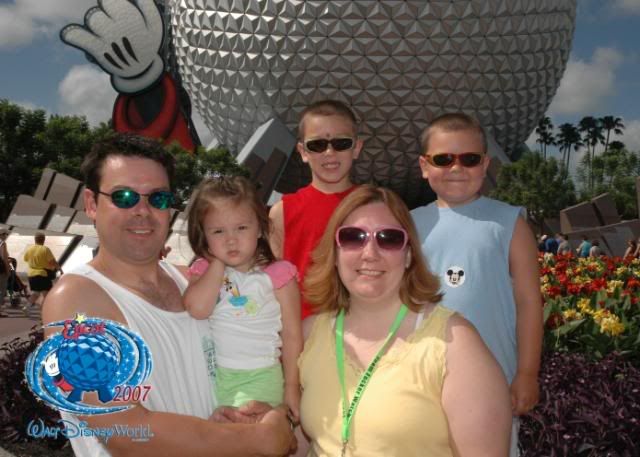 It wasn't until I ordered the PhotoPass CD and loaded them on my computer that I thought that there was just something off about these pictures. Then I realized that all of us, except Brookie, had our sunglasses on. So, being the Supremo Photo Pizzazzer that I am, I put some sunglasses on Brookie.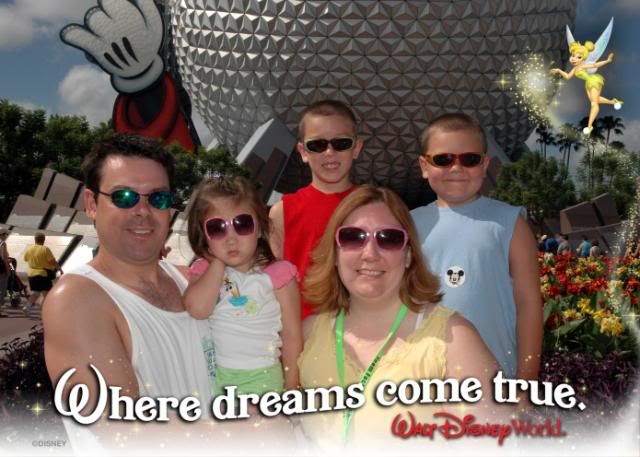 And all was well with the World again. The End.

Oops! I guess I should go on. You would probably want more than that for an update, right? Okey dokey.

But first, a classic photo ...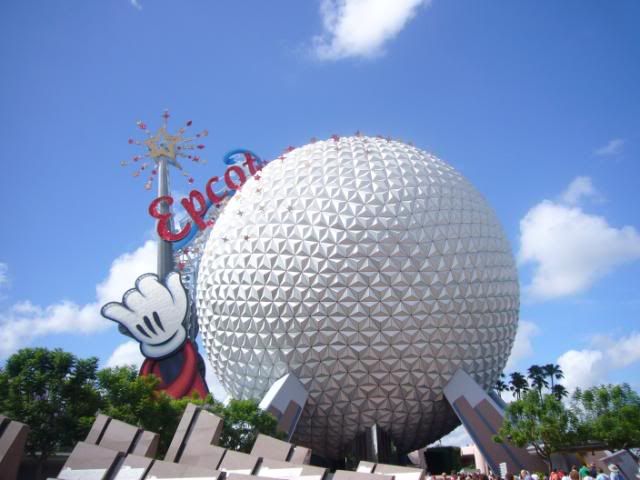 We went and picked up our double stroller and headed straight away to The Land to get some Soarin' fast passes. No way, no how was I going to miss that attraction again. We all hiked it up the most steep incline that Disney has on this property and went inside. Rob's job was to get the Soarin' FPs and mine was to take Alec and Brookie to the restroom. Yes indeedy. It was already time for a potty break. Downstairs, Rob and Evan went, and I went to the restroom near the Garden Grill. I found the biggest stall available at the way end and we all went in. I had Brookie go first, then Alec. Then, I made Alec turn around and face the corner while I went. He's a good kid. He listens, at least for that. Then we all washed up and went over to the escalator to meet up with Rob and Evan and then we were on our way to The Seas.

But not before stopping at a cart to buy some most healthy chips and water. The kids were hungry. Apparently, their parents didn't feed them well enough before they left for Epcot. They shared a couple bags of chips and we were finally on our way to The Seas ...