And now, let's get on with the desserts!

The kids, again, got the make-your-own sundaes which they still loved! I think kids just love making their own desserts! Yummo!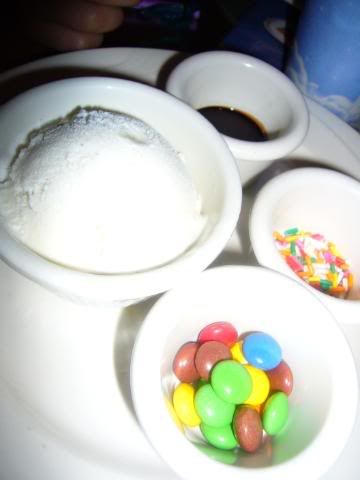 Rob ordered the Bailey's and Jack Daniel's mousse. Since I was too excited about my dessert, I forgot to take a picture of his.

I had noted on our reservation that it was our 11th anniversary and this is the only thing they did for us ... I ordered the Chocolate Wave. I accidentally broke the chocolate "Best Wishes" before I took the picture.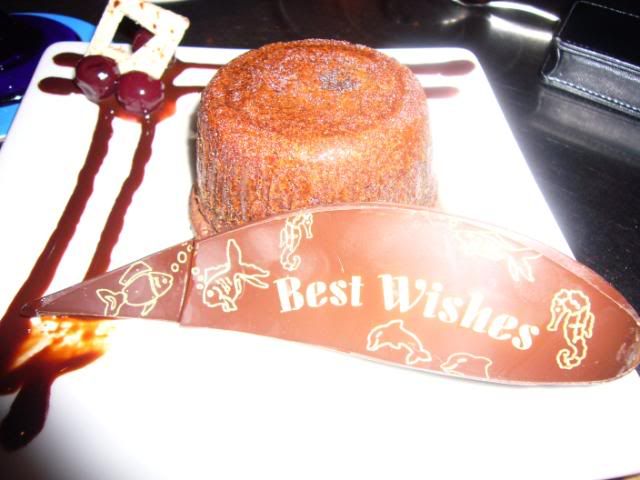 It was scrumptious! I loved this dessert. It was so worth the crappy mahi-mahi.

When our server came around to collect, he suggested that we use one of the boys TS credits for Brookie. We were a bit shocked and asked if we could really do that as we had intended on paying out of pocket for her. He said no problem. Since we knew this was an expensive meal place, we opted to use the child TS credit. We knew we would have to figure out our missing child credit somewhere else in our plans but it really made sense to use it here. Our lunch came to $123.02 total for the 5 of us.

All-in-all, I would have to say that this place was so-so. I enjoyed the lobster soup and the dessert, just not the crab claws or mahi-mahi. I don't base a restaurant on the appetizers, so I'll leave that one out. But the entree is another story. It was yuck. However, maybe another dish may have been better. So, if the kids really want to go back to the Coral Reef, I will go back. But only for them. And I would order a steak, maybe ... just not the mahi-mahi.