This day is so hard to explain in a general sense. So I will have to go into detail with you all.

Our morning started out just like any morning. I awoke to obnoxious Stitch and jumped in the shower while Rob went and got us refills on our mugs. The kids woke up after I was out of the shower and ate whatever we had. I honestly can't remember. They never really ate too well in the morning, and I was a bad mommy for that. All I could think of was getting ready to get to a park! Evan still remembers that we "didn't feed him" in the morning. Okay, Evan, we fed you, but just not enough.

I was excited about this day as I just could not wait to take Alec on Tower of Terror. That was the ride we had been anticipating the most in planning our trip, as it would be his first time. When we arrived at MGM and were dropped off at the bus stop (again, the furthest away than any other), we made our way to the gates. The park had just opened and we had a little line entering.

First, we picked up our double stroller, of course, and then we made our way down Hollywood Boulevard and cut over onto Sunset Boulevard. There it was! The Tower of Terror. Oh, I could feel the excitement building inside.

We saw the standby line said 20 minutes. We got ourselves some child swap passes and Evan, Alec & I hopped in line while Rob headed over to Rock 'n' Roller Coaster to get us some Fast Passes. I instructed him to meet us back in the gift shop.

So, we got in line and, of course, Alec wants to know why we have to wait in such a long line. He's tired of waiting in lines. Uhm, we just got in line, and this was the first of the day. But he was cute enough to pose for a picture while waiting.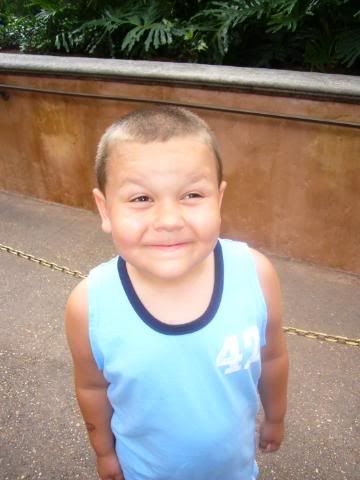 There was this teenage girl ahead of us in line. She kept looking back. I assumed she was with the family in front of her at first. I could tell that she was listening in to my conversation with the boys. She then finally got up the courage to ask if we have ever been on Tower of Terror. I told her that I have many times and Evan had once, but this was Alec's first time. She then totally relaxed and said that she was there with her dad, who was a total chicken to go on any fast rides, and her step-mom, who was pregnant with twins. So, this poor girl was riding rides alone and this was her first time on Tower of Terro. Being the nurturing person I am, I asked her if she wanted to sit next to us on the ride. I did warn her that I was going to ask her for the front row. She seemed relieved to ride with someone and did not even care where on the ride she was sitting.

Meanwhile, you know I had to take some more pictures while in line. I can't even tell you how many of this same picture I have. I think it's kind of like Cinderella's Castle. You just have to take it. I have noticed the same picture on many others' trip reports.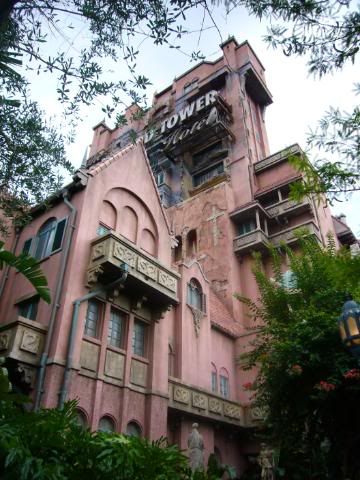 Oh, and looky over here. That looked pretty. I had to get me a picture of it. I never noticed the blooms in past visits.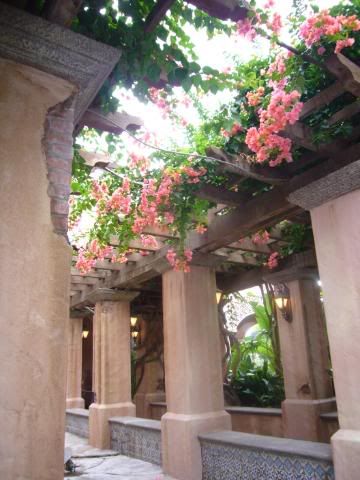 Finally, after the whole wait of 15 minutes, if that, we were in the Hollywood Hotel's Library waiting for good old Rod (who, as a little bit of trivia, was from the Syracuse, NY area). I loved ToT once again and here is my bad redneck picture. I think I was adjusting my hair flying in my face. The teenage girl is sitting to the right of Evan. Notice Alec hanging on to me for dear life.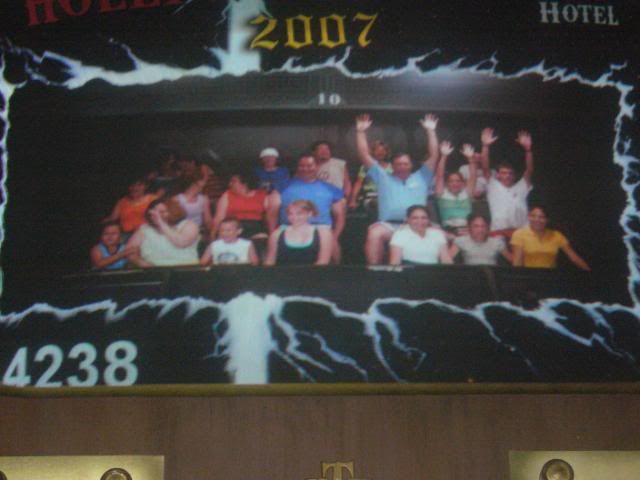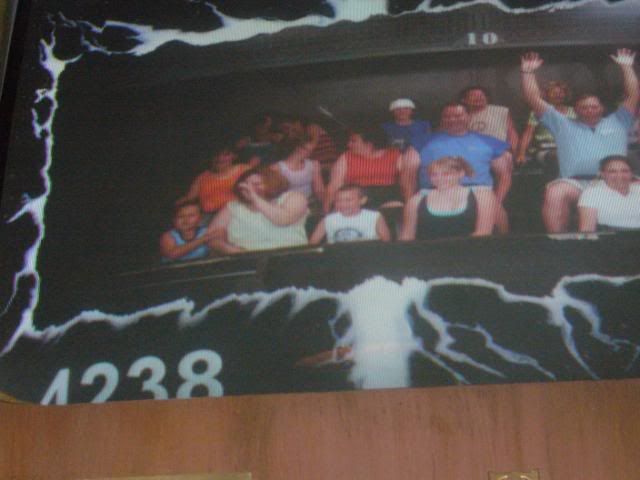 Rob was patiently waiting for us exactly where I told him to be. He earned his brownie point for the day. The boys wanted to go on ToT again, so Rob took them while Brookie and I looked around the shop. They were pretty quick, and I forgot to redneck their pic. But at least I got mine!

We still had a couple of minutes to kill before our Fast Pass time at Rock 'n' Roller Coaster, and we were a little bit hungry. We had ADRs at Sci-Fi at 11:30 am, so I didn't want to hurt our appetite. We decided on a sharing a couple of pretzels and water. Here is my most thrilling picture of a pretzel ...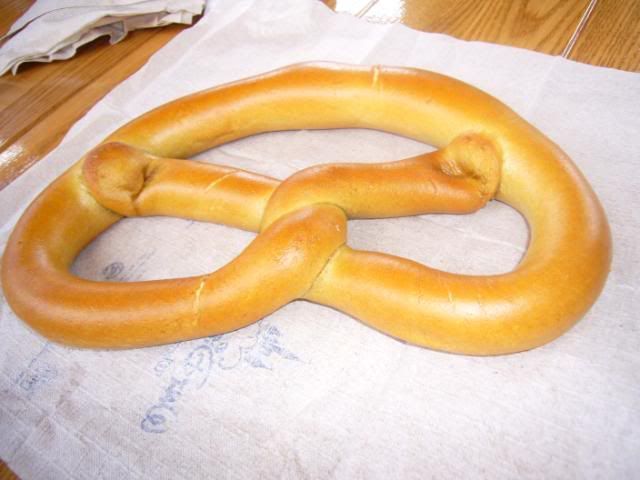 Yes people! It's a naked pretzel. That's all they had. It wasn't that good, but it did the trick. Time was up for our Rock 'n' Roller Coaster FPs so we headed over there.

We weren't sure about Alec making the 48-inch mark this time, but we felt more confident since he made it at Primeval Whirl. However, Rob took Evan on it first while Alec, Brookie and I waited and waited ... and waited ...