On our trek back to the far end of the park, I asked Alec if he liked Rock 'n' Roller Coaster. He said, "Yeah. I almost peed a little but I liked it." I just about peed when he said that!

Meanwhile, back at the ranch - I mean Star Tours area, it was finally FP time. Rob took Evan first while I plopped my big old butt down on the curb with the kids. I needed the seat badly. Right around the area that we sat we saw the cool Star Wars riding thing. For trip reporting writing sake, I'll call it a scooter. I'm sure I'll get some flask from any Star Wars fans. Feel free to tell me the correct name and I will edit this, maybe. I thought this would be a cool place for pics once Rob and Evan came back.

Time now is 3 pm and what did we hear coming out? The parade, by golly. Only we were just far enough away that we couldn't see diddly squat. Rob and Evan returned, and Evan and Alec are MAD that they couldn't see the parade. I blew it again. I am totally not a parade person and neither is Rob. So, we were not even going to bother. Sorry kiddos, next time we promise.

Back to the scooter thingie. We stepped over there and noticed there was a PhotoPass CM. I quickly ushered Alec up onto the scooter. Evan quickly hopped on the back. I wanted to tell Evan to wait his turn, but both boys seemed happy so I left it that way.

Here's the picture I took while the CM was trying to get his pic ...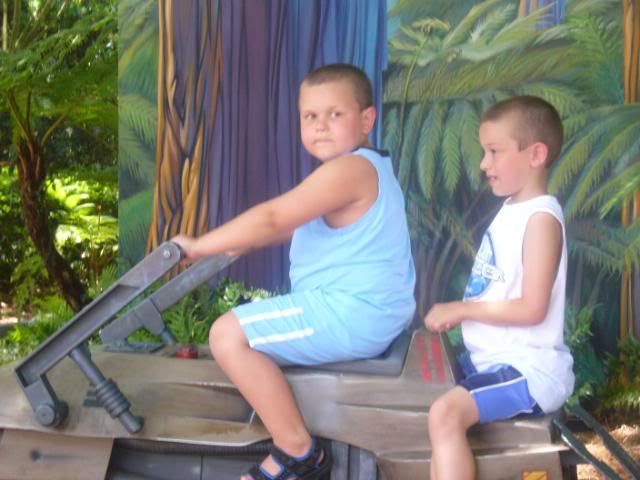 Here's the PhotoPass picture which I think is just a tad better than mine ...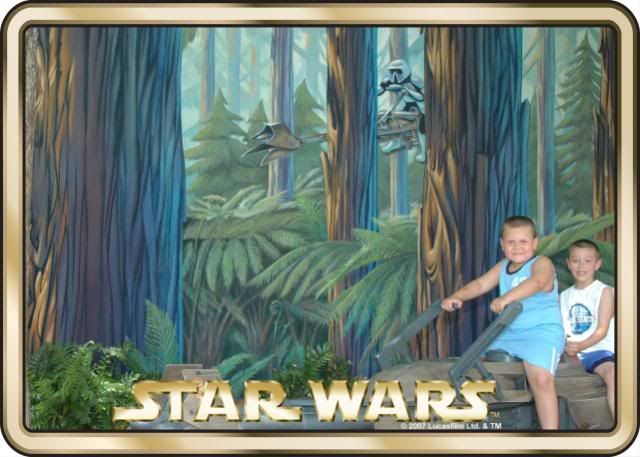 Flash forward to home when Evan saw the picture. He was mad because Alec was in front and he wanted to be in front. I tried to tell him that he could have had his turn but he chose to hop on back. Sorry Evan. I, too, was disappointed.

Brookie had her turn next and, once again, here's mine ...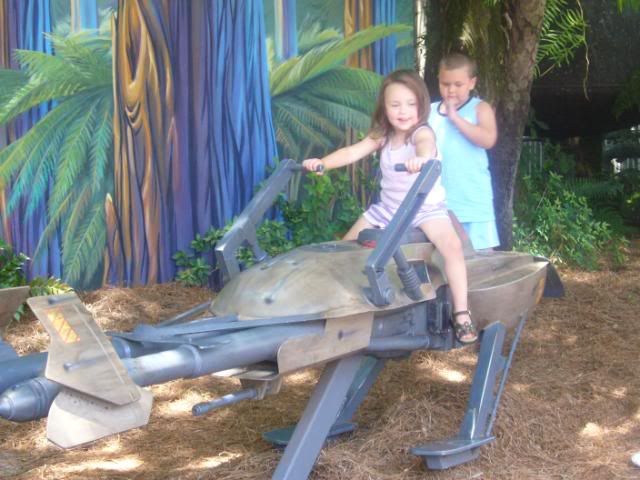 ... and the much better PhotoPass ...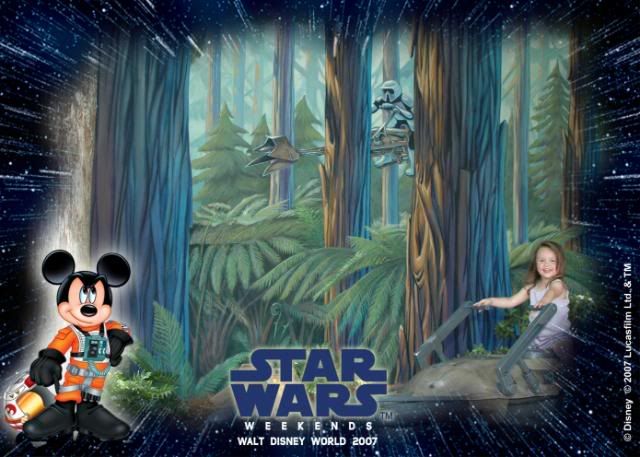 Okay, now that we were done with that, I decided it was time for Alec and I to ride Star Tours. There seemed to be a problem. The FP return line was jammed into the massive amounts of people watching the parade. I looked at the CM at the standby line and showed him our FPs. He then told me to enter the standby line and scoot through to the FP. That worked. We had a bit of a wait still, and Alec was not happy with that. Go figure!

We got to the point where we are shown to our circles on the floor right before the doors to enter. We were in the first row. I looked at Alec. His legs were crossed a little funny. I asked him if he had to go pee. He said, "No, I just like standing this way." Okay, whatever. The woman on the little TV above starts talking to us about how to move all the way over, blah blah and then I hear it. "Mommy, I think I need to pee." I turn around and say, "Are you sure? Can you hold it?" But I saw the pee dance starting. I looked at the CM standing beside us and asked him where the nearest restroom was. I wanted to make sure we made a beeline for it. But, instead of him telling me, he said, "Wait a minute let me check." Uh ... no time to check. But he was quick and told me. I then made sure I said rather loudly, "Let's go Alec, but remember, this was our only fast pass and we just lost it." Another CM overheard me (my sneaky intention) and ran over and gave us FPs to use anytime the rest of the week. Score! He also told us to follow him through the special guest/handicap line to get us out of there ASAP.

I have to warn you all now. You are going to hear some potty talk. Alec and I ran across the way to the ladies restroom.

Thank the Lord that there was no line, and I ushered him into the first stall. He told me at that point that he needed to poop too. Glory be! Just wonderful. I quickly put the liner on the toilet and told him I would wait right outside the stall door. I happened to glance down and see that he had taken off his shorts and underwear and left it on the floor. Ew! That totally grossed me out, but nothing I could do now about it. Then Alec said, "Mommy, I had a little diarrhea and a got a bit on my leg." I could hear the trembling in his voice starting. I quickly came into the stall with him and got him cleaned up. It really was not as bad as I thought. A very quick wipe. I helped him get his underwear and shorts back on and we both went and scrubbed our hands clean.

We found Rob, Evan, and Brookie and told them what happened. When I asked Alec if he wanted to go back to try Star Tours now, he said no. He didn't feel good. Rob and I looked at each and decided we had it for the day, so we decided to head back to the buses.

On our walk on out, brilliant me said, let's go this way, it is a much quicker walk to the front gates. Which it is normally is ... that is, when Indiana Jones isn't just getting out. We got slammed with people and we hung on for dear life as we maneuvered the strollers through the masses.

We dropped off our stroller and made our way all the way to the furthest upon furthest bus stop and waited in the bright sunlight for next bus to come. This has got to be the worst bus stop out of all the parks.

Now, I have some more PhotoPass pictures to show you. These PhotoPass pics were taken first thing in the morning but I love them so much that I really wanted to wait until the end of this segment to show you them.

First off, I was super excited to get another PhotoPass taken. But Brookie, not so much. She started her whining, but I told Rob to just pick her up and she'll get over it. The CM took the first picture ...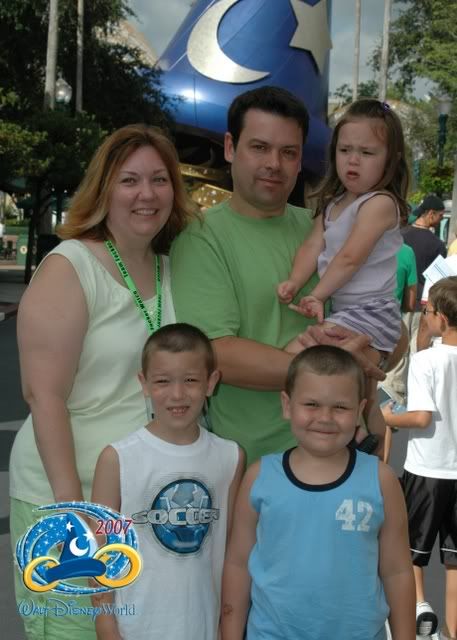 Okay, Brookie did not just get over it. But let's keep trying. How about this time?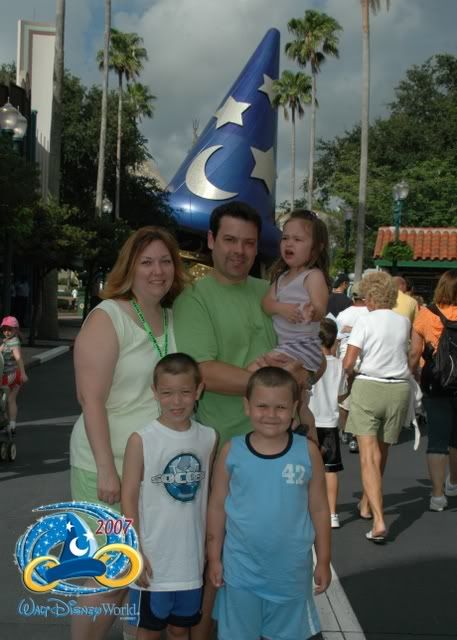 What? Even worse. Oh come on now! Let's try it one more time ... and you will notice that I added the graphic because it went so well with the picture ...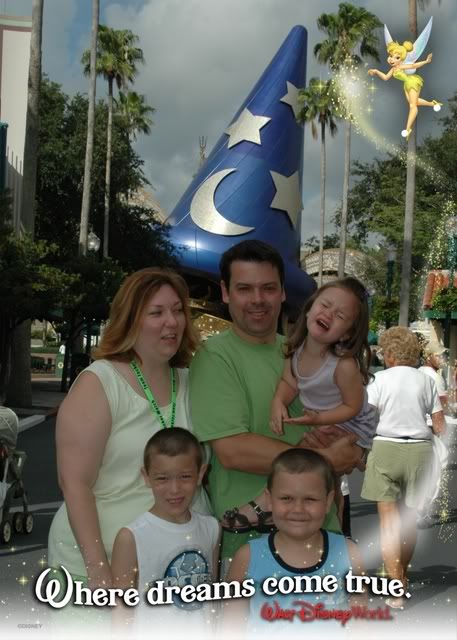 I thought that picture was the funniest of all the PhotoPass pictures. We all get a big kick out of viewing those pictures in order! Hope you enjoyed them too.

Now, back to the resort we went to cool down and relax. We were going to go back to MGM later for EMH and catch all the shows we missed. That was the plan ...