I woke up extra early with a lovely wake-up call from Mickey & Stitch. I told the kids to go back to sleep while I jumped in the shower. When the kids did wake up shortly after, we fed them grapes and yogurt for breakfast. Rob went to the food court with my mug to refill it with Diet Coke. Yup, that's what I love drinking first thing in the morning!
We were at the bus stop by 8:15 am so I knew we would be at the Magic Kingdom by rope drop. I was really hoping so because I wanted to meet up with Courtney, another friend I met on the DISboards, before we actually were supposed to meet at Splash Mountain. We got off the bus at the Magic Kingdom, and the first thing we noticed was that the air was very smoky outside. I mean it had a very, very heavy smoke smell. I got out my cell phone and called Courtney. She told me that she and Ryan were right by the rope on the right-hand side near the railroad underpass. She also said there were a lot of people there, so we didn't expect to see each other until Splash Mountain. That was fine. I just wanted her to know that we were there.
So, Rob, the kids & I walked right up to the preshow viewing area. There was nobody standing up front near the lovely flowers just beneath the railroad. Rob took this lovely picture of me while we waited for the preshow ...
We staked our spot out there, and I told them to stay there while I tried to see if I could find Courtney anyway. I walked a couple of steps and saw Ryan, Courtney's husband, right off the bat. I looked down, and there was Courtney sitting on the ground with her back to me. As I approached, Ryan looked at me, and I gave him the "hush" motion with my finger over my lips. Then I gently touched Courtney on top of her head. She looked up and then jumped up and gave me a big hug! Then I overheard a funny thing from Ryan. He quickly called Courtney over and said, "Court, check my nose. I don't want to meet anyone with snots on my nose." This made me giggle. I guess the smoky smell in the air was bothering Ryan. After Courtney assured him there were no snots, I took a picture of them both.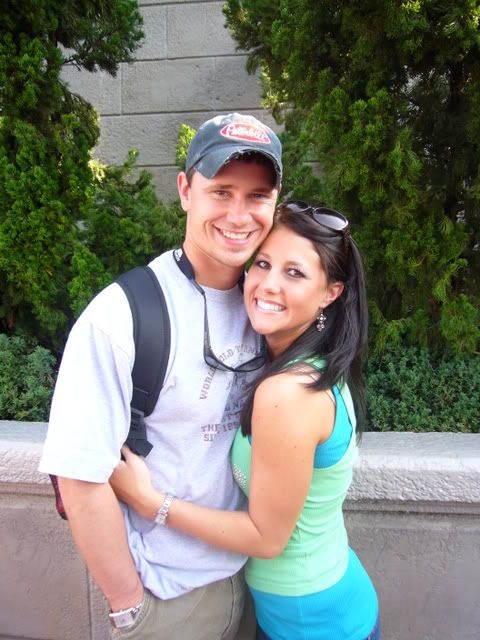 Courtney told me that she and Ryan were going to run to Space Mountain and grab fast passes while we got our stroller and headed over to Splash Mountain. She said she would meet us there so we could ride together. I said it sounded good. The rope was getting ready to drop, so we said our byes for now.
Since we had already purchased our stroller for the week, it took us no time at all just to grab another one and head on out to Frontierland. Rob noticed that there was no wait time for Splash Mountain and said he could ride with the boys before Courtney and Ryan came back. I told him no way, that Courtney was just grabbing FPs for Space Mountain and would be right over because she said they like to run. We then went over to Big Thunder Mountain Railroad and grabbed FPs for ourselves and headed back toward Splash Mountain. I gave Courtney another call to see how much longer they would be, and she said that they got their FPs for Space and were in line to ride it. What? I thought they were coming right back to meet us. So, I told Rob to ride Splash Mountain with the boys while I entertained Brooke and waited for Courtney. I'm surprised Rob didn't give me an, "I told you so," but he did imply it with his looks. Whatever.
I went under the train pass near Splash Mountain's exit where they have a small kiddie play area. But Brooke wanted nothing to do with it. She thought it was scary. So, I noticed the pressed penny machine nearby and I let Brooke pick out a pressed penny. That made her happy.
Courtney called and said they were running over now and I explained where we were. A few minutes later, Courtney called again because she couldn't find us. She told me where she was, and I looked up and saw her so I waved her down. We chatted a bit while we waited for Rob & the boys to get off Splash. Brooke was acting a bit shy at first. Then Ryan noticed Brooke had a pressed penny and asked her if she wanted another one. That got her up and out of her stroller lickety split. He put in 50 cents and couldn't figure out why it wouldn't work. I told him it needed a penny too. He said it should say it costs 51 cents. That does make sense!
In the meantime, Ryan took this picture of me & Courtney ...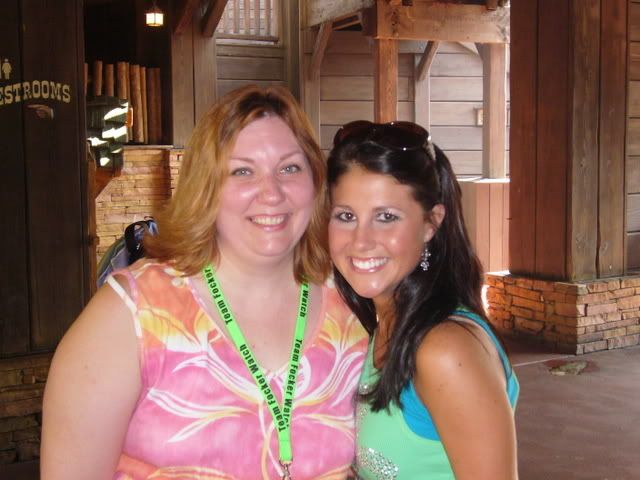 Rob & the boys returned, so Courtney & Ryan and Evan, Alec & I headed in line for Splash Mountain. First we made sure we got a child swap pass for later use. There was just about no wait for that again. As we neared the front of the line Courtney was getting herself all wrapped up so she wouldn't get wet. She looked like a green smurf; it was so cute. I just brought a towel to throw over my head at the bottom of the big splash. You can kinda see my towel wrapped around my arm in the picture.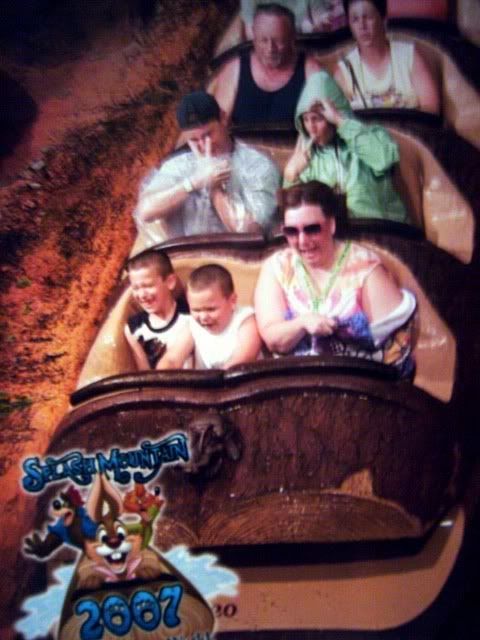 That was a lot of fun and I didn't really even get wet. Obviously, neither did Courtney nor Ryan. After Splash Mountain we all chatted for a bit more while we waited for our FP times to come up. Courtney took this picture of my family ...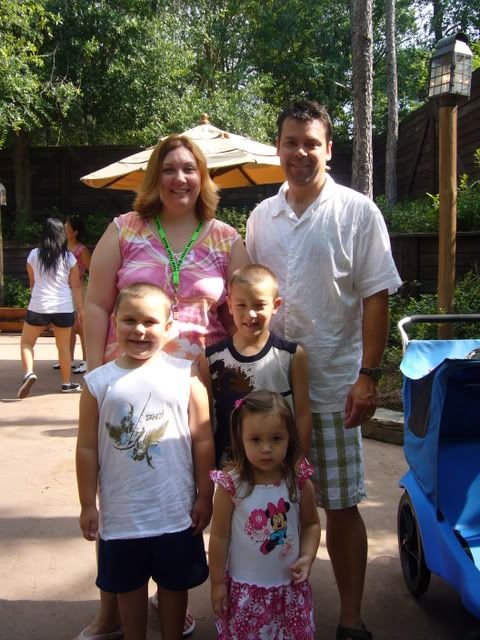 Do you like Rob's shorts? Those were picked out by me at Target. Rob didn't even want to try them on, but I thought they were really cool. So, I need to know what you all think!
Also, check out that chic in the background on the left. What the flip is she doing? If she were a guy I'd think she was adjusting her sac. Hee hee.
Then, we gave hugs and said our goodbyes. It was so wonderful to finally meet Courtney. She was the first DIS friend who I started emailing and we have become very good friends. I just love that girl and someday I'm going down to Louisiana for a crawfish boil!!!