We arrived to check in at Crystal Palace at 11:15 am. There was only 1 couple ahead of me in line, so I thought that would be excellent and quick to check in. Well, I should have known better. This couple was trying to make an ADR for lunch now. The CM told them that they were completely booked today. Then the couple wanted to know about tomorrow and the next day ... The CM told them that they had an opening at around 2 pm for Wednesday. The couple discussed it briefly and decided that would be fine. Meanwhile, I'm still waiting just to check in. Then, instead of thanking the CM and leaving after they make their ADR for 3 days from now, they ask the CM what is on the menu. What??? That ticked me off. They didn't even know what was on the menu? Okay, I guess I can understand that, but did they need to know right now? There was a longer line forming behind me. The CM goes on to list just about everything imagineable that was on the buffet. Finally, another CM came over and took my name and gave me the pager. I handed the pager over to Rob and went inside for a pit stop. Yup ... that Diet Coke caught up with me, and I needed to relieve myself before I started doing the "pee dance". That's what we call it in our family, and Alec is famous for the last minute "pee dance". Oh, there will be a story on that later in my TR ...
Our pager went off and we headed on in. We were seated in the "right side" of the restaurant all the way to the back next to a window. It was a very nice location but a bit far from the buffet. Here's our view.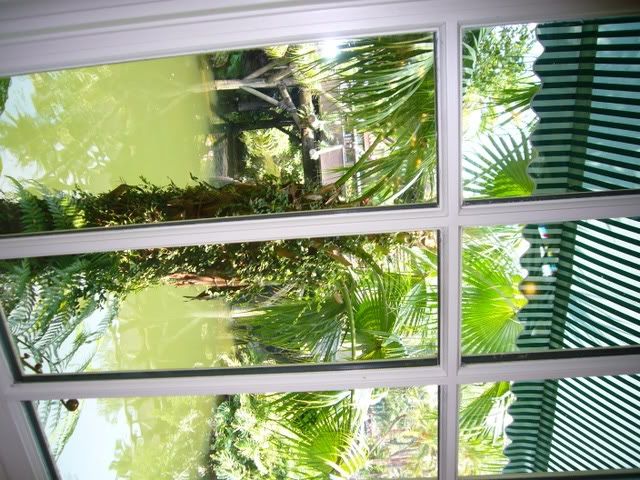 Cheese it up Brookie!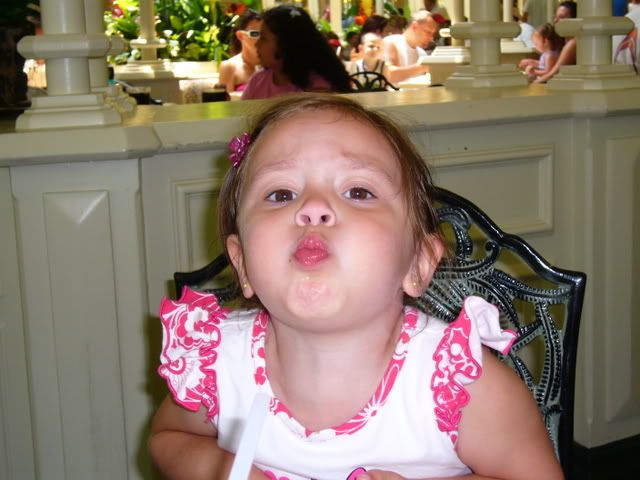 I ran up to the buffet first to get the kids their meals. They all had chicken fingers. Then I went back up to get my own stuff. I really love the salmon and jasmine rice, so that's pretty much all I got but I got a lot of it. Then Rob went up to get his plate, and he managed to fill it up. With what? I have no idea because I was ready for the characters to come around!
First around to our table is Eeyore ...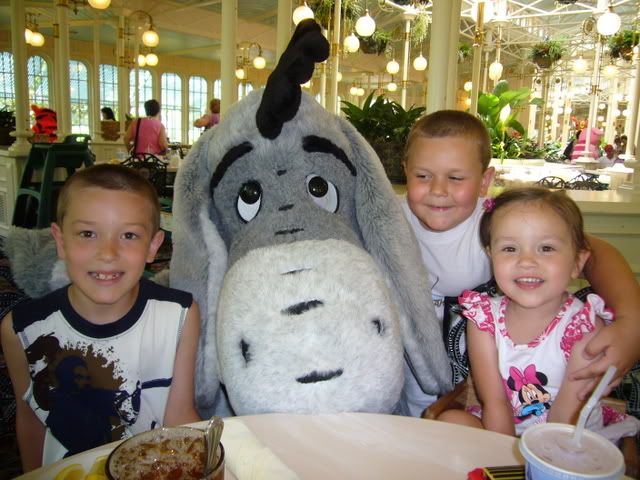 ... and then Tigger who was pretending to steal some of Brookie's food.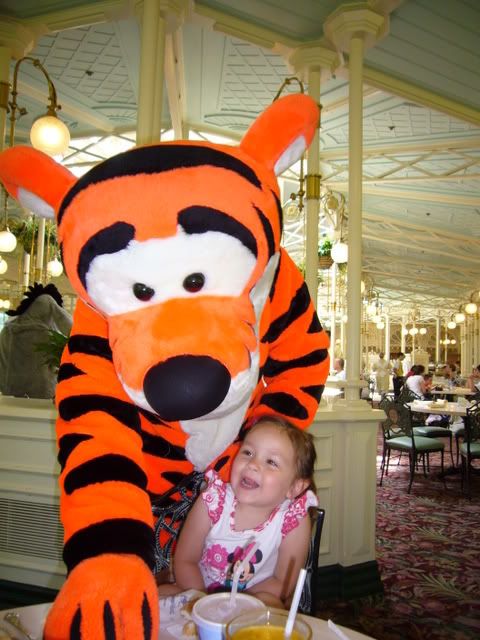 Of course, I had to have a picture of all my kids with Tigger.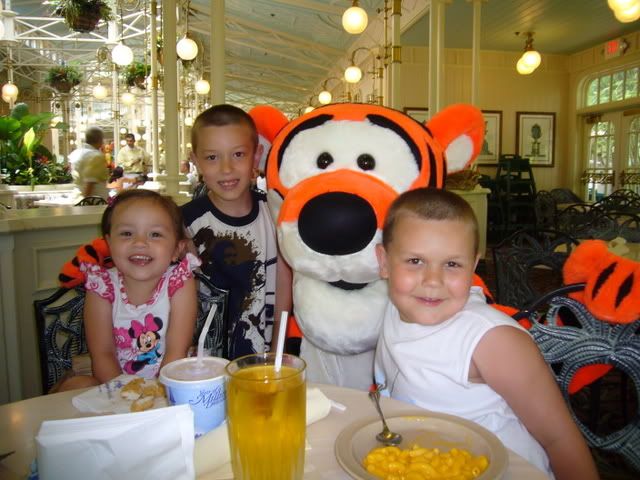 Then, the star of the show .... Pooh! ... who had to hug all the kids!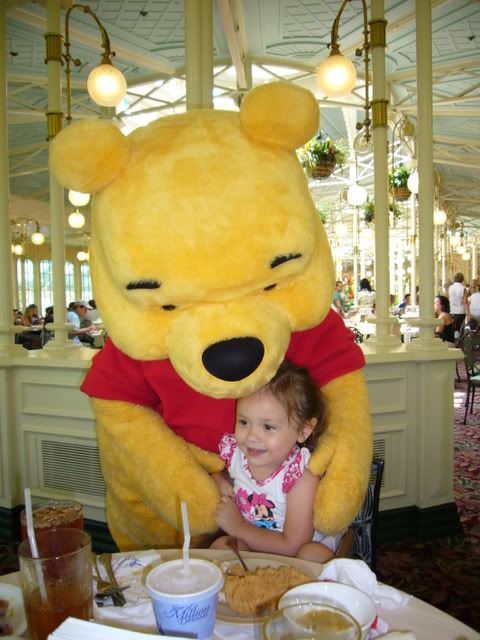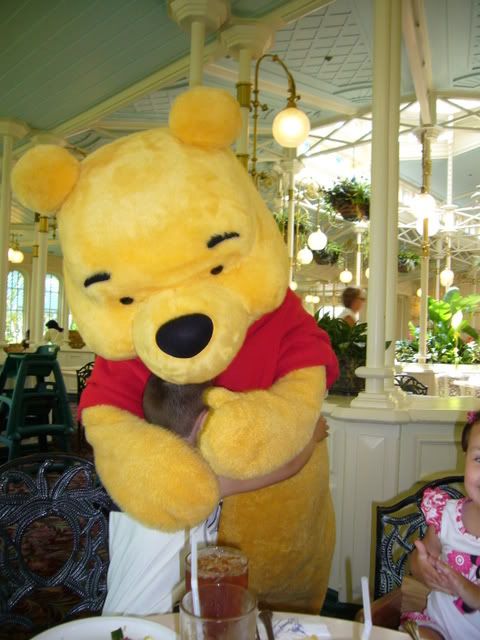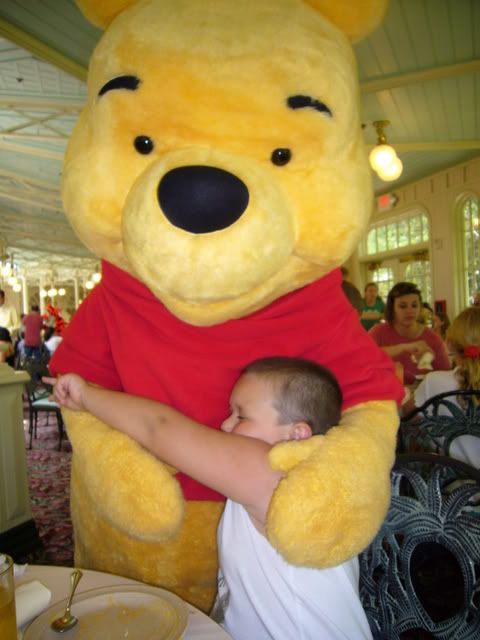 When we first sat down, we saw Piglet quite a ways away from us, and we thought it was only a matter of time before he came over. We didn't notice at first that he wasn't coming until Tigger, Eeyore, and Pooh came. I started looking for Piglet and could not find him. Then I saw him about 10 tables away. Okay, we still had to eat dessert. I did manage to get some pictures of some of the desserts.
Here's some cream cheese brownies, I think (I didn't like them and neither did Rob).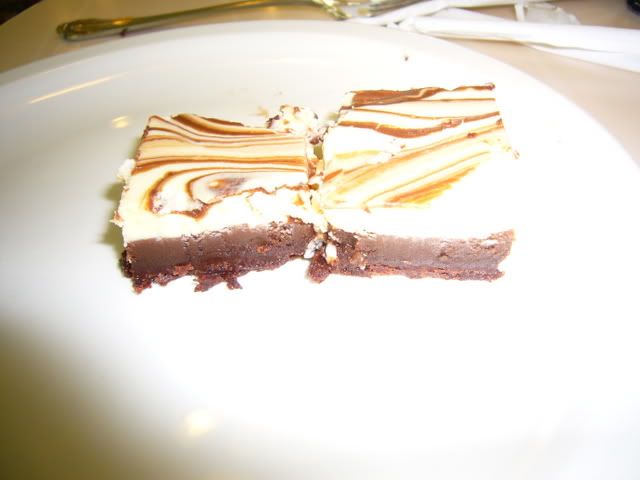 The kids got to make their own sundaes.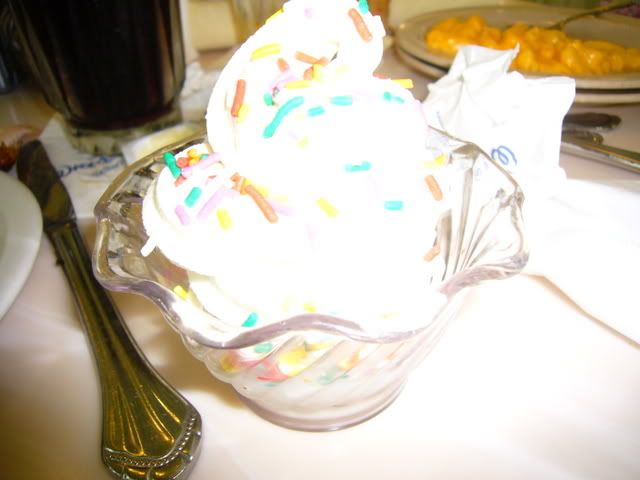 Here are some more regular brownies and the best dessert here ... whiskey soaked chocolate trifle cake. I went back for 2nds of that dessert and even talked a woman sitting next to us into getting some, which she loved!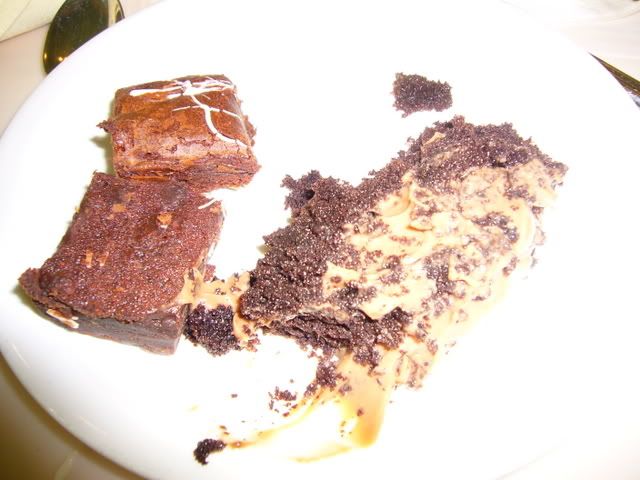 So, Piglet was about 5 tables away and he totally left! He's was gone for a couple of minutes and then came back. That's okay. I was sure he would be at our table soon. We were done with our dessert, but I was determined to wait. He got to the table right beside us when the parade started and off he went, again, in the parade! Then when the parade finished, he took off again. I got a bit upset at that point thinking we were "blown off" by Piglet. I said something to our waitress who said Piglet would be right back. So we waited, and sure enough he came right back to our table.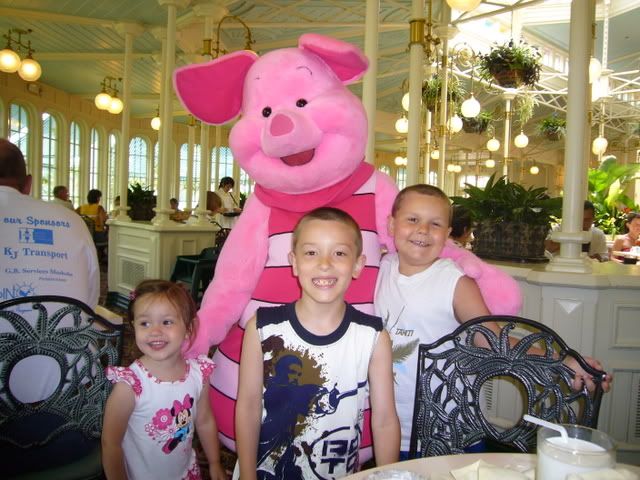 Finally, I was happy and we left. Our meal was wonderful. Our waitress brought us refills without asking. Everything was just about perfect as usual, so we will definitely be returning here, as it is one of favorite places for lunch in the Magic Kingdom!