After we said our goodbyes to Courtney & Ryan, it was time for Big Thunder Mountain Railroad. Of course, Brooke could not ride this one too, so we asked for a child swap pass, and Rob & the boys went on. I told them that I was thirsty so I was going to take Brooke to Adventureland and buy a Diet Coke. I told him to meet us over there.
So they went on Big Thunder and Brooke & I strolled over to Adventureland. I bought me a large Diet Coke and shared some with Brooke. Oh yes, I give my kids Diet Coke sometimes. Only when I'm too cheap to buy another drink, and I knew I couldn't finish that whole soda without having to run to the bathroom. We sat down on a bench across from Pirates of the Caribbean, and Brooke saw Captain Hook come out. She said she wanted to see him. I really didn't think she would go up to him, but I told her to wait for Daddy, and then he will take her, hoping she would forget about it so we could all just go on Pirates.
A few minutes later, Rob & the boys were walking up to us, and Brooke immediately told Rob that she wanted to see Captain Hook. I told Rob to take her in line, and I asked the boys if they wanted to see Captain Hook also. Neither one of them did. So the boys sat with me while Rob waited in line. I handed Rob my PhotoPass card. I'm glad I remembered it!! Here's the PhotoPass shot ......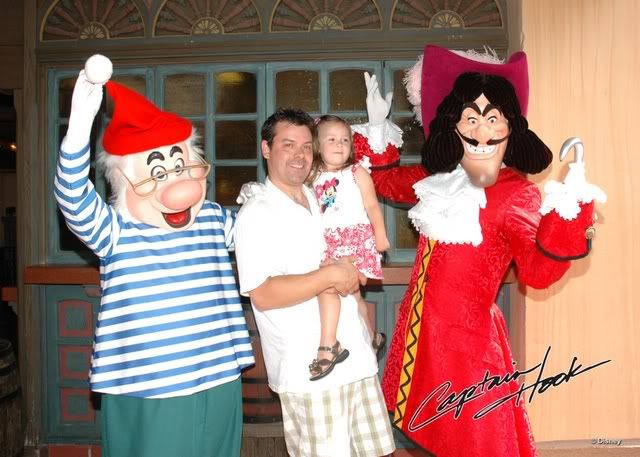 and here is the most exciting video I took of the meet! You can hear me say, "Go ahead." Click here for video of "Brooke, Captain Hook & Mr. Smee".
Brooke was lucky because she was the last one seen before Captain Hook had to go take a break.
Then we were on our way to the Pirates of the Caribbean. I love this ride. It has always been one of my favorites since I went on it in Disneyland way back in 1975. And here is the only picture I took of the ride. Frame worthy, eh?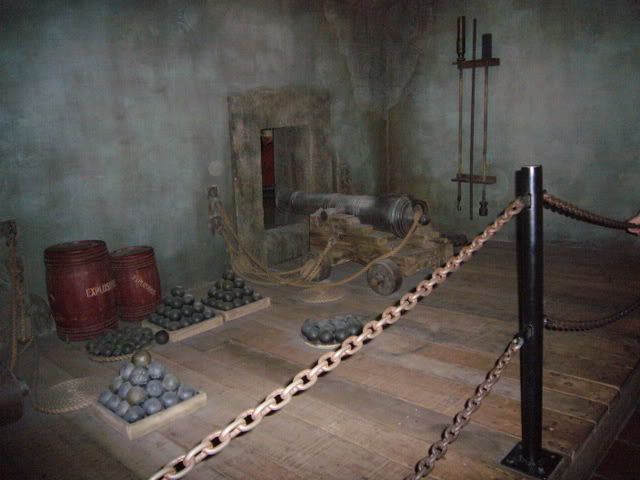 We had an 11:30 am ADR at the Crystal Palace,
and it was just after 11 am at this point. So we started to head on over there. I wanted to make sure I checked in no later than 11:15. I've shown up later than that the last 2 times, and the line just to check in was horrendous. Rob took a picture of the castle while they were waiting for me to check in.