The morning starts out just like any normal morning. Rob is up at 4 am and off to work. My alarm goes off at 7:25 am, I turned on the TV to check out the local weather and news, and then I jump in the shower at 7:35 am. The boys alarm goes off at 7:50 am, and they get ready for their last day of school. They were so excited it was their last day and that we were going to Disney World that night.
When it's time to send them off to school, I run outside to take their last day of school picture and send them on the bus at 8:50 am.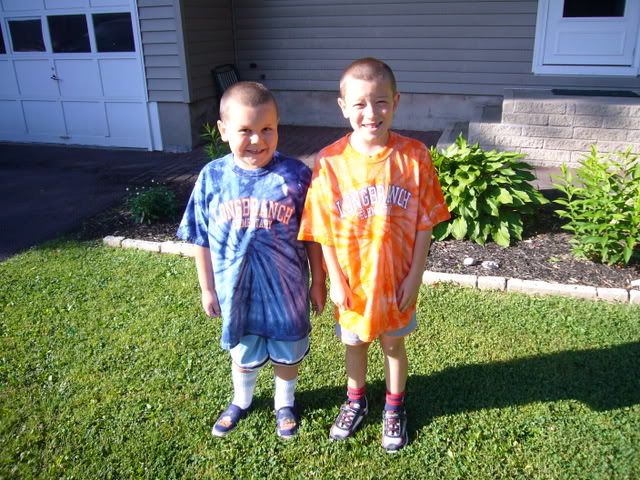 Brooke woke up after the boys got on their bus, and I got her all ready and plopped her in front of the TV while I ran upstairs to do all the rest of the packing. The boys returned from school at 10:50 am and I took their picture, again, but this time I told them to give me their best, "School's Out!" shout ...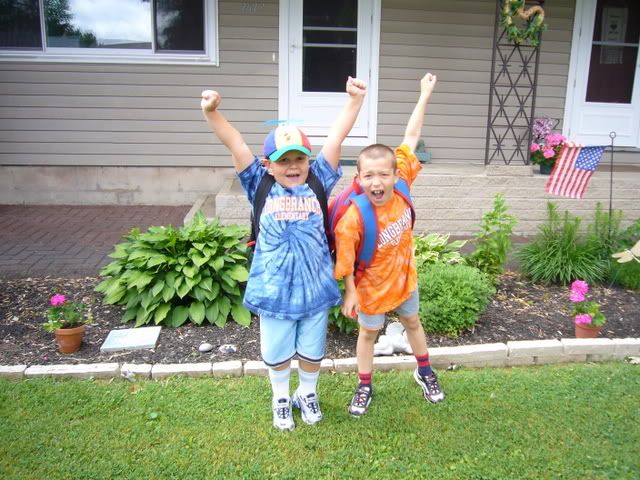 Rob got home early around 2:30 pm and got all his stuff ready to leave. We had only a couple of moments rest on the couch before it was time to get it all packed up in the minivan and head to the airport at 4:30 pm. My mom wanted to ride with us, so she did. We were dropped off at USAir gates area and headed in to get our bags checked. Since we had 7 pieces of baggage to check, the kids had to roll their own pieces to the baggage security area.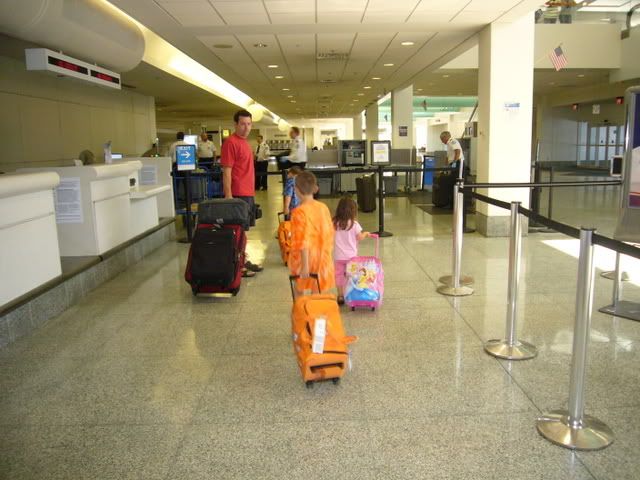 Notice how empty it looks. I thought that was great. I thought it would probably be a breeze with nobody there ... until we went upstairs to the security check point. The line was not that long but it still surprised me. When Rob went through the metal detector it started beeping. They asked him if he had any cell phones or keys on him. He said no and started checking his pockets and rechecking his pockets. Then he pulled out his cell phone. Doh! How can you miss that? It is a Razr phone, but it's still not that small. So we had plenty of time until our flight, and we had a seat in the loading area. The kids went around looking out the windows waiting for our plane to come to the gate.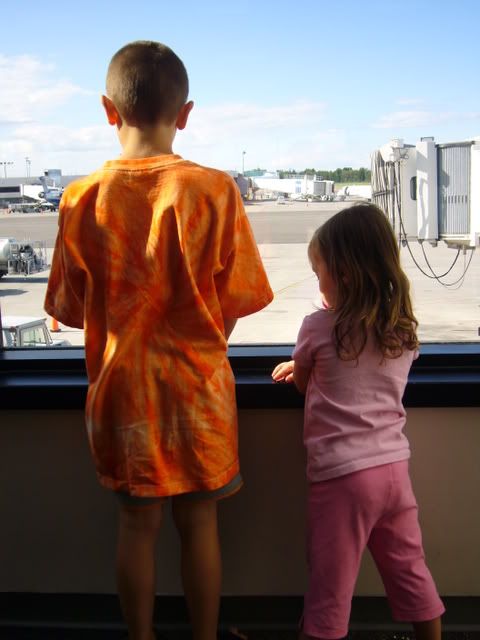 Our flight was on time to Charlotte. We even arrived a few minutes early. But we had over a 1½ hour layover, so we decided to grab a bite to eat. None of us had dinner prior, as we were just too excited and nervous beforehand. But our tummies wanted a bite now. We found a sandwich place and I got a plain bagel, while Rob got a sandwich, and the kids got cookies. Yup. I started the trip out by feeding my kids cookies for dinner. I couldn't help it. There really was nothing that they liked to eat there, and I knew the cookies would do the trick for the hunger. So here's Alec all happy after eating his cookie.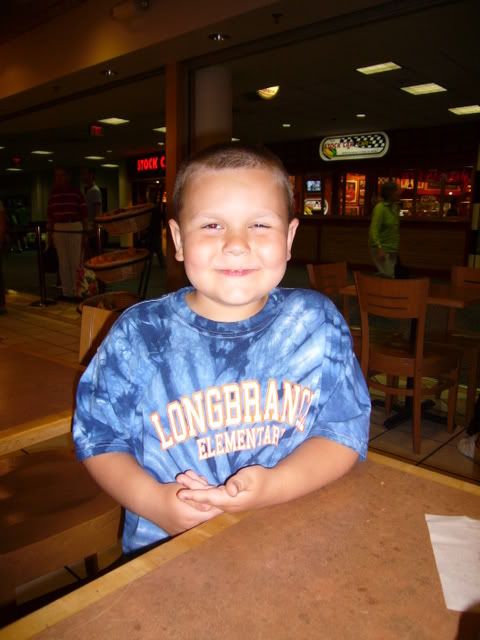 Knowing that the kids would be bored at some points during our trip, I brought along lots of play stuff. I had saved some toys from either Happy Meals or Wendy's kids meals and brought them. The boys had fun with a balancing toy set. That lasted for almost half the time we had to wait for our next flight. Doesn't Rob look ever so happy?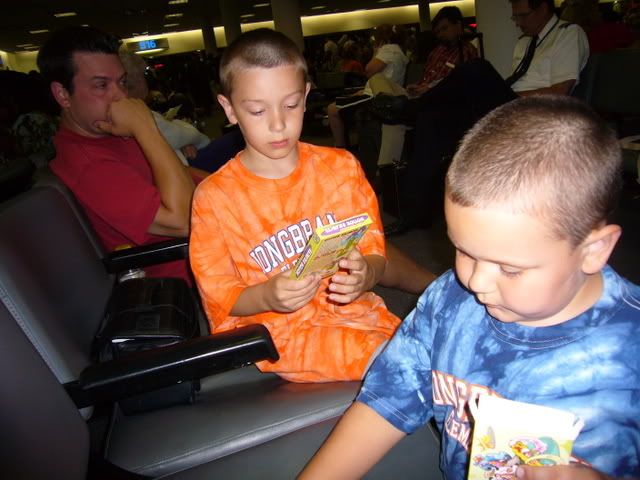 Brookie, on the other hand, just wanted to run around everywhere. I let Rob run after her. I did manage a quick photo while she was still for about a second eating a candy Princess necklace.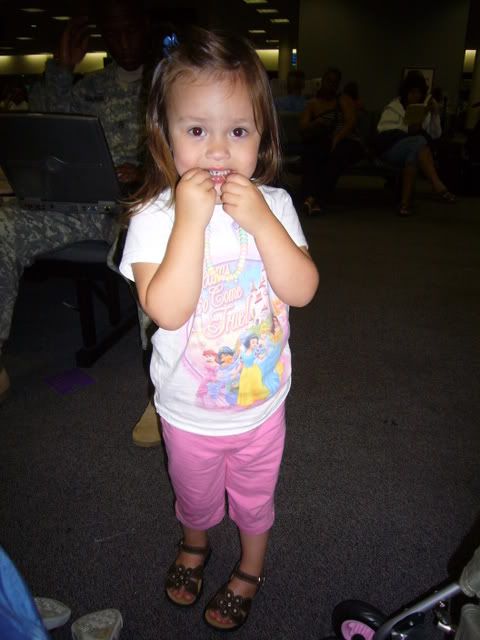 Then we found out our next leg of the trip was delayed by 30 minutes or so. When we finally got on board, we were very happy. I snapped some pics of the kids on that flight.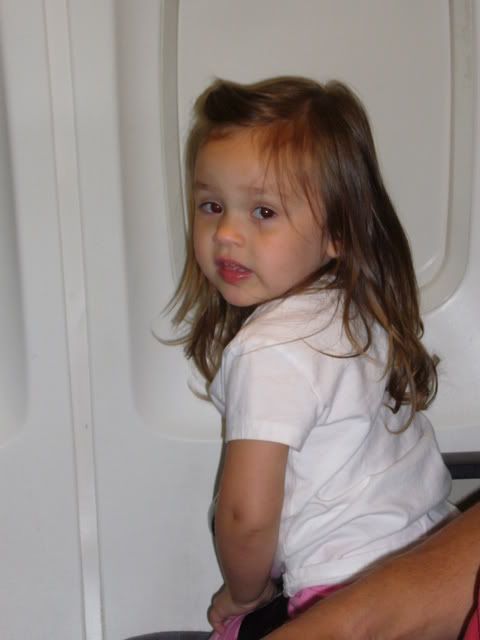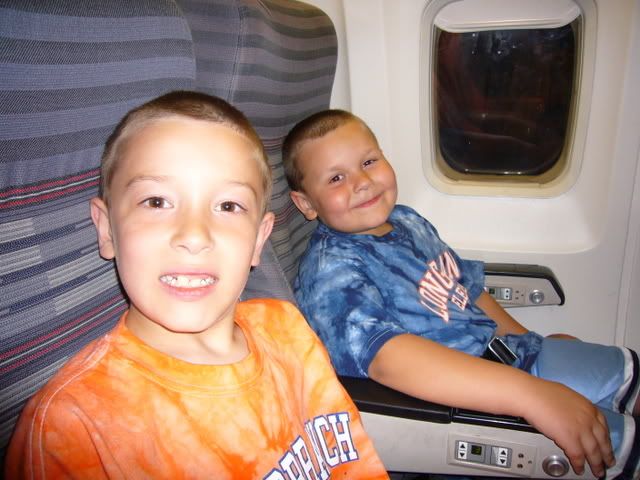 Our flight finally arrived in Orlando at 11:45 pm -- ½ hour late. We went down to get our luggage and headed over to Disney's Magical Express ...